home_news
CJC Major Wins Community Engagement Award
She was nominated by Reginald Spears, her internship supervisor at the Illinois Executive Office of Inspector General. Her duties were to assist in investigations of state employees suspected of misconduct. Toni submitted an essay describing her experience with that agency, focusing on the issue of justice, which she argued is due to both victims and those accused of misconduct. The Awards Ceremony will be conducted in Palm Court, Mundelein Center, on Saturday, April 13th, at 4:15 PM. The department congratulates Toni for being the recipient of this award!
Food Pantry
The food pantry is open Monday – Friday from 8:30 a.m. to 5:00 p.m. (when campus is open) Mundelein Center, Room 822. Donations of non-perishable food items or cash are always needed and appreciated. For additional information, contact Felicia Williams at (773) 508-8891 or via email fwilliams3@luc.edu
CJC Faculty Appointed to the Illinois Supreme Court Advisory Committee
The chief justice of the Illinois Supreme Court recently appointed CJC professors Don Stemen and David Olson to subcommittees of the Illinois Supreme Court Pretrial Commission. The Illinois Supreme Court created the Commission on Pretrial Practices to conduct a comprehensive review of Illinois' pretrial detention system and to make recommendations for amendments to state laws and Supreme Court Rules or Policies to ensure pretrial practices in all jurisdictions in Illinois are consistent with the Supreme Court's Policy Statement on Pretrial Practices.​ Dr. Olson will serve as a member of the Risk Assessment Subcommittee and Dr. Stemen will serve as a member of the Performance Measurement Subcommittee.
CPD Citizen Academy
Recently, Dr. Christopher Donner completed the Chicago Police Department's Citizen Academy, which gives community members a tast of what it's like to be a Chicago Police Officer. The goal of the program is to inform community members of everything that goes into the CPD, as well as to build a strong bond between the police and the community. The course is 10 weeks and meets once each week for three hours. It offers overviews of topics like procedural justice, physcical skills, crisis intervention, criminal investigations, SWAT, use of force, and emergency management. The Citizen Academy is truly a small sampling of what officers experience. The classes feature the department's organization, polices, training, technology, and demonstrations of the topics. Presenters are from various units within the department such as Organized Crime, Investigative Services, Patrol, Internal Affairs, K-9, and more.
Appointed to serve as a member of the ICJIA
Dr. David Olson was appointed to serve as a member of the Illinois Criminal Justice Information Authority (ICJIA) by the Illinois Governor's Office, and was confirmed by the Illinois Senate on May 28, 2018 to serve in that position. ICJIA is the state's criminal justice research, planning and grant making agency, and annually allocates more than $40 million through its grant programs. Dr. Olson began his career at ICJIA in 1988 as a student intern during his senior year at Loyola University Chicago, and worked there full-time following his graduation until he returned to Loyola as a faculty member. David has maintained a strong collaborative relationship with ICJIA since coming to Loyola, and Loyola's Center for Criminal Justice is currently working with ICJIA on a project funded by the John D. and Catherine T. MacArthur Foundation to support county-level criminal justice coordinating councils.
The Challenges of Reentry
Professor Brent In talks about the challenges of the reentry process and how disproportionately high number of those who enter jails from communites of color and who suffer from from mental illness, addiction, and homelessness. Professor In stresses that people released from jail need basic reentry support while the system works to adjust and improve the reentry process as a whole.
https://www.youtube.com/watch?v=sVRyByx4xyo&feature=youtu.be
Pimps Hide in Plain Sight in Corporate America's Boys' Club
Dr. Stemen publishes The Prison Paradox for the Vera Institute of Justice
The Prison Paradox: More Incarceration Will Not Make Us Safe‌‌‌‌‌
---
Dr. Don Stemen, Associate Professor and Chair, published The Prison Paradox: More Incarceration Will Not Make Us Safer for the ‌Vera Institute of Justice.
Dr. Stemen's report notes that despite its widespread use, research shows that the effect of incarceration as a deterrent to crime is minimal at best, and has been diminishing for several years. Indeed, increased rates of incarceration have no demonstrated effect on violent crime and in some instances may increase crime. There are more effective ways to respond to crime – evidenced by the 19 states that recently reduced both their incarceration and crime rates. Dr. Stemen's research brief summarizes the weak relationship between incarceration and crime reduction, and highlights proven strategies for improving public safety that are more effective and less expensive than incarceration.
Dr. Stemen's research bulletin is part of the Vera Institute of Justice's For the Record Evidence Brief Series. The series aims to provide accessible summaries of the latest evidence concerning justice-related topics. By summarizing and synthesizing existing research, identifying landmark studies and key resources, and, in some cases, providing original analysis of data, these briefs offer a balanced and nuanced examination of some of the significant justice issues of our time.
Reducing Illinois' Prison Population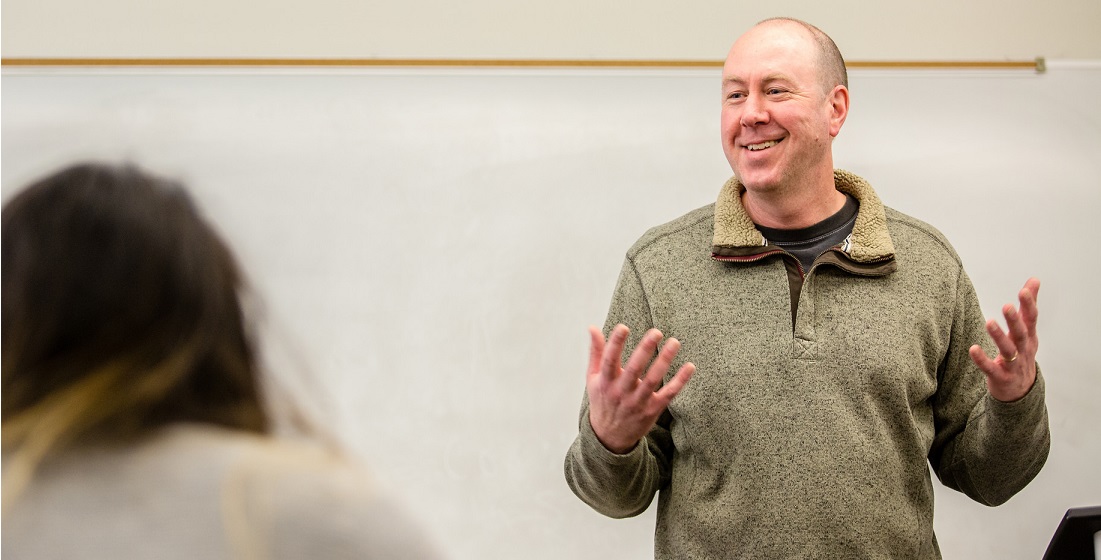 By Gabrielle Barnes | Student Reporter
David Olson, PhD, is no stranger to the criminal justice system. For the past twenty-nine years, Olson has spent his career evaluating programs and policies on state and local levels while taking his experience to the front of Loyola's classrooms. Recently, Olson was given the opportunity to serve on the Illinois Governor's Commission on Criminal Justice and Sentencing Reform— the outcome of this body could potentially change the lives of both people in prison or jail and those working in the criminology field. Olson's participation in the commission and his dedication to reforming the criminal justice system resulted in the passage of the Neighborhood Safety Act in March 2017.
Can you tell me about the Neighborhood Safety Act?
The goal of the commission was to come up with recommendations on how the criminal justice system could be improved, to not only reduce the level of incarceration but to also increase public safety. Out of the twenty-five recommendations given by the commission, there was one in particular that will go a long way towards reducing incarceration and improving public safety: Inmate credit on their sentence in return for completing rehabilitation programs while incarcerated.
How will this law impact people in prison or jail?
The law will motivate inmates to not only receive treatment, but continue and complete the treatment to receive time off of their sentence and ultimately become a productive member of society post-incarceration. My research has shown that inmates receiving this credit are more likely to complete treatment, as opposed to dropping out of voluntary programs. It lessens the likelihood that someone released from prison is going to continue their involvement in crime and end up back in prison. The commission's goal was to develop recommendations that could potentially reduce the prison population by 25% by the year 2025, and this specific recommendation will help achieve that by reducing the lengths of stay in prison and greater access to rehabilitation.
What are the implications of this law for those in the criminology field?
The passing of this Illinois Senate bill into law shows that criminologists are able to bridge the gap between the scholarly world and the real world. It crosses the divide of academia and practice. It's a perfect example of how research done by a university has direct, tangible benefits for policy makers. One of the lessons for criminologists is that we can have a direct impact on criminal justice policy without being political. My former graduate student, Erin Sneed, and I were both able to present our research to the commission, which was very rewarding as a criminologist. After completing my course on offender rehabilitation, Erin Sneed was so compelled by the topic that she decided to do her thesis on treatment of offenders. Unlike my research, her research directly measured whether or not inmates would be more likely to access treatment in exchange for sentence credit.
How does this law align with Loyola's Center for Criminal Justice Research, Policy and Practice?
As Loyola professors, we engage in empirical research that is both objective and rigorous to answer the questions that face the criminal justice system. All of the faculty and departments are engaged in research across different areas of the criminal justice system and with that research, our goal is to always shape and inform people's understandings of different problems. One of Loyola's missions is to provide support and service to the larger community, and my role on the commission was part of my service. Our discipline is very much focused on application, and the passing of this bill into law is proof that as criminologists, we can make positive changes in our community.
Experts weigh in on 2017's Best & Worst States to Be a Police Officer
In order to determine the best and worst states in which to pursue a law enforcement career, analysts from WalletHub – a personal finance website – compared all 50 states and the District of Columbia across 20 key indicators of police-friendliness. Metrics in 2017's Best & Worst States to Be a Police Officer ranged from median income for law enforcement officers to the rate of officer fatalities to state and local police-protection expenses per capita.
The future of law enforcement rests in the hands of policy, the availability of resources, and the relationship between officers and the residents they vow to serve and protect. To advance the discussion, WalletHub asked a panel of "experts" for their insight on a range of key issues. Along with 14 other university professors, Dr. Chris Donner (Assistant Professor) was one of the featured criminal justice & criminology researchers. Dr. Donner's insights into policing in America can be found at wallethub.com/edu/best-states-to-be-a-cop/34669/#christopher-m-donner. You can also read more about WalletHub's methodology, findings, as well as commentary from other research "experts" at wallethub.com/edu/best-states-to-be-a-cop/34669.
Dr. Olson recognized with ICJIA's Lifetime Service Award
The Illinois Criminal Justice Information Authority (ICJIA) honored the legacy of Dr. Candice Kane by presenting Dr. David Olson with the first annual Candice Kane Lifetime Service Award (2017). Dr. Kane spent over 20 years at ICJIA and led the agency as Executive Director for seven of those years. She retired in 2014 from University of Illinois at Chicago, Cure Violence, where she was Chief Operating Officer. In her career, Dr. Kane was dedicated to using research, collaboration, and innovation to improve public safety outcomes. This award recognizes an individual whose career in Illinois exemplifies this legacy of service.
Dr. David Olson began his research career at ICJIA, serving as Director of the Information Research Center, Research & Analysis Unit for seven years.
He is a Professor of Criminal Justice & Criminology as well as Graduate Program Director. Dr. Olson is also the Co-Director of Loyola's new Center for Criminal Justice, Research, Policy, & Practice (LUC.edu/ccj).