archive
At home in the lab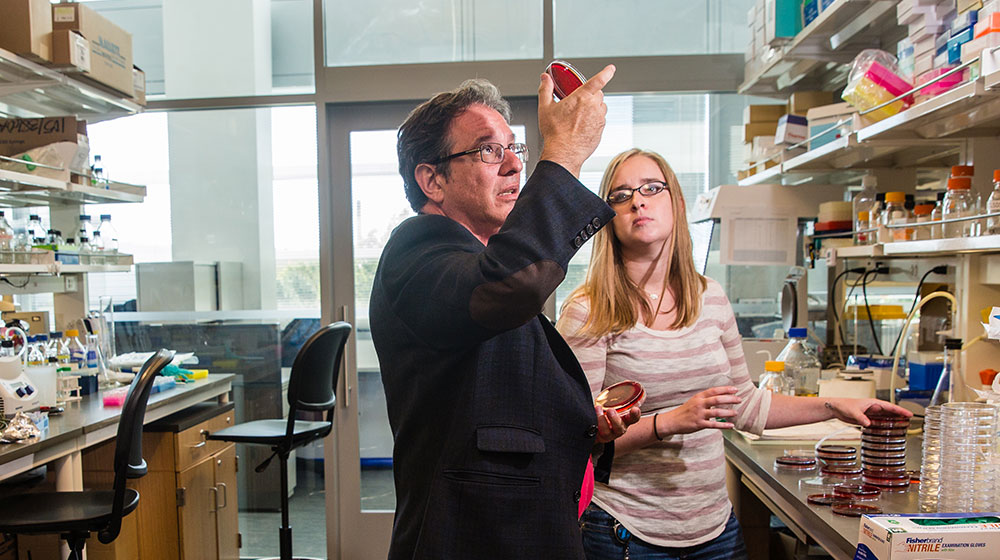 By Erinn Connor
The first time Alan Wolfe, PhD, set foot in a research lab, he knew it was exactly where he was meant to spend his career. He felt at home among the Bunsen burners, test tubes, and microscopes after not getting into medical school, his original goal.
After his medical school rejection, Wolfe spent some time as a formulation supervisor in a manufacturing lab that made mouthwash, shampoo, and other toiletries. He knew he did not want a career there, and that he needed to get back to school.
He ended up crossing the country to the University of Arizona and getting a PhD in genetics and a master's degree in systems engineering, an unusual combination that would pave the way to his unique approach to research and teaching.
Wolfe, a professor in the Department of Microbiology and Immunology within the Graduate School, was named Loyola University Chicago's Faculty Member of the Year in September. His students cite his willingness to give them the freedom they need to grow their research and become leaders in their field as one of the many reasons he's such a popular faculty member in the Health Sciences Campus.
"He gave me the space to do what I thought I needed to do," said Krystal Thomas-White, a PhD student studying in Wolfe's lab. "He encouraged me to start new collaborations, to reach out to people, and to build connections as a graduate student. He allowed me to take risks because he knew how great the payoff those risks could have."
Getting inside the cell
Wolfe headed to Cal Tech for his postdoctoral career, where his work was understanding how bacterial cells sense and respond to their environment. His random-seeming master's degree in systems engineering (creating processes to ensure quality and efficient systems in many industries) was helpful in dissecting the "circuit system" of the cell.
"When I tell people what I do, I say I'm figuring out the circuit board of the cell," Wolfe said. "I go in and clip wires and see what happens. We're doing this genetically, so we're using molecular biology to clip these wires and see their behavior afterwards."
Wolfe followed his mentor, Howard Berg, from Cal Tech to Harvard and continued studying the intricacies of the cell. But Wolfe received an invitation to interview from Katherine Knight, PhD, who had just been appointed chair of the Department of Microbiology and Immunology at Loyola.
"I could have easily made a big mistake by not coming to Loyola," Wolfe said. "With Katherine, it's about science, but also about the people who do the science. For her it's important that people in the department are interacting and that everyone is being mentored."
Since coming to Maywood from Cambridge in 1989, Wolfe has nurtured his basic science research into thriving translational work, Knight said, and he's earned a reputation as a fantastic teacher.
"He really loves his students and wants to help them learn as much as they can," Knight said. "He's very sincere about getting the best out of students."
Unraveling the puzzle
Wolfe learned many researcher fundamentals from his peers. He received help in writing his first funded grant during his first few years on campus. Eventually, he would meet faculty members from all across the Health Sciences campus who would help shape his future research.
His best known work is with the Loyola Urinary Education & Research Collaborative (LUEREC), a group he founded with Stritch School of Medicine Dean and Chief Diversity Officer Linda Brubaker, MD, a urogynecologist.
The research of LUEREC challenges the common belief that urine is sterile. As a microbiologist, Wolfe just didn't believe it to be true. So with the help of samples from Dr. Brubaker's patients, his lab began to test the dogma.
Wolfe's lab collected urine by transurethral catheter and by suprapubic aspirate. These urine samples were negative for bacteria by the standard urine culture protocol used by the clinical microbiology laboratory. Wolfe and his team then used Next Generation Sequencing technology to test the urine samples for bacterial DNA and found evidence in both the catheter and aspirate samples.
The group published a paper about this research four years ago proving urine was not sterile.
"We determined that the bacteria in the samples were alive but they don't grow under the normal urine testing protocols," Wolfe said. He began enlisting the help of bioinformaticians, geneticists, and immunologists to keep unraveling the puzzle. "We turned the world of the bladder upside down."
This means in a urinary tract infection test, the current test would not have a positive result for the bacteria Wolfe and his team found in bladder samples. Now LUEREC is focusing on figuring out if these bacteria cause infectious.
"His insights, training, and persistence have resulted in significant NIH funding to advance knowledge about clinically-relevant conditions that are related to the bacterial community in the bladder," Dr. Brubaker said.
A unique mentor
Wolfe allows his students to be as hands-on as they can with the research in his lab. He closely mentors new students and gradually gives them more and more space to be independent researchers as they get more comfortable with the lab and with their own research interests.
"My interests for my PhD have shifted into more of a basic science viewpoint with the urinary microbiome, and Alan has fully supported my transition into that type of work," said Evann Hilt, a PhD student in Wolfe's lab. "He always encourages me and other students to go out and make connections for the lab and then to take charge and lead those collaborations. This is a unique quality for a mentor to have and truly shows how much trust and faith he has in us."
Wolfe said he's grateful his original goal of going to medical school and becoming a clinical doctor didn't work out. Over the years he realized being in the lab and training 20- and 30-somethings were his true callings.
"I realized I love taking things apart and figuring out how they work. I just didn't know that when I was younger," Wolfe said. "It's the same with teaching and watching students bloom. I know what my role is as their mentor, that's the part where I'm indispensable. Other than that, I just get the hell out of their way."