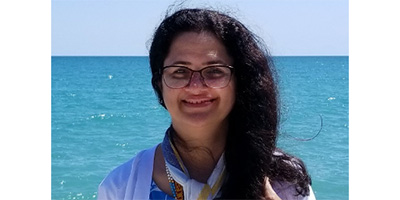 Annie Thomas, PhD
Title/s: Clinical Associate Professor;
Director of RN-BSN Track
Specialty Area: Obesity, adolescent health, cardiometabolic diseases
Office #: Lake Shore Campus, BVM Room 901
Phone: 773.508.2919
Email:
CV Link: 2021 Annie Thomas CV
About
Dr. Thomas is an Assistant Professor and the Director of the RN to BSN track at Marcella Niehoff School of Nursing, Loyola University Chicago. Dr. Thomas has taught many courses at undergraduate levels across the programs at Loyola, both online and face to face for over 11 years. Dr. Thomas' expertise includes teaching research course for undergraduate nursing courses and mentoring Master of Nursing students for preliminary research reviews. As the Director of the RN to BSN track, Dr. Thomas is actively engaged in student and faculty advising/mentoring, program revision, and participating in various program level committees.
She researched type 2 diabetes risks among Asian Indian adults living in a semi-urban county of Texas before joining Loyola. Dr. Thomas' current research focus areas are obesity prevention in Asian adolescent girls with a research goal of preventing cardio-metabolic disease in south Asians. Dr. Thomas received internal funding through Loyola's Ruth K Palmer Memorial Endowment Fund, Loyola University Chicago's interdisciplinary grant, and external funding from American Nursing Foundation. The research outcomes are published in refereed journals.
Dr. Thomas' immediate research career goals include developing institutional central grants to receive external funding and pursue team/interdisciplinary research through networking and collaboration in areas of cardio-metabolic research focusing on health promotion and disease prevention.
Research Interests
Dr. Thomas' research focus is to understand the obesity prevention behaviors among Asian Indian adolescents in the US and to institute obesity/overweight intervention strategies in reducing the risk factors for type 2 diabetes and coronary heart disease in later life. Other research interests include type 2 diabetes risk assessment and preventative measures among Asian Indian adults; immigrant health; cross cultural studies; knowledge related to risk factors of coronary heart disease and preventative measures among adolescents. Dr. Thomas is currently seeking collaboration and networking to continue her research interests among South Asians living in the US.