Aaron Brunmeier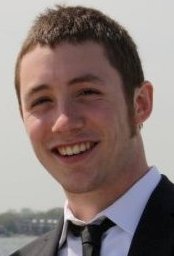 Aaron Brunmeier

Born and raised in New Lenox, Illinois, is a recent graduate from Loyola University Chicago where he received a Bachelor of Arts. At Loyola, Aaron studied History, Political Science, and Spanish and graduated summa cum laude.

Aaron soon discovered, however, that "college" was more than just grades and classes. He learned that a Jesuit education focuses not only on the mind, but on the spirit as well. Empowered with this new understanding, Aaron began to get involved on campus. In the spring of 2007, Aaron went on his first Alternative Break Immersion (ABI) to Nazareth Farm in West Virginia to work on substandard housing. It was here where he found his love for service and the Appalachian people. He returned the next year to Kentucky for another ABI, this time to do environmental cleanup in a mountainous, low-income area. The lessons gained and values learned from these experiences were formative in Aaron's outlook on what it means to be a man for others.

In Aaron's sophomore year, he became a Student Ambassador tour guide in the Undergraduate Admissions Office as well as a Loyola Companion through University Ministry. As a tour guide, Aaron showed the university to prospective students and families whether it was on a tour or working at an open house. As a Companion, he performed peer ministry in a campus residence hall. He also led a retreat for freshmen and took students to St. Thomas of Canterbury, a local soup kitchen. Companions taught Aaron the essence of hospitality and the importance of community. Additionally, Aaron took third place in the History Department essay contest in 2008 for his paper on Friedrich Nietzsche. In the summer of 2008, Aaron became an Orientation Leader (OL) for Discover Loyola and also worked this job the following summer. Being an OL, Aaron was able to further represent Loyola and help facilitate the transition from home to college for the incoming students.

His junior year Aaron increased his leadership responsibilities as co-coordinator of the Loyola Companions program. He also assisted his club soccer team by acting as the Vice President. It was also in his junior year that Aaron realized what he wanted to do with his life. After a year of discernment, he determined that he wanted to pursue a career in history, and not law, which was what he originally had in mind. In Aaron's senior year, he continued to work with the Undergraduate Admissions Office and remained a Loyola Companion. He also had the unique privilege to represent the Political Science Department in Annapolis at the Naval Academy Foreign Affairs Conference. Now having completed his undergraduate degree, Aaron will attend Loyola in the fall and will pursue a Masters in Early American History. He also earned the graduate assistantship in the Undergraduate Admissions Office which will coincide with his Masters program. After Aaron completes his MA, he would like to continue his pursuit of history by applying to doctoral programs with the desire to one day be a professor of history.