Celebrating 60 years of the JFRC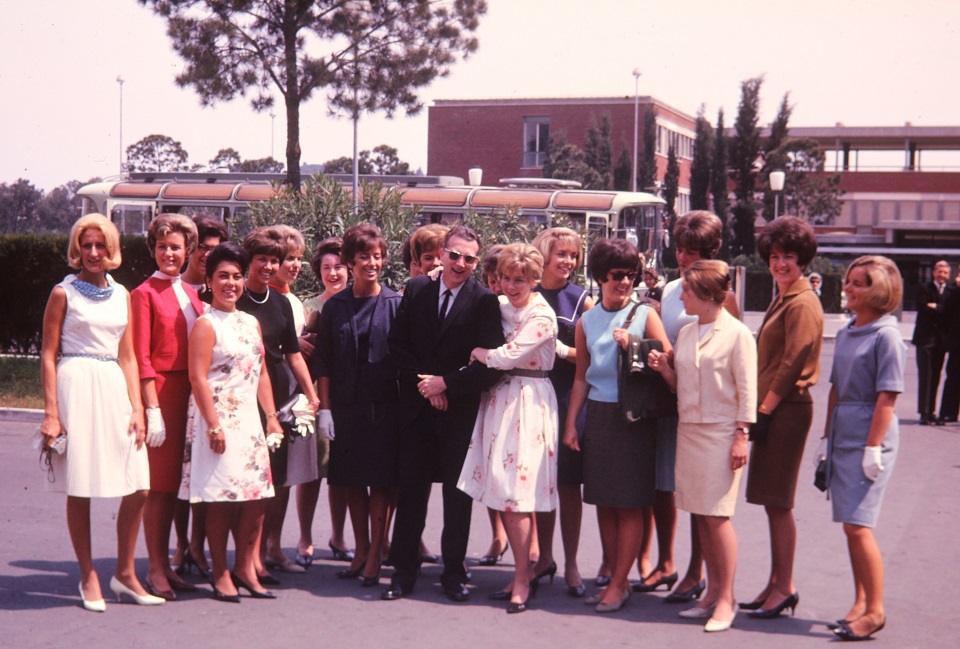 Much has changed since the Rome Center opened its doors 60 years ago: students no longer take a 3 week voyage on a ship to arrive in Rome, letters are no longer the principal form of communication with family back home, and JFK is no longer the president.
To honor six decades of the John Felice Rome Center, 215 former students returned to Rome in October 2022, arriving at the gates of the JFRC for the first time in several years or even several decades. When the doors opened they stepped on to a recently-transformed campus: a new entrance, new chapel and new dormitory, designed by Ignazio Lo Manto. Finished just before the pandemic, many former alums had never seen these additions before.
Even though the alums may have lived in different places - former campuses include: Casa Italiana Viaggi Internazionale Studenti (CIVIS) 1962-1966, Via Camilluccia from 1966-1972 and Via Trionfale 1972-1978 - they all, however, once called Rome home and are united by the love they share for the JFRC.
Alumni from across the USA came to the anniversary event, others took a short flight to Rome since they currently live in Europe or elsewhere in Italy. Other families visited with more than one generation of alumni among them. A young couple was engaged, joining the hundreds of other JFRC marriages.
The weekend was an opportunity to share stories and memories of friends and professors, travel and study. Many recalled how travel broadened their narrowly defined sense of identity, which was further challenged by learning Dante's language, listening to a Verdi opera, or seeing the original work of Caravaggio for the first time. Many professors, such as Dottoressa Maria Palladino, Dr. John Nicholson, Dr. Giovanni Schichilone, and Dr. Michael Fink and other JFRC staff members had a hand in transforming the student experience. An alumnus from the Class of 1970/71 remembered Dr. Fink: "he would drag us into dusty, dark churches. We would gather close and listen and suddenly the frescoes would come to life, cherubs would fall from the ceilings. I would ask myself: 'where am I', 'who am I?' I have never met anyone of that caliber since my time in Rome".
On Friday, October 7th the alums gathered on campus for an aperitivo cocktail party in the garden and campus olive grove, where they tasted the extra virgin olive oil and honey produced on campus, while listening to the traditional music of a violinist and accordion player. Others signed the "In memoriam" book in the chapel, praying for John Felice the founder and others who have passed on. Cartasfoglia, the art exhibition by Professor Roberto Manino was on display in the classroom building while the Celebration of Scholarship was held in the Information Commons where the publications and academic achievements of both faculty and alumni were on display. Alumni also posted their Rome memories on a billboard in front of the library.
On Saturday night, the celebrations continued when JFRC alums along with faculty and staff traveled to Castello di Tor Crescenzo for dinner and dancing. Loyola's new president, Dr. Mark Reed, opened the evening with a special video message for the occasion in which he recalled the six decades of meaningful global engagement for Loyola students. He called the Rome Center "a gateway to the world: which provides "a transformative education in a city at the heart of the Catholic faith—and magnifying the impact of our mission to educate the whole person".
"We can look forward", said President Reed, "to an exciting future for the center and the opportunities it provides for students". "The JFRC nurtures innovation in a country where tradition is a part of life, empowering students from many institutions to respond to modern challenges with a deeper understanding of the past, the present, and themselves".
Then the JFRC Director Todd Waller discussed the Rome Center today and how "the JFRC will continue to educate global citizens to address critical emerging issues…with Rome as our base and the Mediterranean as our classroom". "Overlapping crises", he continued, "climate change, mass migration, and poverty among them—pose fundamental questions about identity and our responsibilities to the greater good. It is certain that Rome will be a strikingly different place in a few decades as a tsunami of peoples moves north from Africa into the peninsula".
Director Waller also detailed many of the current initiatives on campus and its plans for the future. The JFRC holds the largest Critical Theory conference in the world, sends students to Sicily to an archeological dig in a 2nd century villa and is home to beehives and an olive grove. While plans for the future include human rights study tours to locations such as Israel and Palestine and building a 1.5-acre sustainable garden on campus. In fact, the Rome Center is looking for alumni to adopt a tree in order to expand their olive grove and citrus orchard.
Waller also remembered the Rome Center's founder John Felice. Together the dinner attendees listened to a short clip of the JFRC founder speaking as part of an oral history project. Felice recalled the strong relationship he cultivated with students, always reiterating to them: "Together we build the Rome Center". "Each one was like my son. And I wanted to know everything about him and I wanted to help him 100% to achieve what he invested to come there for. And they knew that, so much so that they used to say: 'Be careful Felice knows when you go to the bathroom'."
Later on in the evening, Provost Margaret Callahan presented the John Felice Award to Jack O'Connell of Class of 1968/69. The Felice Award is given to a Rome Center alumnus or alumna who has shown exemplary leadership in business, in the community, and in support of the Rome Center. Previous recipients include: Gemma Allen-Nader in 2018, John Kurowski in 2013; and Leonard Slotkowski in 2012.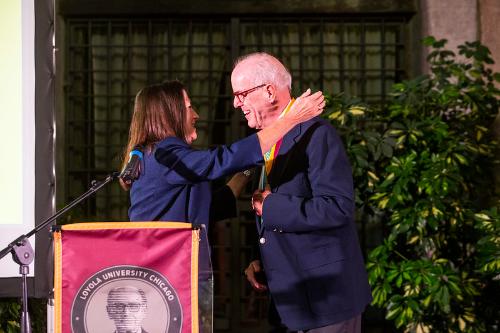 A 1970 graduate of John Carroll University, Jack O'Connell was an educator for more than thirty years at a number of schools around the East Coast. His deep commitment to Jesuit education was evidenced by "his passion for education for helping young people in their educational and character formation is evident in the many roles he played throughout his career as a teacher, dean, and mentor". Provost Callahan also described O'Connell as an ardent supporter of the JFRC, serving on the advisory council and other leadership groups.
Actor and comedian, David Pasquesi, Class of 1982, enlivened the evening with his stand up comedy, poking fun at the lives of American students in Rome. Pasquesi has performed at Second City in Chicago and his screen credits include Groundhog Day, Curb Your Enthusiasm and Veep.
Present at the celebrations were Rinaldo and Nella Fiorini who ran Rinaldo's Bar on campus for 35 years as well as two former directors of the Rome Center, Dr. Emilio Iodice and George Hostert. Additionally attending from the Chicago campus were: Dr. Margaret Callahan, Provost and Chief Academic Officer; Fr. Scott Hendrickson, SJ, Associate Provost for Global and Community Engagement; Dr. Peter Schraeder, Dean of the College of Arts and Sciences; Luigi Amendola, Assistant Vice President for Development in the Office of Advancement; Dr. Markeda Newell, Interim Dean of the School of Education; and Dr. Siobhan Cafferty, Associate Dean of Academic Affairs and Community Engagement of the School of Education; Joyce Knight, MDiv, Associate Dean for Student Academic Affairs and Advising; Dr. Jackie Long Associate Dean for Academic Affairs and International Initiatives; and Dr. Elizabeth Coffman, Interim Dean Professor, School of Communication.
In the final event of the weekend, Fr. Scott Hendrickson celebrated Mass on Sunday at the Jesuit Church of Sant'Ignazio in downtown Rome.
The weekend also served to remember the JFRC alums who have passed, including Fred Wray, a student in 1965 from Bucknell University who drowned while swimming in the nearby town of Fregene. Before his death, Wray wrote an article for the campus newspaper, detailing his transformative experience. "I look at myself", he wrote, "and I wonder if I am the same exuberant youth who left Kennedy Airport nine months ago. I don't think so. Oh, there has been no sudden or startling change in me, but rather, I think a slow, subtle, at times imperceptible change. You see, Europe has not been just a succession of cities or cathedrals or restaurants. It has truly been an education. Here, there has been no mother, no father, no social class, no cultural milieu to support me. For the first time, I have to be completely self-sufficient. Yet, the lesson that I learned was that the pinnacle of life can only be attained by uniting with others, by deserting a personal ivory tower, and by taking a genuine interest in others; in learning this, I have a lot to master. I have learned our final lesson, and it is this: that although people in different nations may live and work and play according to different local customs, intrinsically they are all alike".
In the 60 years of the John Felice Rome Center much has changed but we are still all alike.