Supply Chain and Sustainability Summit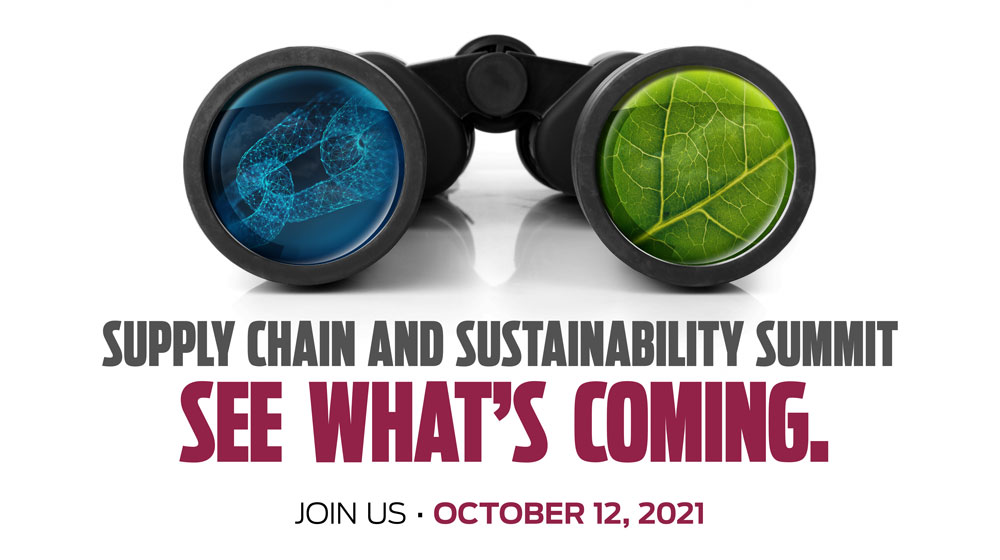 The Supply Chain and Sustainability Summit, hosted by Loyola's Supply Chain and Sustainability Center, brings together a cross-section of different supply chain professionals. Attendees of the Summit will learn about some of today's most innovative supply chain advancements and leave with a variety of new ideas and solutions to implement within their organizations.
Click here for key takeaways and some videos from the Summit.
Guest Experts
Agenda
Virtual Platform Opens
7:00 - 8:00 a.m. (CT)
Welcome
8:00 - 8:10 a.m. (CT)
John Caltagirone, Executive Lecturer, Quinlan School of Business
Keynote: Cloud Computing Trends
8:10 - 8:40 a.m. (CT)
Dave Galatte, Sr. Program Manager, Amazon Web Services
It's no secret that cloud computing is continuing its rapid adoption across corporations of all sizes and all across the globe. Take a closer look at this trend to understand some technical solutions and business objectives driving this overall trend. Join our keynote presentation with Dave Galatte to hear observations and AWS customer case studies highlighting some of the most popular trends in cloud computing.
15 minute break
Building a Sustainable and Equitable Green Infrastructure
8:55 - 9:25 a.m. (CT)
Jason Feldman, Co-founder, Green Era Sustainability
The pandemic, and its impact on the supply chains and the global food system, spotlighted the need to strengthen local food systems and infrastructure, especially in black and brown communities. Learn how Green Era is developing an anaerobic digester and urban farming campus on Chicago's South Side that will recycle inedible food waste to produce renewable energy and nutrient-rich soil. Development projects like the Green Era Campus improve sustainability, strengthen local supply chains, increase access to local food and drive equitable economic development. Join us to discuss Green Era's innovative green infrastructure and how it is helping both communities and businesses shift to more sustainable systems.
15 minute break
Panel: Environmental, Social, and Governance Reporting 101 (Why It Matters for Supply Chain)
9:40 - 10:30 a.m. (CT)
Panelists:
Lauren Loew, Foley & Lardner LLP (Moderator)
Pete Tomasi, Foley & Lardner LLP
Jenna Kunde, Global Director of Sustainability, Johnson Controls, Inc.
Cathy Pieters, Sr. Director of Sustainable Ingredients, Mondelez
Paul Renberg, Sr. Counsel EHSS and Real Estate / Sr. Director EHSS, Dana Incorporated
Companies are increasingly being required to report their environmental and sustainability efforts to investors, stakeholders, consumers, and the public. This panel will cover ESG reporting and the intersection with the supply chain, including the importance of tracking and reporting sustainability activities in the supply chain and how companies are undertaking these reporting efforts. Panelists will include subject matter experts in the food, automotive, and building solutions fields.
15 minute break
Panel: Transportation & Operations: Before, During, and After COVID
10:45 - 11:30 a.m. (CT)
Panelists:
Sarah Burke, President - U.S., Martin Brower
Mari Roberts, VP of Transportation, Frito-Lay
Matt Schaenzer, Logistics Strategic Sourcing Manager, Intel
Alex Yeager, Senior Vice President, M&A and Ventures, Redwood Logistics (Moderator)
The pandemic has had a significant impact on supply chain transportation and operations. Three executives will discuss the challenges their organizations faced, how they dealt with those challenges, and what operational policies they plan to keep as they look ahead to 2022 and beyond.
15 minute break
Fireside Chat: Opportunities for Doing Business with the City of Chicago
11:45 a.m. - 12:30 p.m. (CT)
Marquis Miller, Chief Diversity Officer, City of Chicago
Chris Kitzman, Corporate Account Manager, Citrix (moderator)
The pandemic's impact on Chicago's plans for capital projects and important workforce development initiatives, spotlighted the need to strengthen internal systems and processes for greater success in certification of MWBEs, contract management and compliance, especially in the construction space and the trades. Chicago's recent Disparity Study brought forth several recommendations for addressing prime contractor, sub-contractor, and other vendor/supplier issues, as well as implications for improving non-construction/professional services—all tied to economic recovery. Learn what the recommended changes will mean in doing business with the City that you can put to work in your operations, and how a focus/emphasis on IDEA (inclusion, diversity, equity & accessibility) can enable improved outcomes for your supply chain (and value chain) organization and professional development. Given that the supply chain industry is facing significant challenges attracting and retaining people, you will learn strategies to improve sustainability, increase access to employment opportunities, and drive equitable economic development.
Student Scholarship Presentation & Adjourn
12:30 - 12:35 p.m. (CT)
Click here for a look at last year's 2020 Summit
Special thanks to our sponsors