archive
CJC Professor participated in panel discussion on mass incarceration & screening of the Netflix documentary "13th"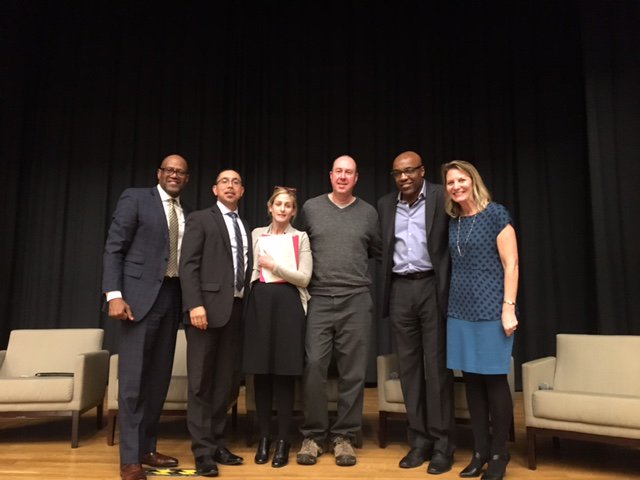 Dr. David Olson participated in a panel discussion following a public screening of the Netflix documentary "13th". The panel – including State Senator Kwame Raoul and others (see above) – discussed social justice as well as what community-based organizations and lawmakers can do to stop the trend of mass incarceration. The event took place at the Chicago Cultural Center on January 17, 2017, and was hosted by the Law Office of the Public Defender – Cook County, the National Association of Public Defense, and the City of Chicago's Department of Cultural and Special Events. Dr. Olson is a Professor of Criminal Justice & Criminology in Loyola's College of Arts & Sciences, and is also the Co-Director of the Center for Criminal Justice Research, Policy, & Practice with Diane Geraghty, the A. Kathleen Beazley Chair in Children's Law and Director of the Civitas Childlaw Program in Loyola's School of Law.
Senior Staff Attorney, Elissa Johnson and Dr. David Olson gave plenary presentations at the Aids Foundation of Chicago
Elissa Johnson and David Olson both gave plenary presentations at the Aids Foundation of Chicago day-long conference on October 6, 2016, that examined the relationship between mass incarceration, racial equity and social justice in the criminal justice system. Elissa is a Senior Staff Attorney at the Southern Poverty Law Center, and she earned her J.D. and MSW from Loyola, where she was also a former Childlaw Fellow in Loyola's Civitas Childlaw Program. Dr. Olson is a Professor of Criminal Justice and Criminology in Loyola's College of Arts and Sciences, and is also the co-director of the Center for Criminal Justice Research, Policy and Practice with Diane Geraghty, the A. Kathleen Beazley Chair in Children's Law and Director of the Civitas Childlaw Program in Loyola's School of Law.
How the American online sex trade continues to thrive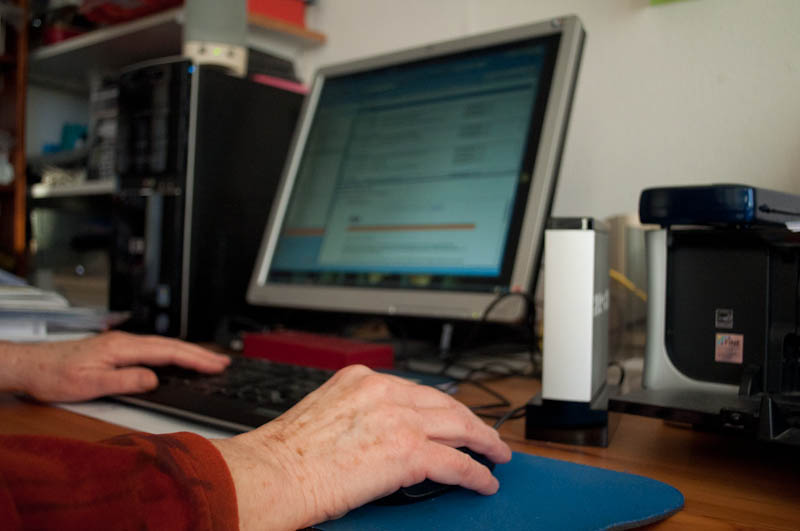 Alpha Phi Sigma Student Volunteers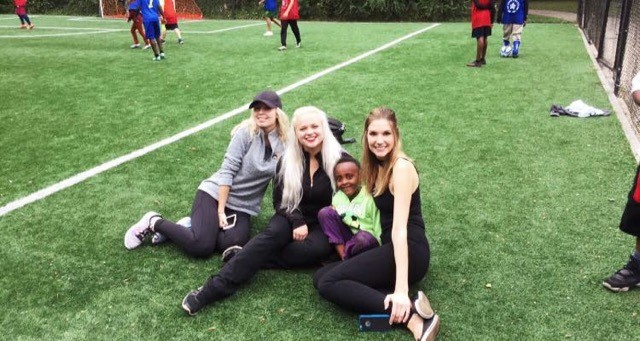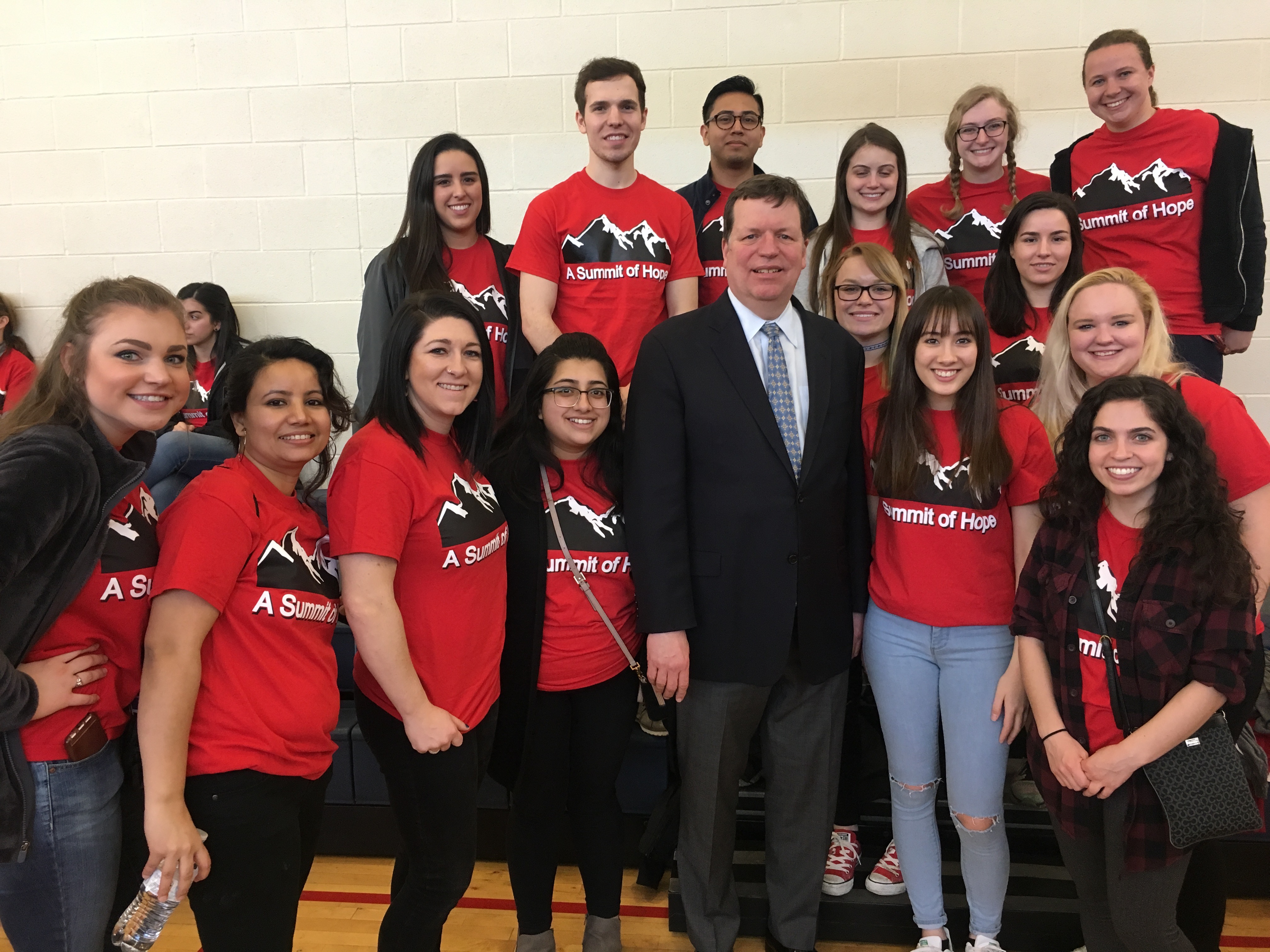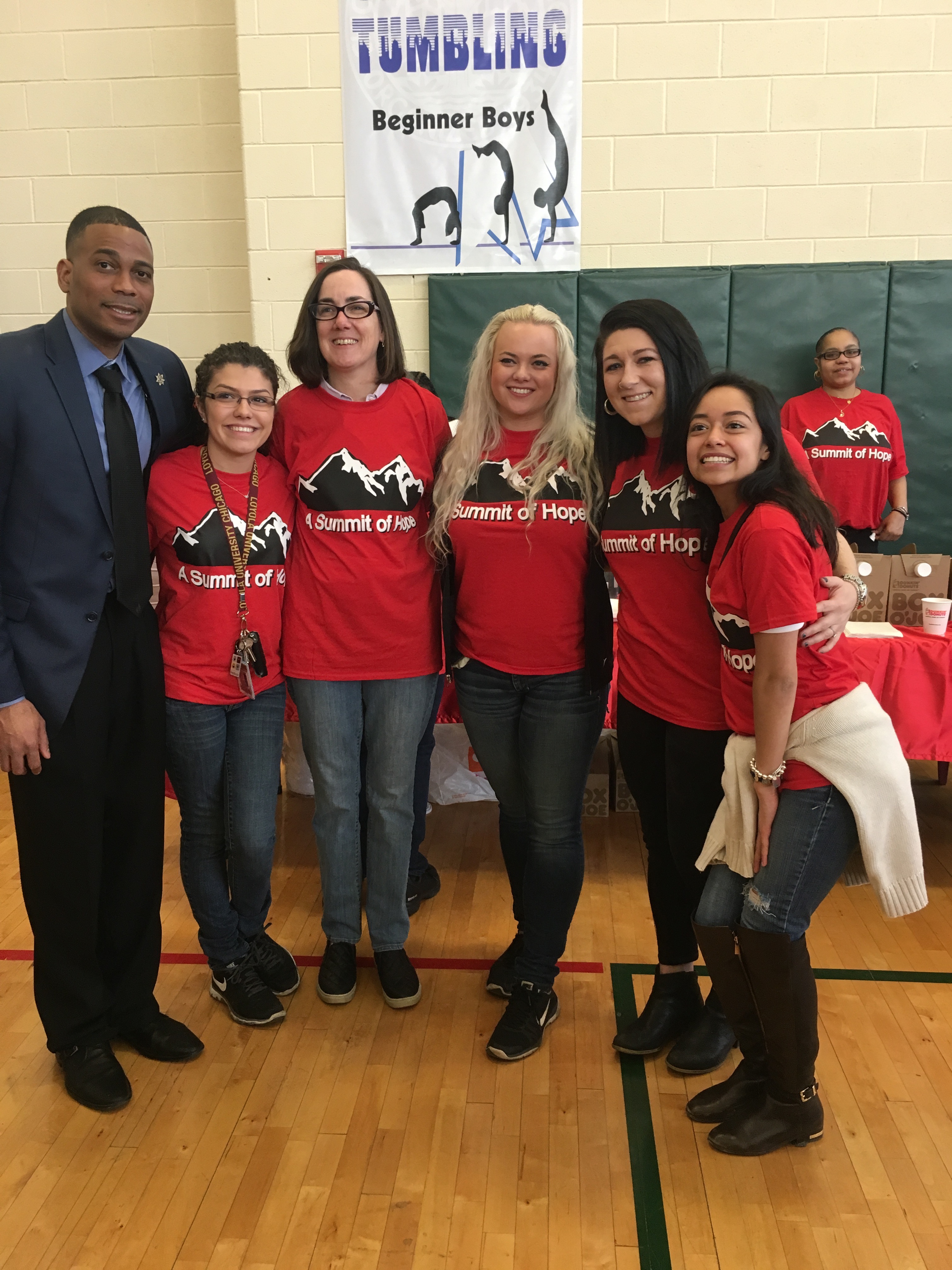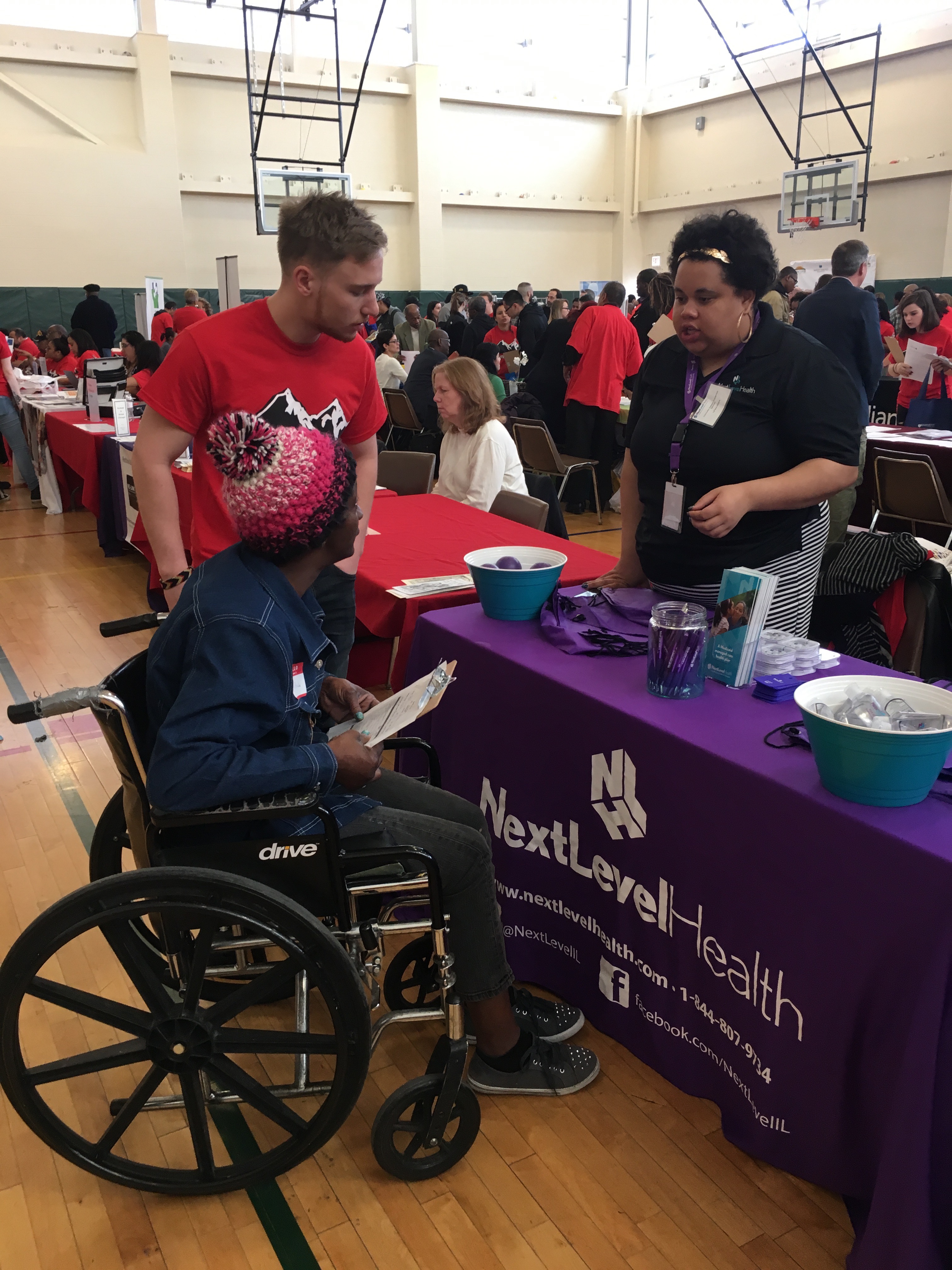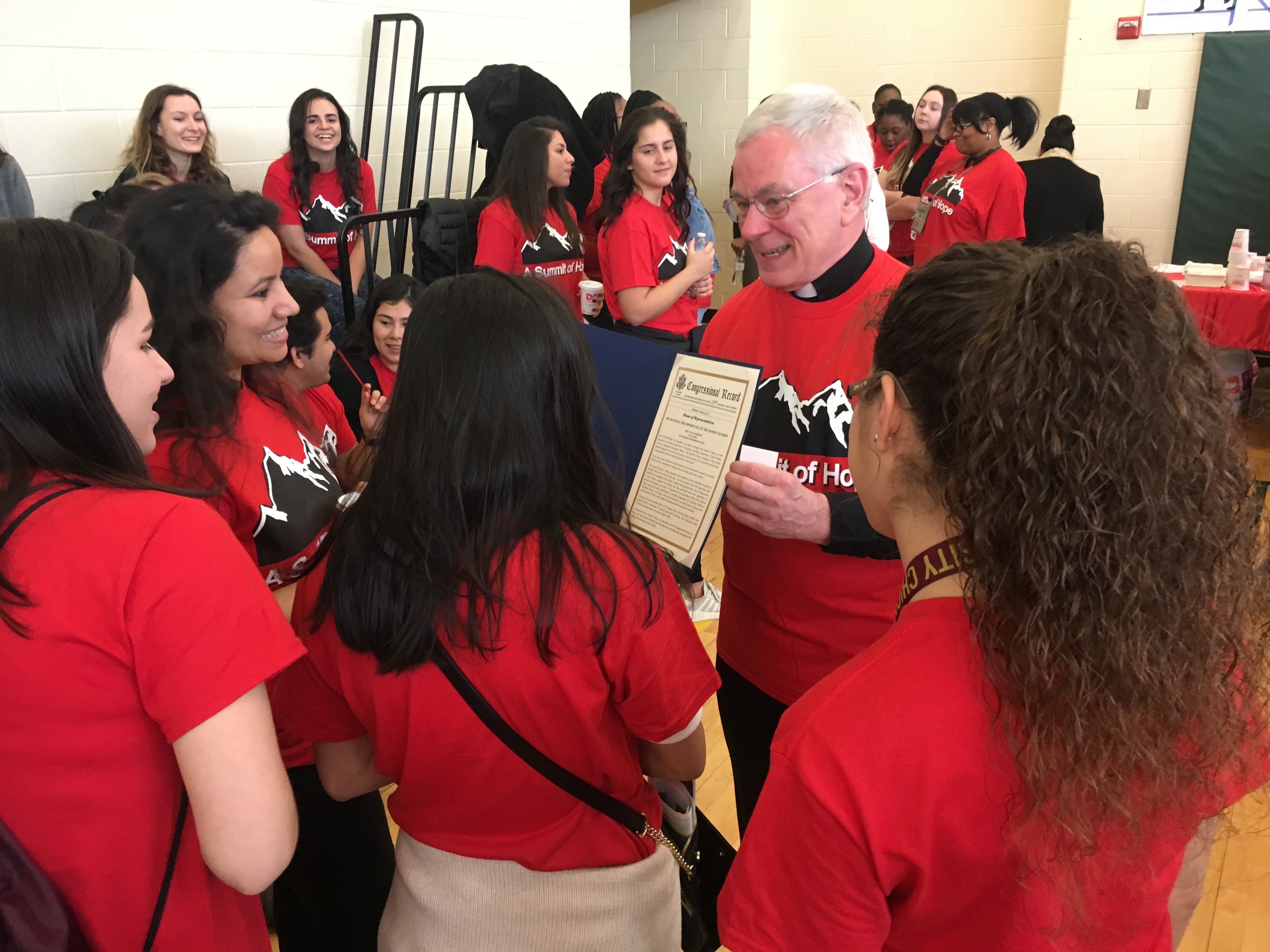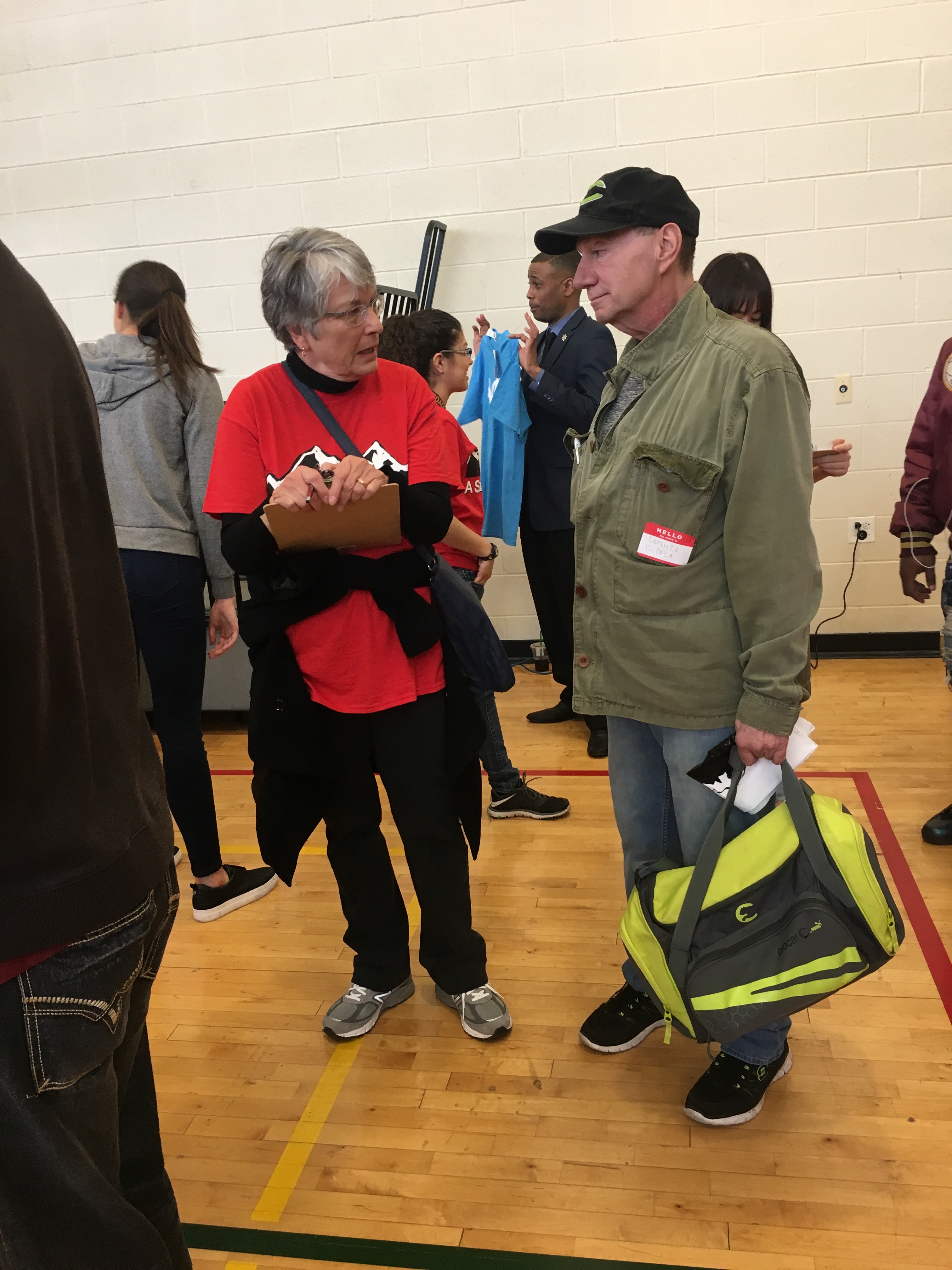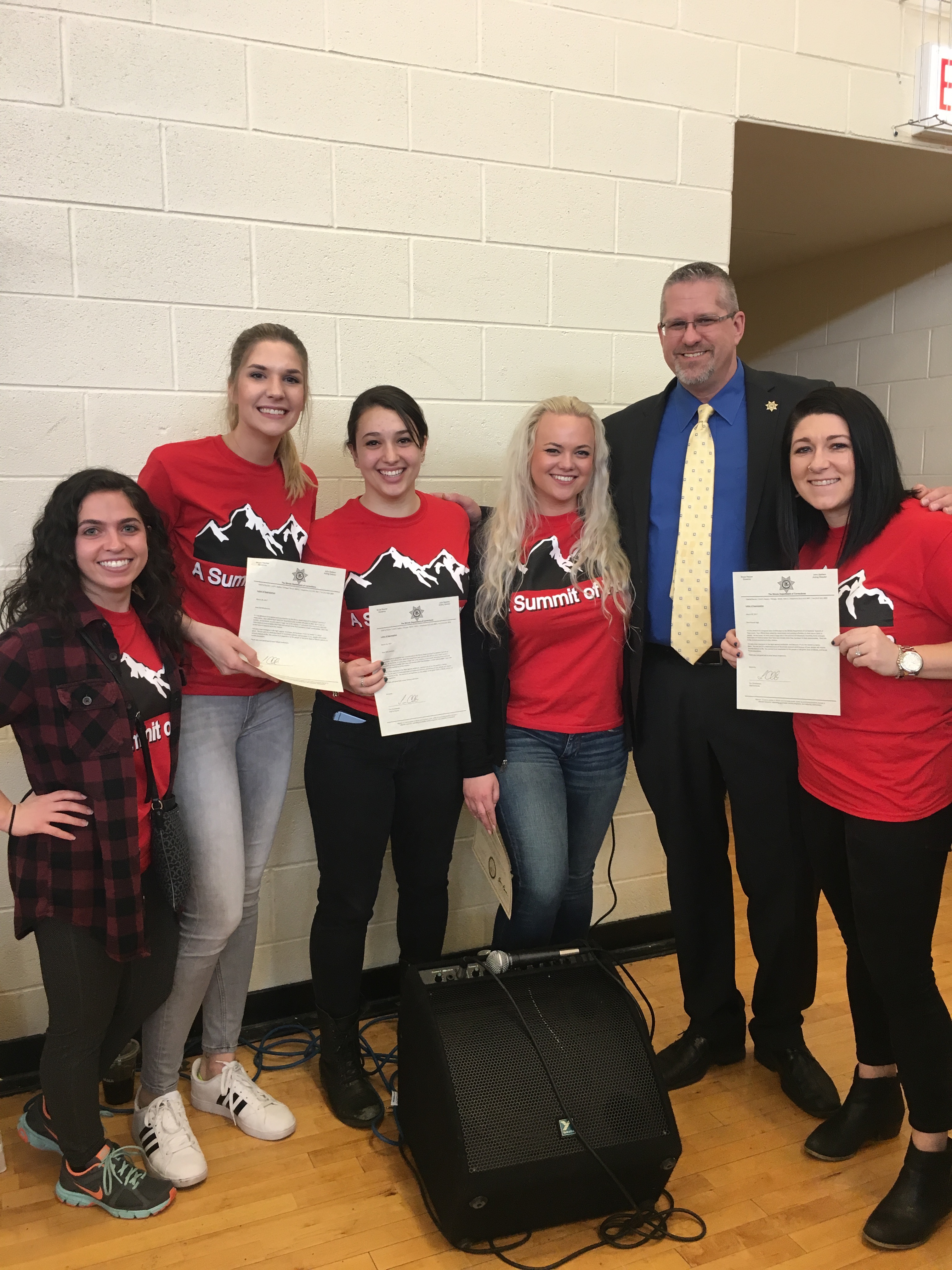 Student Intern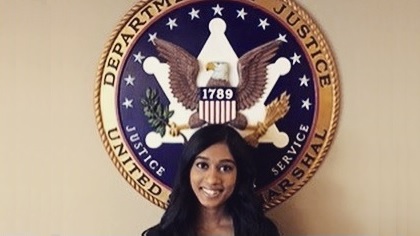 Michelle Marin – Criminal Justice & Criminology (CJC) major and Psychology of Crime & Justice minor – spent her summer (2016) as a U.S. Marshals Service intern in the Northern District of Illinois office (Chicago).
CJC Internship – U.S. Marshals Service
My CJC internship allows me to rotate between various divisions of the U.S. Marshals Service, including Asset Forfeiture Program, Administration, Lockup, and the Great Lakes Regional Fugitive Task Force. As an intern I assist in tactical drills, handcuffing/fingerprinting, filing/acquiring case files, mailing summons, attending court hearings, and shadowing the Deputy Marshals, to name a few of my responsibilities.
What has been the best part about your CJC internship?
My favorite part of this internship is the exposure I get within federal law enforcement. As an intern I receive access to most of the cases that the Deputy Marshals attend to, allowing the internship experience to be incredibly immersive. I also love how willing the Deputy Marshals are with sharing past experiences they have had as well as how accepting they are with answering questions about the field.
How have your CJC courses prepared you for your internship?
I often find myself referring back to material I have learned in my CJC courses at Loyola. In terms of real-world knowledge about the criminal justice system, the Corrections course (CJC 204) I took with Dr. Olson was undoubtedly the most useful class I have taken in my time here at Loyola.
For more information about the CJC Internship Program:
Contact: Dr. Jona Goldschmidt (Professor & Internship Director) at jgoldsc@LUC.edu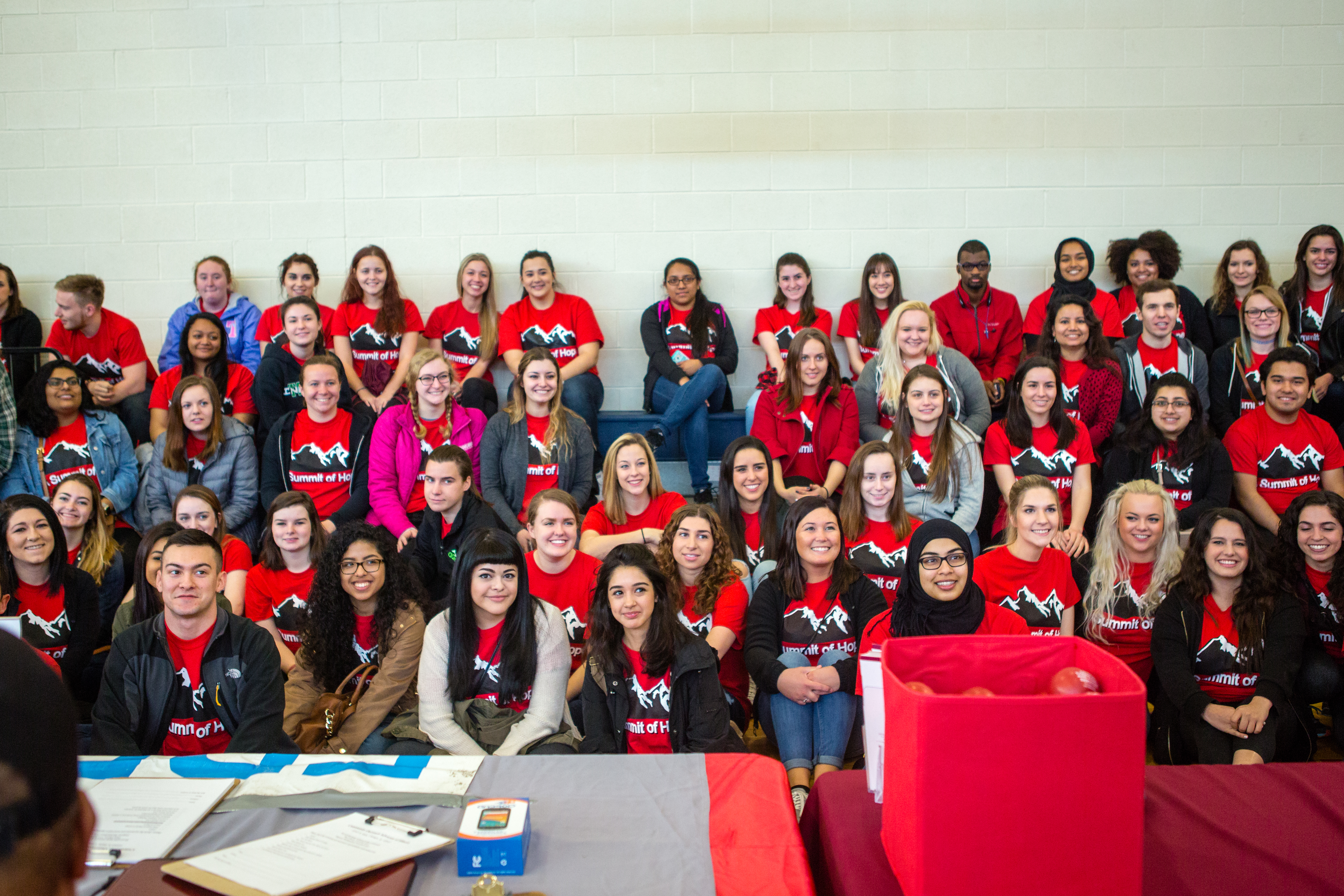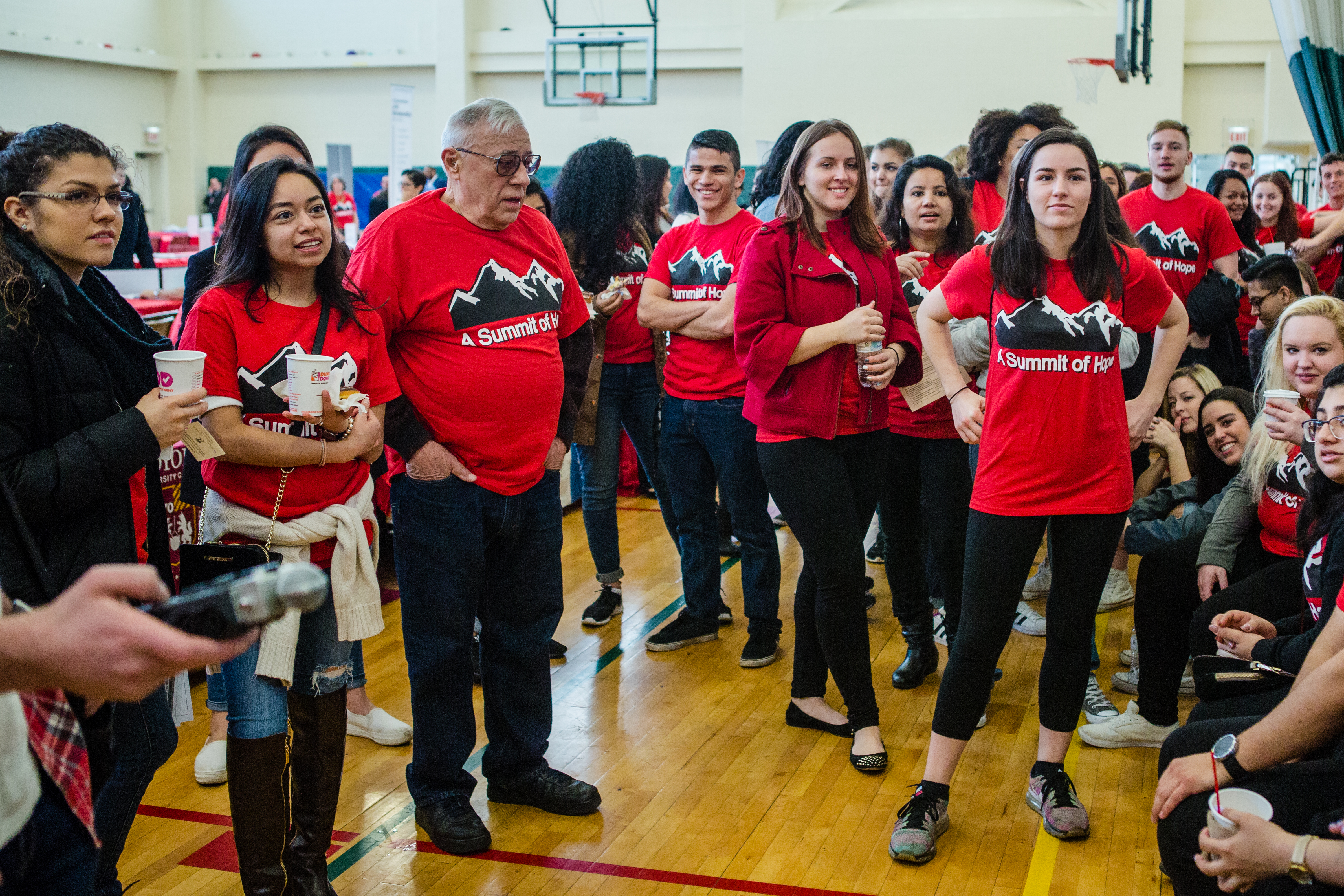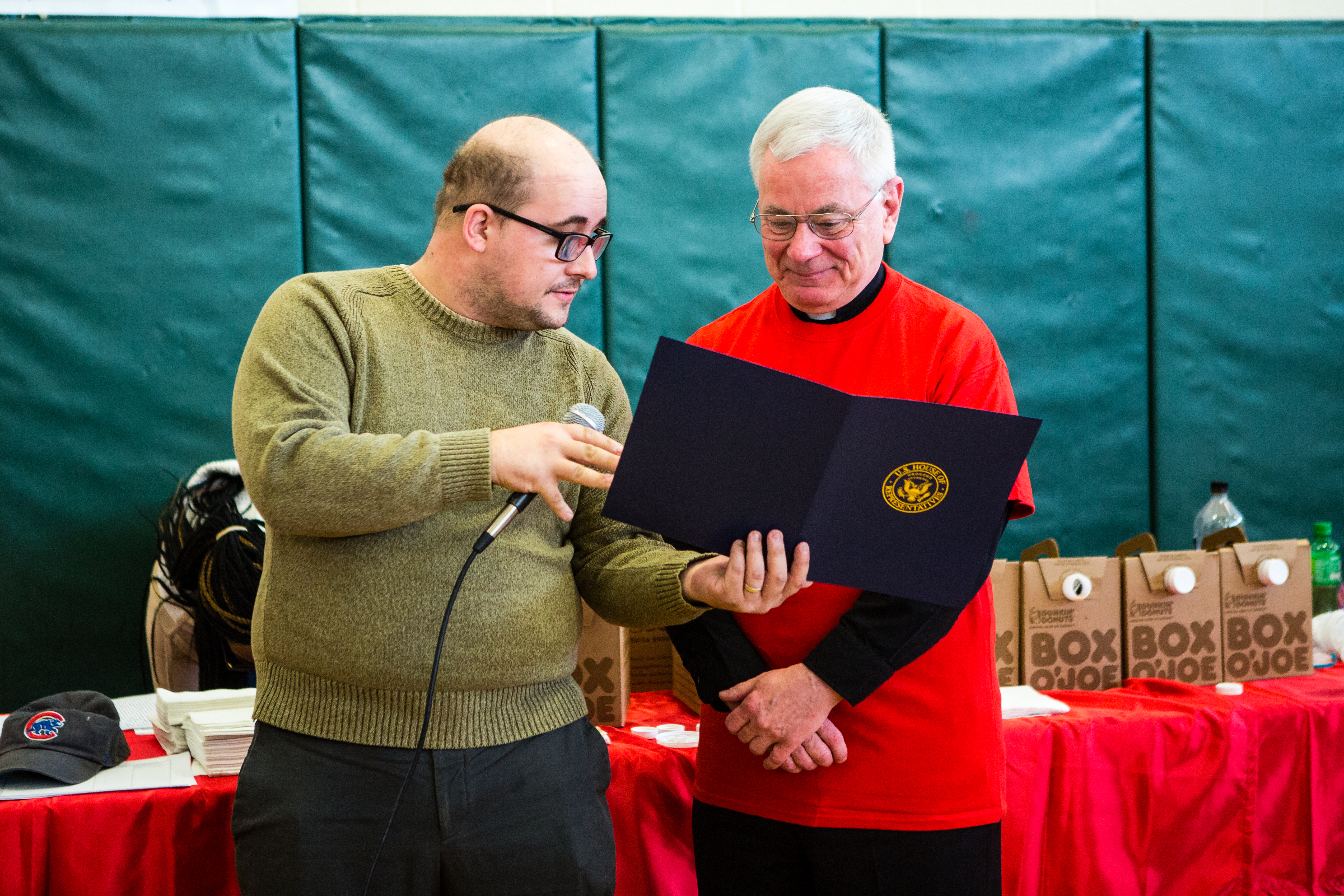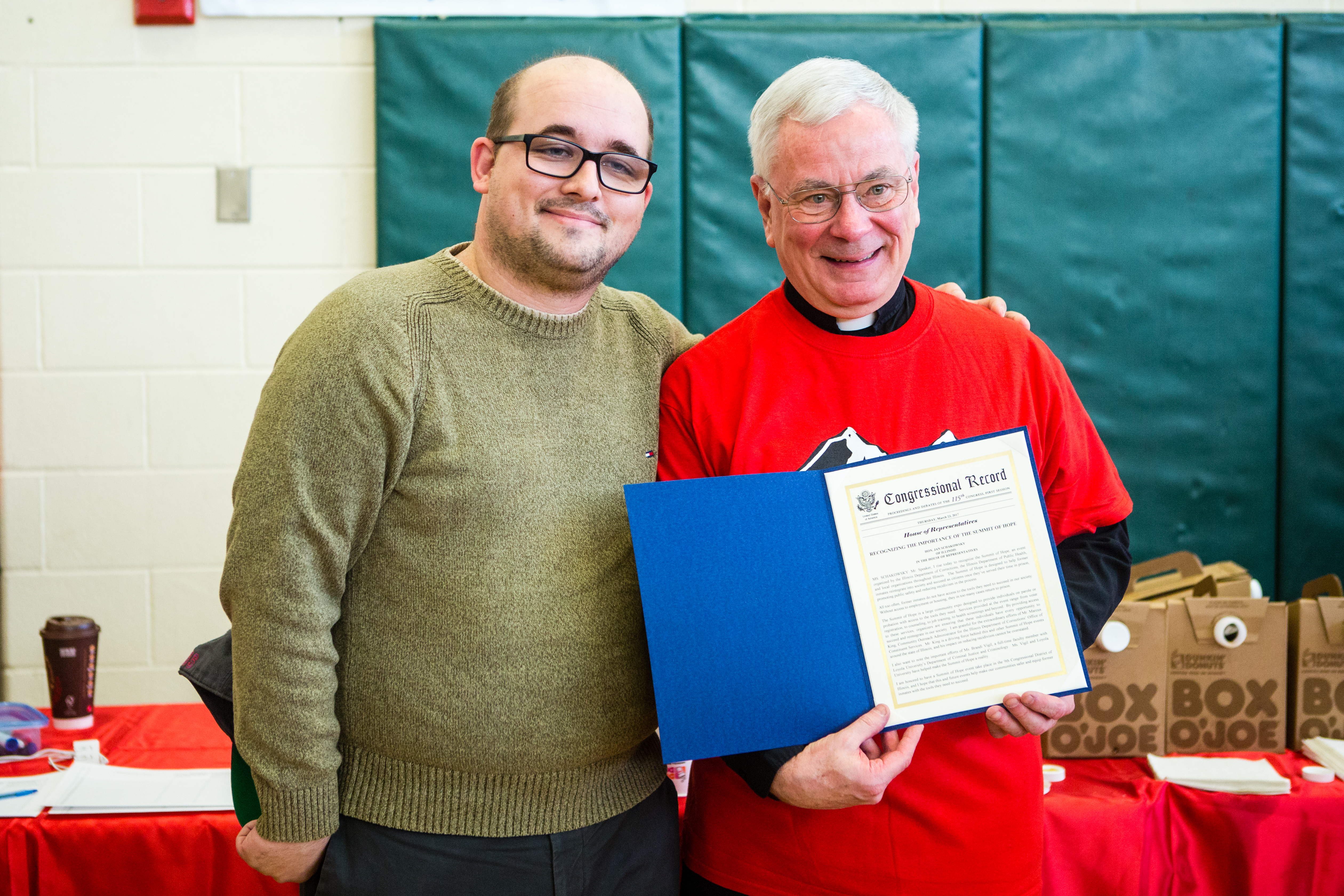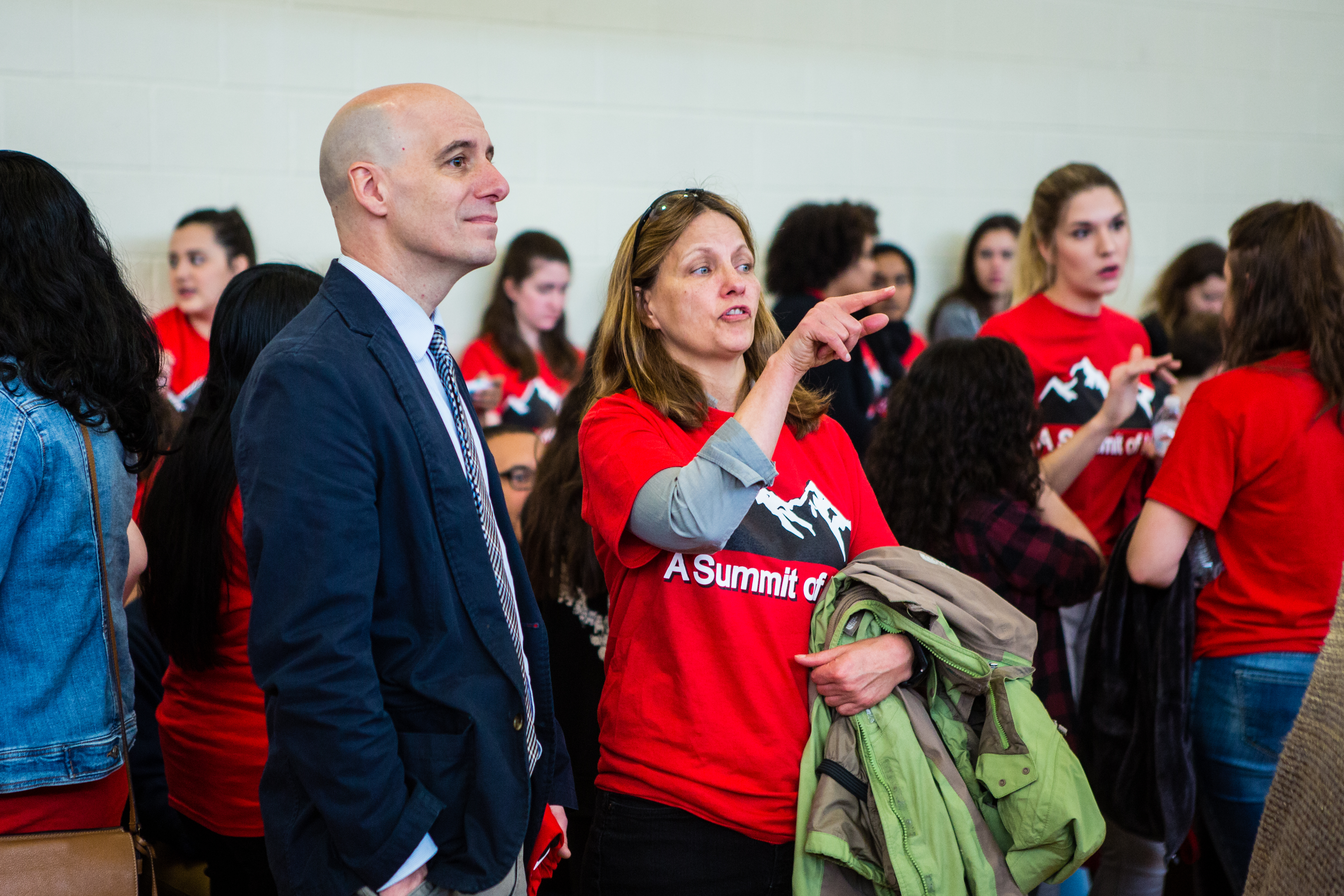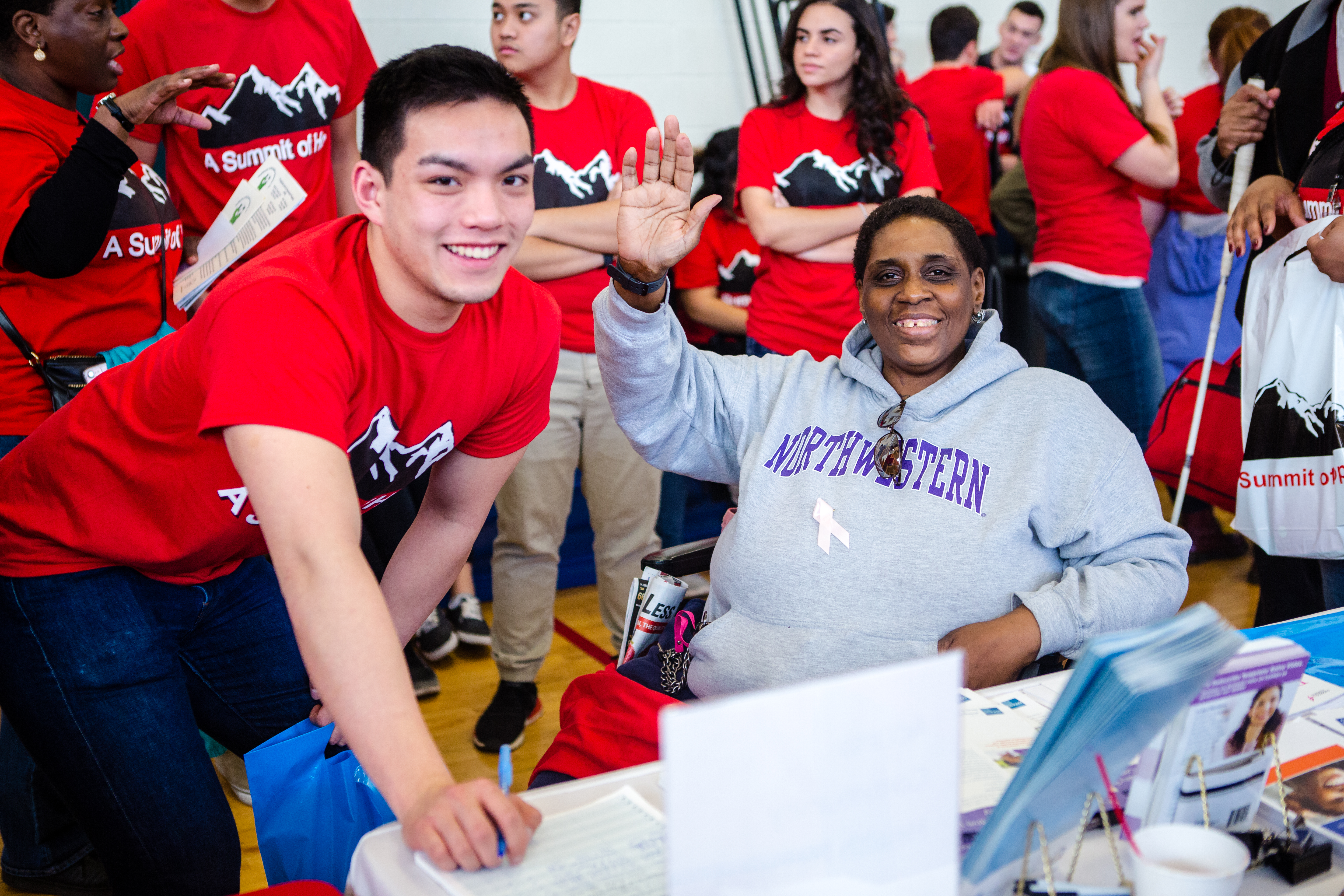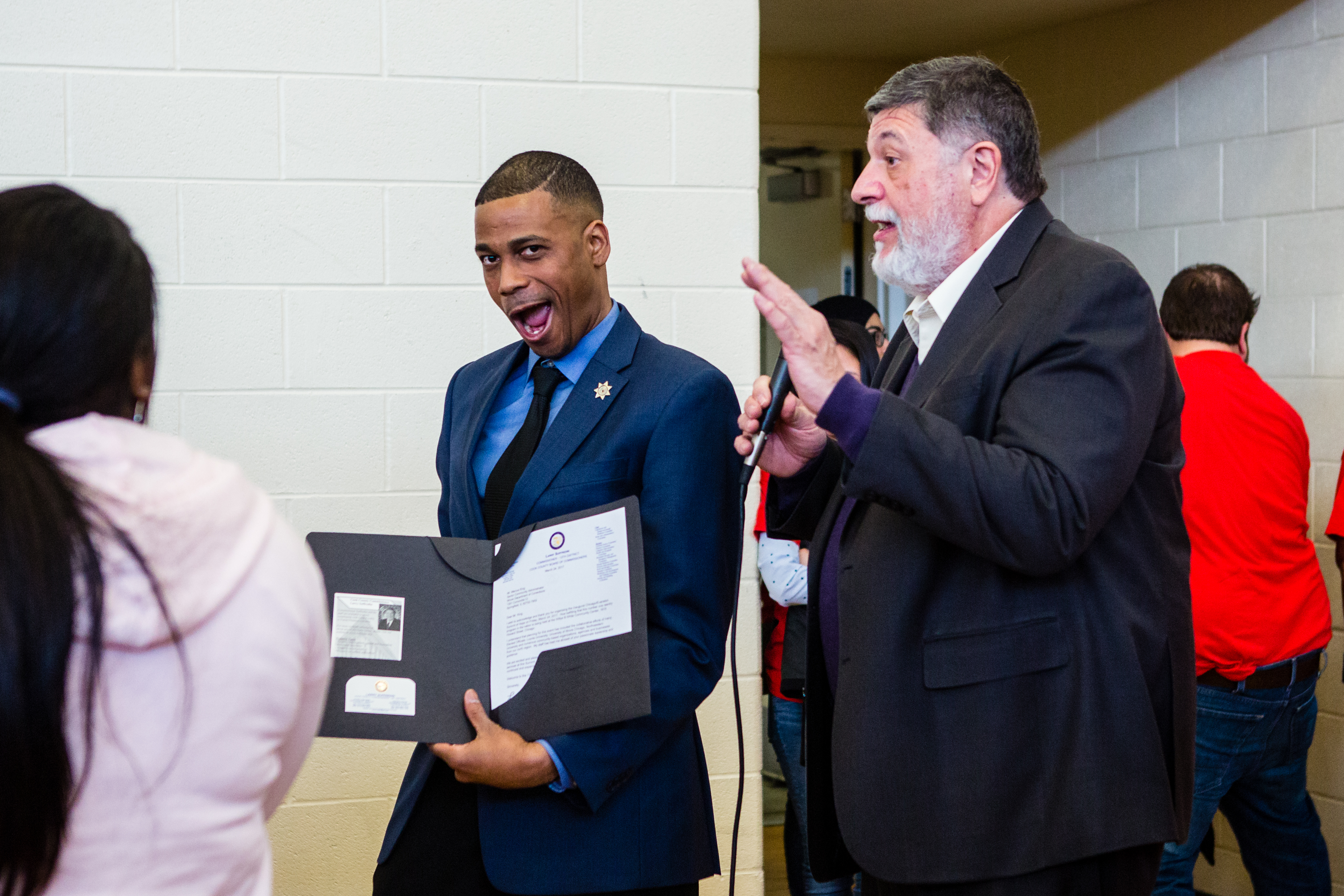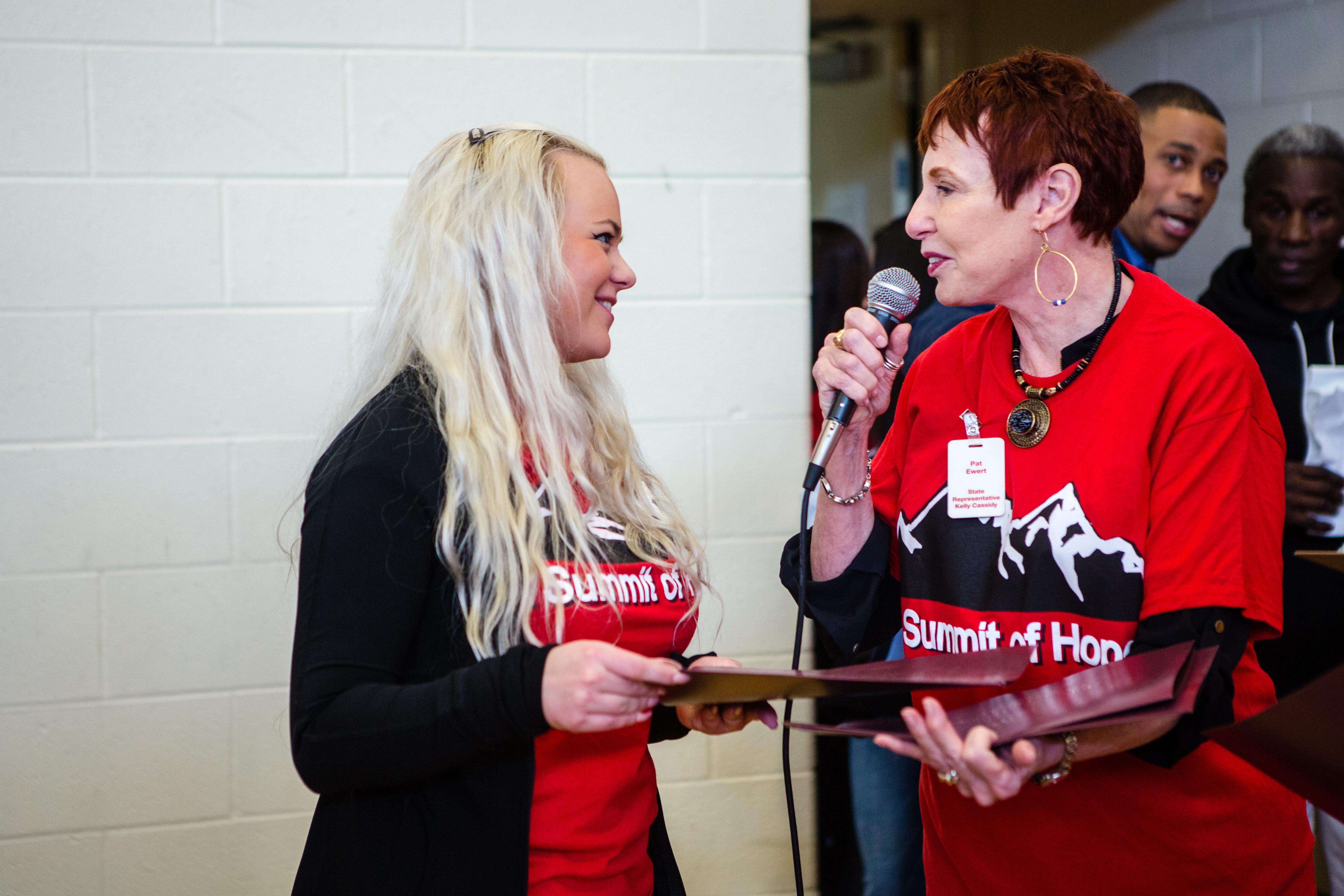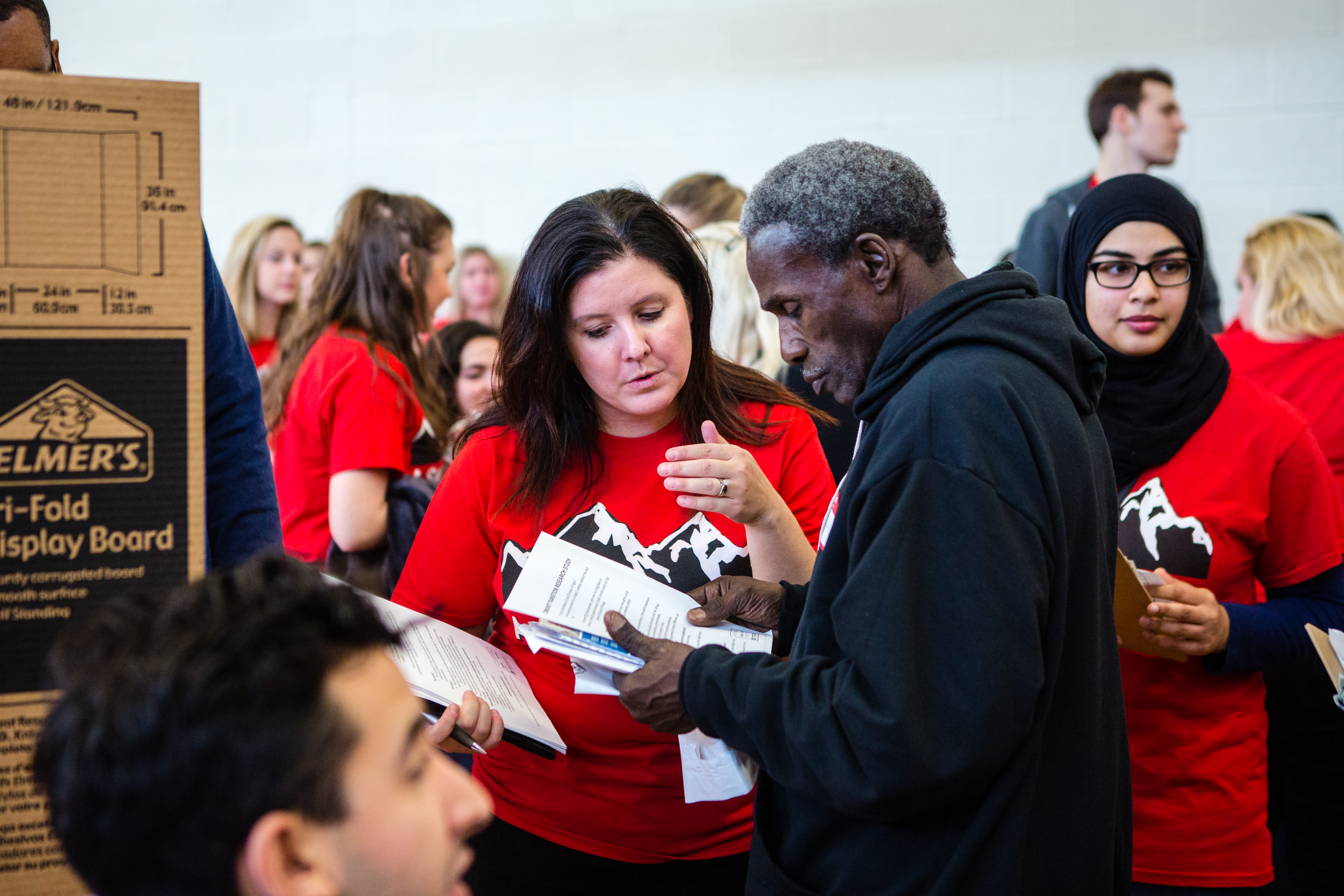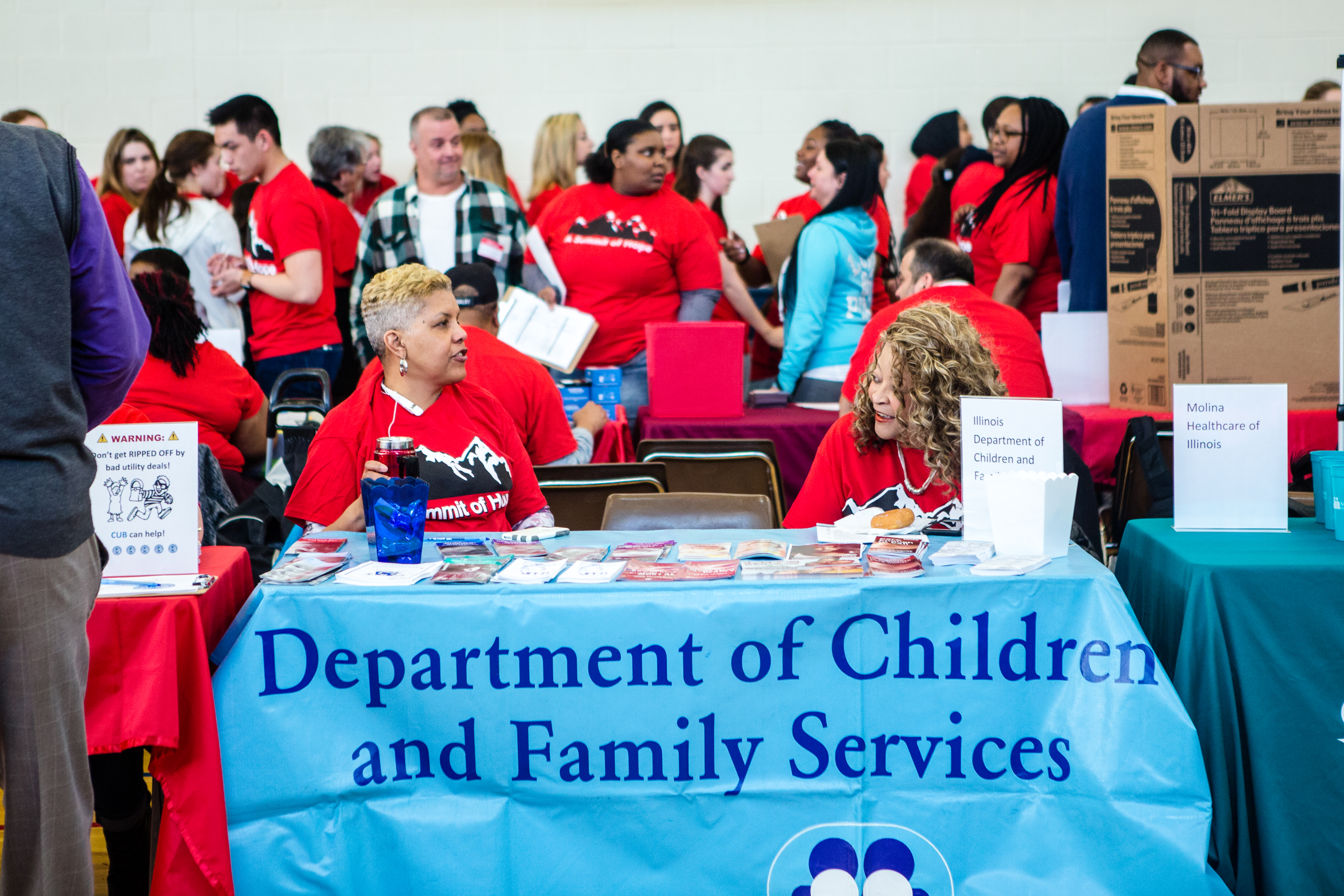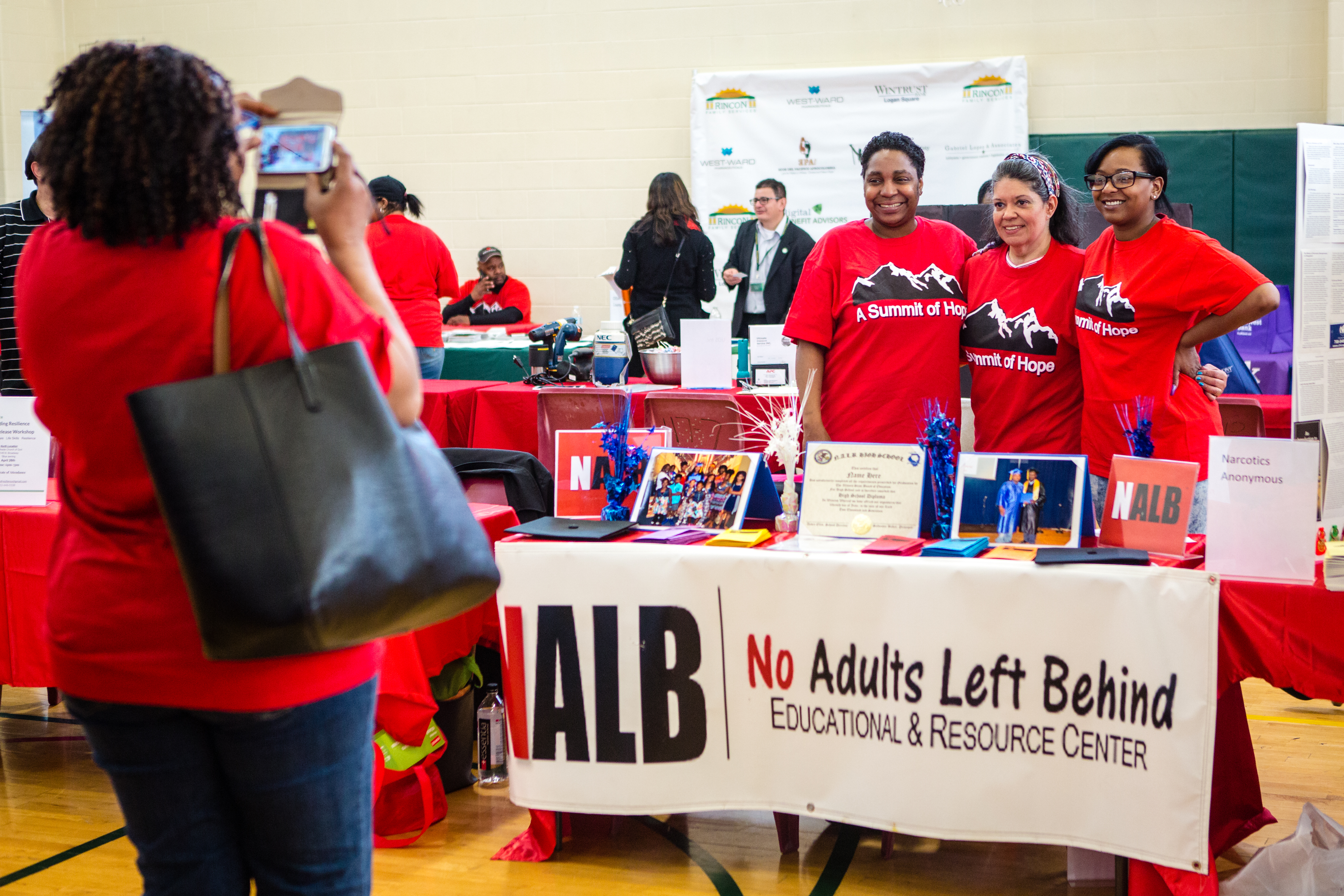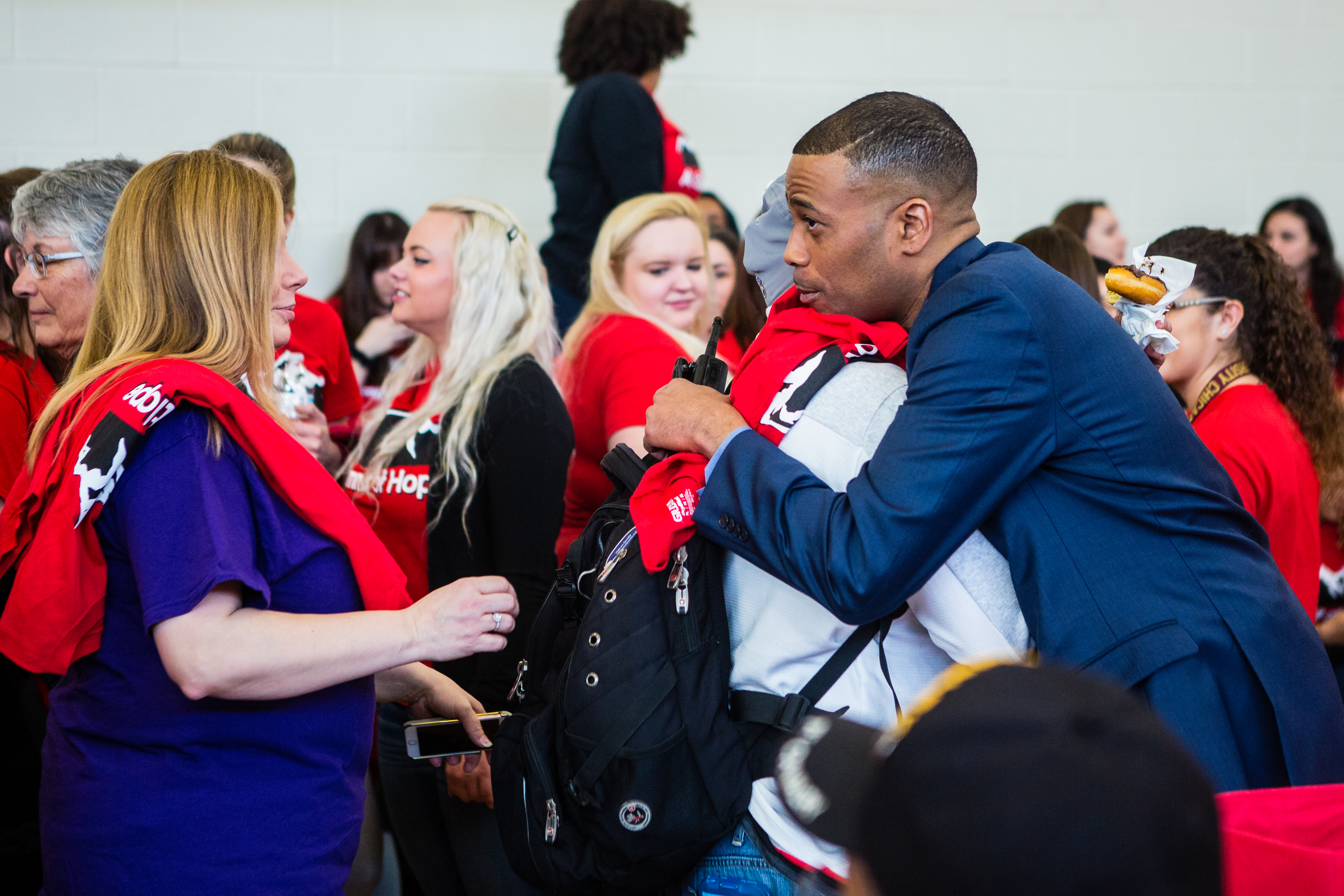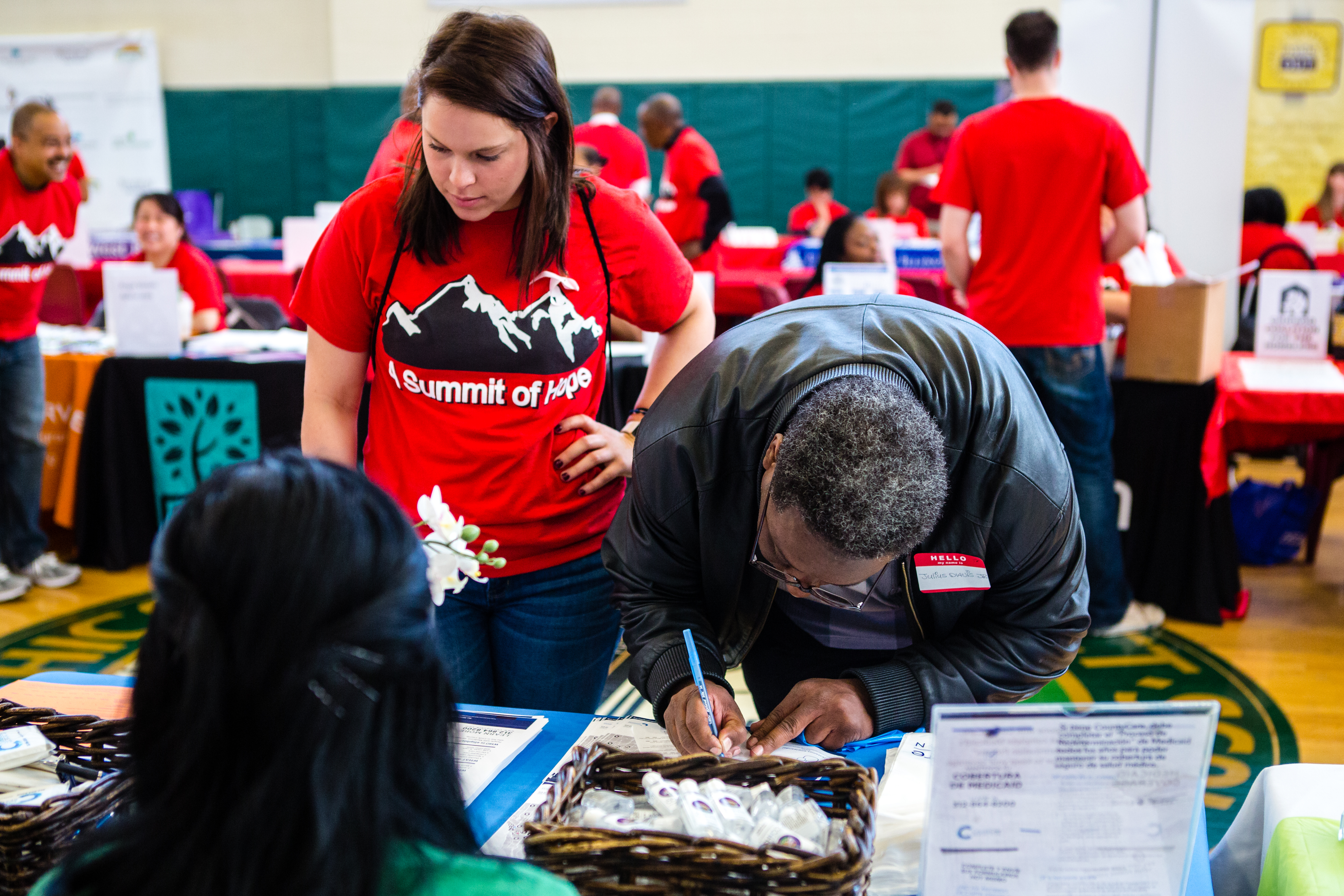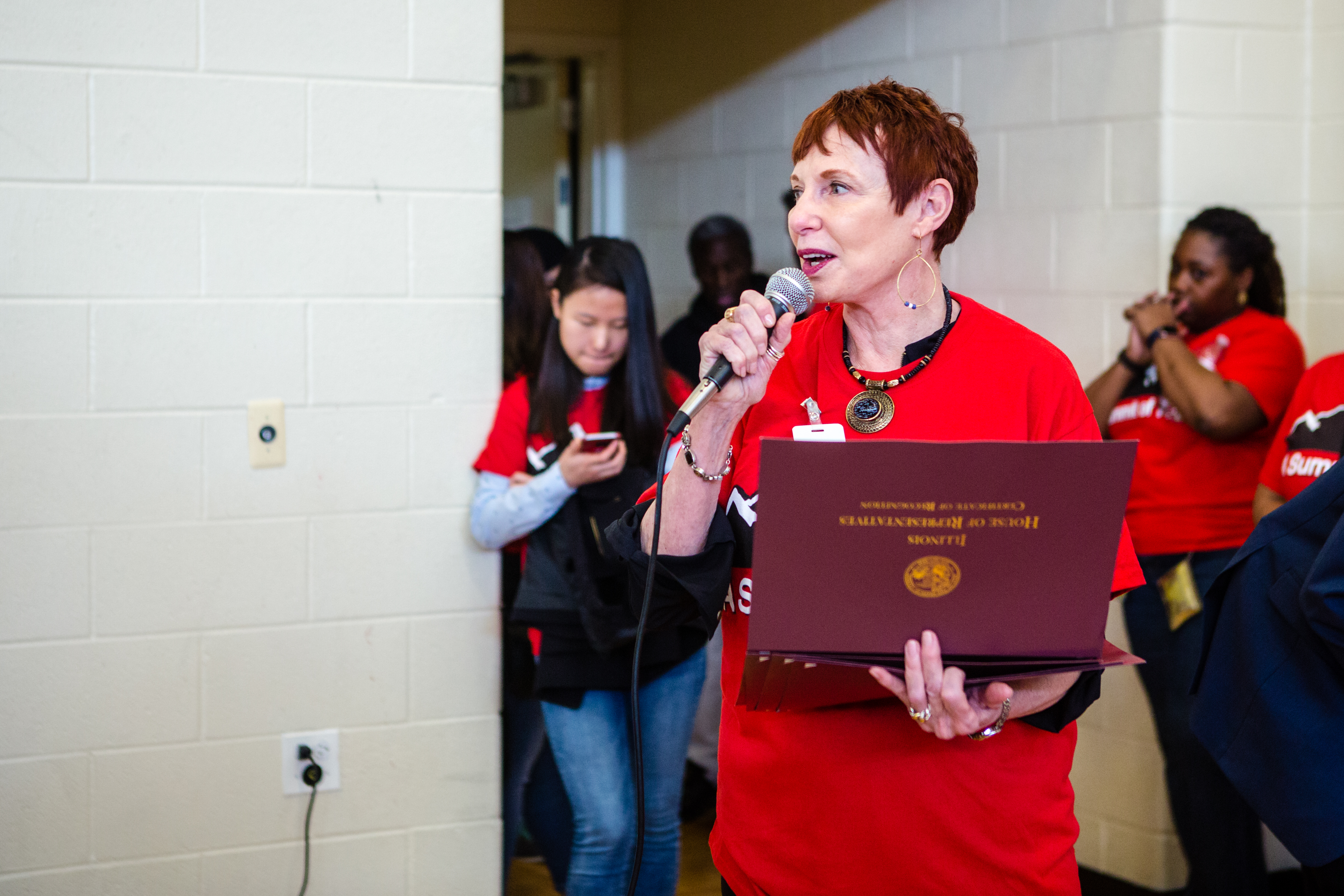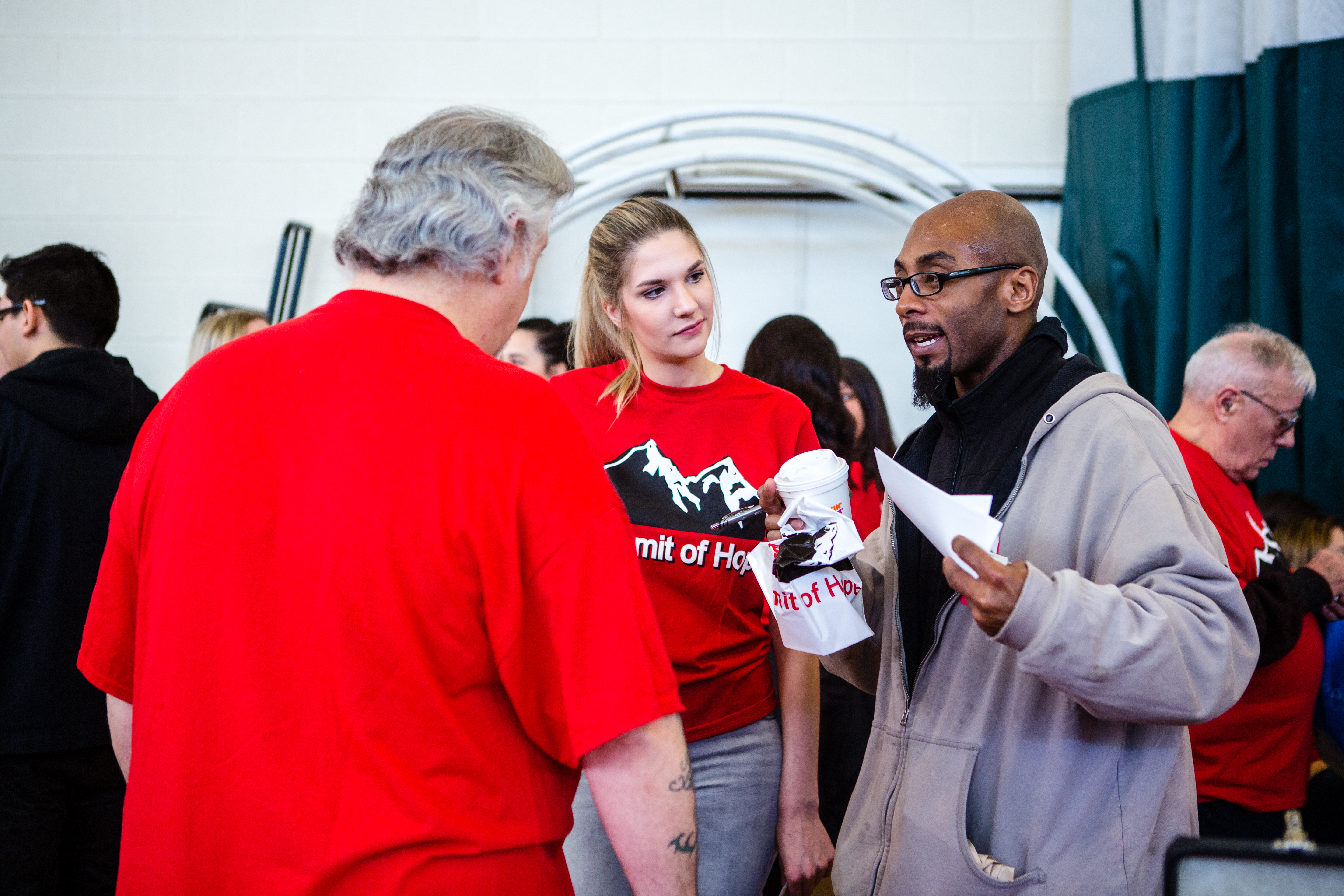 Loyola Announces Launch of Interdisciplinary Center for Criminal Justice
Loyola University has officially launched the Interdisciplinary Center for Criminal Justice Research, Policy and Practice. The Center is a major initiative of the University with a focus on its strategic five-year plan to promote social justice.
The Center is supported in part by the John D. and Catherine T. MacArthur Foundation, which led the Models for Change initiative that centered on juvenile justice reform.
Under the aegis of CAS's Department of Criminal Justice and Criminology, the School of Law, and with the collaboration of other University partners, the Center will adopt a comprehensive approach to help create a more informed, effective, and ethical criminal justice system. The Center's research and other endeavors will respond to calls for criminal justice reform, which are being heard at both local and national levels.
One Friday, February 19, the Center will address the treatment of emerging adults, ages 18-24, in the criminal justice system by convening a symposium, "Emerging Adults and The Criminal Justice System: Charting the Course for Policy and Practice." This event is free to Loyola students, faculty, and staff. To learn more and register for the event, visit www.luc.edu/emergingadults.
Guest speaker for a Cook County State's Attorney program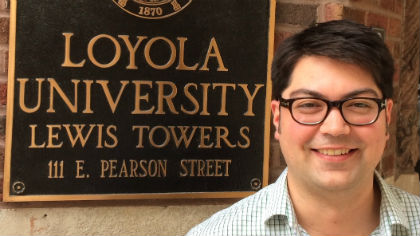 Dr. Mike Vecchio, Assistant Professor, was invited to speak on April 14th for the Cook County State's Attorney gang education course in Chicago's Morgan Park neighborhood. Along with representatives from the Gang Units of the Cook County State's Attorney and Chicago Police Department, he will address local community members about the problem of youth gangs. His presentation will focus on the motivations and methods of gang joining and leaving as well as the community's role in encouraging both prevention and desistance. Dr. Vecchio has worked on two National Insitute of Justice funded youth violence studies and his scholarly research focuses on intersection of youth gangs, violence, and victimization.
Dr. Don Stemen Appears on WBEZ to Discuss State's Attorney Race
Dr. Don Stemen, Department Chair of Loyola's Department of Criminal Justice and Criminology, appeared on WBEZ's Morning Shift program last week to discuss the Cook County State's Attorney Race with WBEZ criminal justice reporter Patrick Smith and moderator Tony Sarabia.
Dr. Stemen provided analysis on the preceding debate between the incumbent Anita Alvarez, and challengers Donna More and Kim Foxx during the last ten minutes of the program.
The recent high profile cases involving the Chicago Police shootings of Laquan McDonald and Dante Servin have fostered increased interest in the State's Attorney race this election cycle.
"I think citizens are very invested in this election in particular," Dr. Stemen told Sarabia. "People in the community want this State's attorney's race to put someone in place who can lead."
Smith said that In light of the shootings and ensuring cover-up, voters have placed Alvarez under increased scrutiny, jeopardizing her chances for re-election.
However, although these high profile cases galvanize the public, Dr. Stemen said most concerning is how the State's Attorney's office handles every-day low level offenses that come into the courtroom and affect far more people in Cook County. Dr. Stemen discussed the importance of creating greater transparency with the public and increasing community engagement between the Office and the communities it serves.
CJC students attend Citizens Police Academy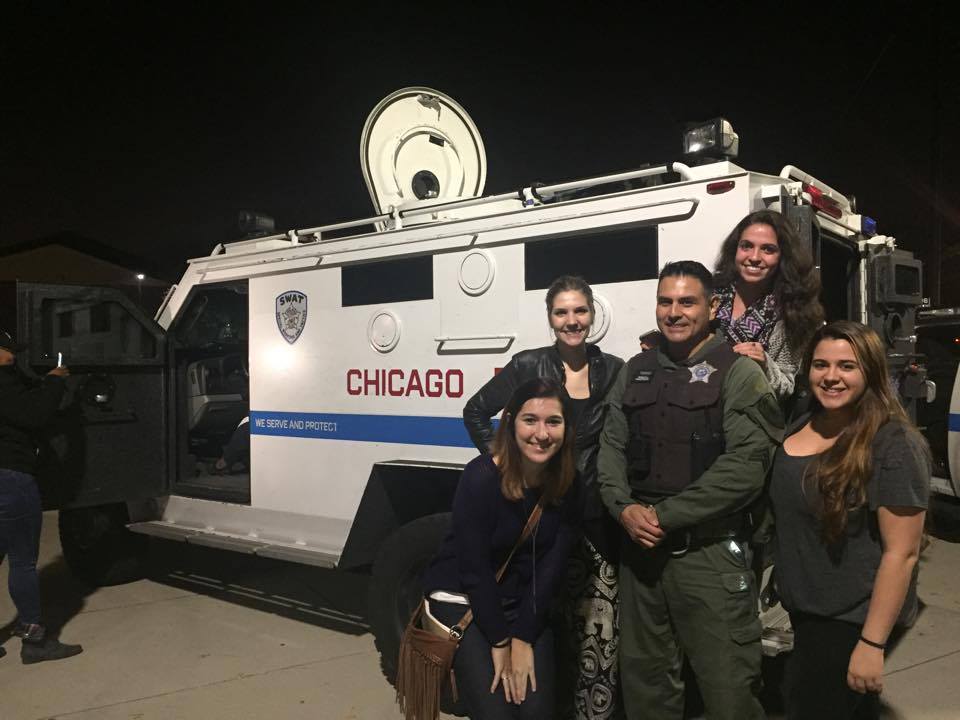 Students from Loyola's Department of Criminal Justice and Criminology participated in the Chicago Police Department's Citizen Policy Academy. The students are members of the Alpha Phi Sigma national criminal justice honor society. The Citizen's Police Academy is a course conducted by the CAPS Project Office and the Education and Training Division of the Chicago Police Department. It provides a hands-on training program in a friendly atmosphere and is open to all Chicago residents and workers. The course is run by the Chicago Police Department and closely follows the actual training that police officers receive. The goal of the program is to build a closer bond between CPD and residents.
CJC graduate student Scott McWilliams honored
On November 5, graduate student Scott McWilliams was presented with the Volunteer of the Year award at the John Howard Association's Annual Meeting. Scott's work with the John Howard Association began as an internship last year, and he continues to volunteer with the organization. Dr. David Olson, a professor in the Criminal Justice and Criminology Department, was also recognized at the John Howard Association meeting with an award for Outstanding Research Contributions. The John Howard Association is Illinois' only non-partisan prison watchdog group. information about their excellent work can be found at http://www.thejha.org/.
Alpha Phi Sigma partner with CPD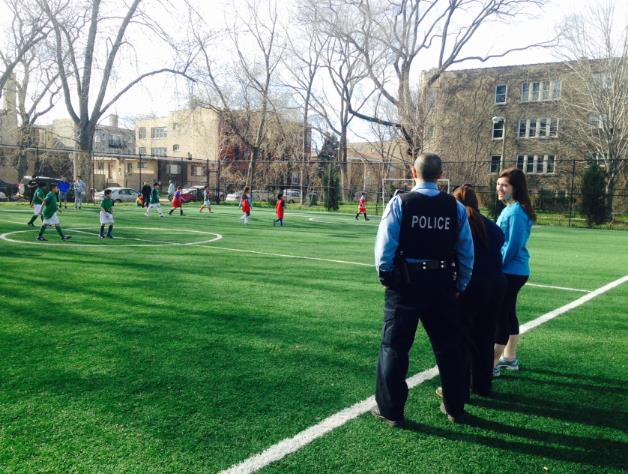 Members of Loyola University Chicago's Beta Omicron chapter of the National Criminal Justice Honor Society – Alpha Phi Sigma (APS) – are students devoted to positively impacting the criminal justice community. For the past year APS partnered with District 24 of the Chicago Police Department (CPD)(near Clark and Devon) by participating in various community service projects. For example, CPD's Peer Jury program is designed to meaningfully and innovatively help selected juvenile offenders improve their futures. In July, APS students, CPD officers, and juveniles in the Peer Jury program came together for a peace circle that discussed culture, immigration, and education. APS students discussed and promoted the importance of education to the juveniles, while simultaneously connecting with them over shared cultural experiences. APS members coached and volunteered with CPD's Youth Soccer Tournament, which promotes positive community relations within the residents of the 24th district. APS members volunteered weekly in the district office by updating records on local business ownership in the event of an emergency, entering overtime requests, filing, and general clerical work. With each activity, the APS and CPD partnership is strengthened, and the programs have had a positive impact, contributing to improved police-community relations. In 2015-2016, APS will continue its affiliation with 24th district CPD while also partnering with other criminal justice-related organizations, including the Sun Gate Foundation, which serves the victims of human trafficking.
The White Space, a talk by Dr. Elijah Anderson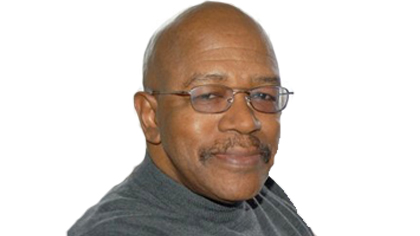 Loyola University-Chicago presents:
"The White Space"
A Talk by Dr. Elijah Anderson
Yale University—Department of Sociology
Since the end of the Civil Rights Movement, large numbers of black people have made their way into settings previously occupied only by whites, though their reception has been mixed. Overwhelmingly white neighborhoods, schools, workplaces, restaurants, and other public spaces remain. Blacks perceive such settings as "the white space," which they often consider to be informally "off limits" for people like them. Meanwhile, despite the growth of an enormous black middle class, many whites assume that the natural black space is that destitute and fearsome locality so commonly featured in the public media, including popular books, music and videos, and the TV news—the iconic ghetto. White people typically avoid black space, but black people are required to navigate the white space as a condition of their existence.
Dr. Elijah Anderson—the William K. Lanman, Jr. Professor of Sociology at Yale University—will discuss his more recent work in urban ethnography, considering how black people navigate white space.
Dr. Anderson has published extensively on the urban environment and is known for his richly detailed, ethnographic accounts of life in disadvantaged communities. His award winning publications include Code of the Street: Decency, Violence, and the Moral Life of the Inner City (1999) Streetwise: Race, Class, and Change in an Urban Community (1990), A Place on the Corner (1978; 2nd ed., 2003) and most recently, The Cosmopolitan Canopy: Race and Civility in Everyday Life.
When:
April 7, 2015
4:15–6:15 p.m.
Where:
Loyola University Chicago
Information Commons, 4th Floor
Lake Shore Campus
6501 N. Kenmore Avenue
Chicago, IL 60626
This event is free and open to the public. There will be a reception with light refreshments. Contact Dr. Deborah Baskin at dbaskin@luc.edu for more information.
Parking is available on the Lake Shore Campus at the Main Parking Structure (1110 W. Sheridan Road) or Fordham Garage (6455 N. Sheridan Road) and the rate is $7. Please view this link for a map and additional information.
Sponsored by:
Minor in the Psychology of Crime and Justice
Department of Criminal Justice and Criminology
Department of Sociology
The Journal of Undergraduate Research and Scholarly Excellence
The journal is registered with the Library of Congress, features the best in undergraduate work in all research and creative disciplines from all over the country, and has an international audience. It provides an opportunity for students to receive publication credit while at the undergraduate level. Benefits of this include enhancement of a resume for possible graduate program applications, introductory experience with the publication process, and the confidence and validation that comes with seeing your work in print. Please see their website jur.colostate.edu for more information about how their year-round submission process works. The journal looks forward to receiving research from our undergraduates.
CJC professor named journal editor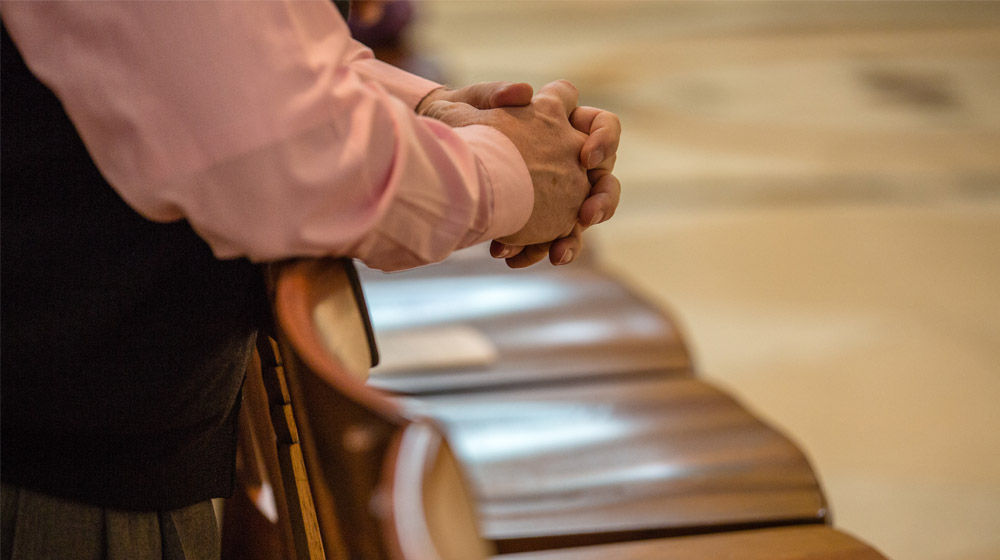 Dr. David Olson, Professor in the Department of Criminal Justice and Criminology, has been appointed as the new editor of Justice Research and Policy, the journal of the national Justice Research and Statistics Association. This semiannual, peer-reviewed journal is published by Sage Publications, and presents policy-oriented research on a wide range of topics, with a particular focus on criminal and juvenile justice policies and practices relevant to state and local government. The Justice Research and Statistics Association is a national nonprofit organization of state Statistical Analysis Center (SAC) directors, and other researchers and practitioners throughout government, academia, and the justice community who are dedicated to the use of research and analysis to make informed policy and program decisions. For more information, visit the Justice Research and Statistics Association at www.jrsa.org.
Graduate Student Organization volunteers with Salvation Army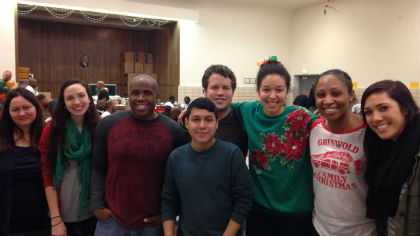 Loyola's Criminal Justice and Criminology Graduate Student Organization volunteered with the Salvation Army's Pathway Forward Program, a community reintegration program for individuals who are returning to the community following incarceration located on Chicago's near-west side, to wrap toys children with incarcerated parents. Applications were received by the Salvation Army from incarcerated parents in Illinois requesting Christmas gifts for their children. The program was launched by the Salvation Army in 1954 and keeps incarcerated parents connected to their children during the holidays. The gifts are sent from the parent with no Salvation Army identification.
Cook County Medical Examiner's Office Field Trip
Community Engaged Academic Internship Awards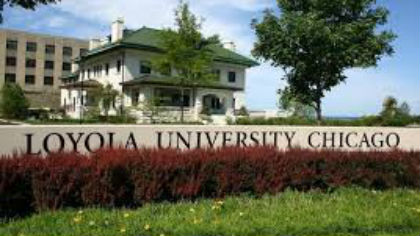 The Community Engaged Academic Internship Awards have been made possible through the College of Arts and Sciences. Undergraduates who demonstrate financial need in an unpaid academic internship are eligible to apply for a $1,500 award. There are 15 awards to be distributed for the 2014–2015 academic year. Seven awards were given during the fall semester, and eight awards will be distributed during this upcoming spring semester.
Student applications for the first round review are due on December 5, 2014. Those student recipients will be notified by December 19, 2014. If all eight recipients are not selected in the first round, we will then accept applications until January 5, 2014 for a second round review. We strongly encourage students who are already enrolled for the spring to apply for the first round review.
For further information and online application, please direct students to the CAS Community Engaged Academic Internships page.
Alpha Phi Sigma Fundraiser at Felice's - February 7

Alpha Phi Sigma, the National Criminal Justice Honor Society, will be hosting a fundraiser at Felice's Roman Style Pizza (6441 N. Sheridan Rd) all day February 7. Anyone can come to the restaurant, make a purchase, and Alpha Phi Sigma will receive a percentage of the proceeds. Representatives from Alpha Phi Sigma will be at Felice's from 7pm-8pm to meet with anyone interested in discussing or joining the organization.
Assistant Professor Don Stemen Receives Grant to Study Deferred Prosecution
Dr. Stemen in collaboration with Christine George, Research Associate Professor at CURL, and John Orwat, Assistant Professor in the School of Social Work received a grant from the Illinois Criminal Justice Authority to evaluate the Cook County State's Attorney's Deferred Prosecution Program. The evaluation of the Cook County State's Attorney's Deferred Prosecution Program will examine whether deferred prosecution can result in reduced recidivism or other behavioral changes in individuals. It also seeks to understand the development, implementation, and operations of deferred prosecution and the relative impact of the program on the routines of different actors in the justice system. As deferred prosecution schemes have emerged as key criminal justice policy issues, evidence-based evaluations of the type proposed are central to understanding the functioning and impact of deferred prosecution and to increasing the potential of such programs to inform sound criminal justice policy.
Criminal Justice Student Organization CeaseFire/Cure Violence Event
The Loyola Criminal Justice Student Organization will host a discussion with Tio Hardiman, Director of Chicago CeaseFire/Cure Violence on March 11 at 7:00 p.m. in Maguire Hall Room 240. CeaseFire/Cure Violence seeks to reverse the spread of violence by using the methods and strategies associated with disease control—detection and interruption, identifying individuals involved in transmission, and changing social norms of the communities where it occurs. Operating in some of Chicago's most violent neighborhoods, CeaseFire/Cure Violence uses interrupters -- individuals trained to intervene in potentially violent situations -- to prevent violent situations from occurring. Tio Hardiman, Director of Chicago CeaseFire/Cure Violence, will discuss the organization and violence in Chicago. All are welcome to attend what will be a fascinating and informative discussion. Tio Hardiman Event Flyer.
Brain Matters: Neuroscience in Criminal Law and Policy Colloquium.
Brain Matters: Neuroscience in Criminal Law and Policy Colloquium
September 26, 2013
7:00-9:00 pm
The past decade has witnessed a dramatic increase in the role of neuroscience in the criminal justice process, from understanding the development of criminality, to issues related to culpability, and for the design of efficacious prevention and intervention strategies. The work of our guest speakers, Drs. Deborah Denno and Ruben Gur focuses on key issues at the intersection of neuroscience and the law. They will be addressing some the most urgent questions facing criminal justice policy and practice, including whether neuroscience research has advanced to the point where it can be pragmatically useful for criminal justice purposes.
SPEAKERS
David Yellen, J.D.
Dean and Professor Loyola Law School will introduce:
Dr. Deborah Denno
J.D., Ph.D. Arthur A. McGivney Professor of Law, Fordham Law School
The Impact of Neuroscience on Criminal Law Cases across Two Decades, 1992-2012.
Dr. Ruben Gur
Ph.D. Professor of Psychology and Director of the Brain Behavior Laboratory, University of Pennsylvania
Neuroscience in the Courtroom: Too Early, Too Late, or Just in Time?
LOCATION
Loyola University
Information Commons
Lake Shore Campus
4th Floor
6501 N. Kenmore Ave.
Chicago, IL 60626
6:30pm: Light Refreshments
7:00-9:00pm: Colloquium

This event is free and open to the public. There will be a reception with light refreshments before the start of the program.
Criminal Justice Student's Organization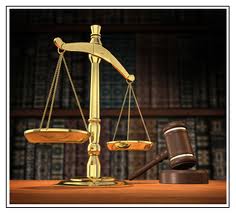 The Criminal Justice Students' Organization (CJO) at Loyola is a great opportunity for criminal justice and criminology majors and minors to expand their education beyond the classroom. Each semester the CJO visits various criminal justice agencies and undertakes service-related projects in an effort to give back both to the Loyola community and those less fortunate in the Chicago area. The first meeting of CJO was on Monday, September 9. Be sure to contact CJO for the Stateville Prison tour on October 3. For more information about CJO and how to get involved, check out the CJO Flyer or contact Professor Lombardo (Rlombar@luc.edu) or Jose Vallejo (Jvallej@luc.edu).
Symposium: Jail Reform - Final Frontier for Correctional Reform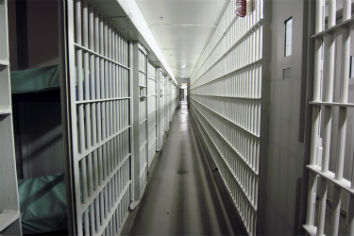 Over the past two decades, increased attention has been paid to sentencing reform and the incorporation of evidence-based practices in the fields of criminal law and procedures as well as in institutional and community corrections. From revisions in sentencing structures to treatment-focused specialty courts, efforts have been undertaken by states, the federal government, and a wide range of advocacy groups to reduce reliance on prisons and to enhance the quality and effectiveness of community corrections. However, less attention has been paid to the roughly 3,000 U.S. jails, where more than 13 million people cycle in and out of detention annually.
Michael Jacobson - former Director and President of the Vera Institute of Justice, former NYC Probation and Correction Commissioner, and current Director of the CUNY Institute for State and Local Governance - will provide a critical analysis of jail reform efforts that have been attempted across the country to reduce the reliance on jails and an assessment of obstacles to meaningful jail reform in the United States.
The panel speakers will also include David Olson of Loyola University Chicago and John Maki of the John Howard Association, who will provide a discussion of the challenges and issues facing the Cook County Jail, the largest single-site detention facility in the United States.
Jail Reform: The Final Frontier for Correctional Reform
Friday, May 2, 2014
2:00pm—4:30pm
Philip H Corboy Law Center, Power Rogers and Smith Ceremonial Courtroom, 10th Floor
Co Sponsored by: The Illinois Academy of Criminology, The John Howard Association, and Loyola University's Center for the Advancement of Research, Training, and Education (CARTE).
CJC Alum appointed Director of Research and Evaluation for County Agency
Jordan Boulger (Criminal Justice and Criminology BS '07 & MA '09 from Loyola) was recently appointed as the Director of Research and Evaluation for the Cook County Adult Probation Department. Cook County Adult Probation is the largest accredited probation agency in the United States, supervising roughly 25,000 individuals on any given day. As the first Director of Research and Evaluation in the Department in the last several decades, Jordan will design and oversee all research activities for the Department, including program evaluation and regular caseload monitoring. While a graduate student at Loyola, Jordan was a research assistant working on a variety of projects with the Illinois Department of Corrections and the Illinois Capital Punishment Reform Study Committee, and completed a thesis examining recidivism of individuals released from Illinois Youth Centers. Following graduation, Jordan worked a little over four years at the Illinois Criminal Justice Information Authority as a Criminal Justice Specialist before going to Adult Probation.
Stateville Prison Tour
Student members of the Loyola Criminal Justice Organization (CJO) visited Stateville Prison on October 28, 2014. Stateville is the largest maximum security prison in the State of Illinois.
Visiting Stateville is one of the many hands-on activities that Loyola criminal justice students participate in every year.
Department of Criminal Justice and Criminology's Annual Reception
The Department of Criminal Justice and Criminology's Annual Reception was held on April 11th in the Palm Court in Mundelein Hall to celebrate seniors and graduate students, who were graduating receiving honors and awards, and joining Alpha Phi Sigma, the National Criminal Justice Honor Society.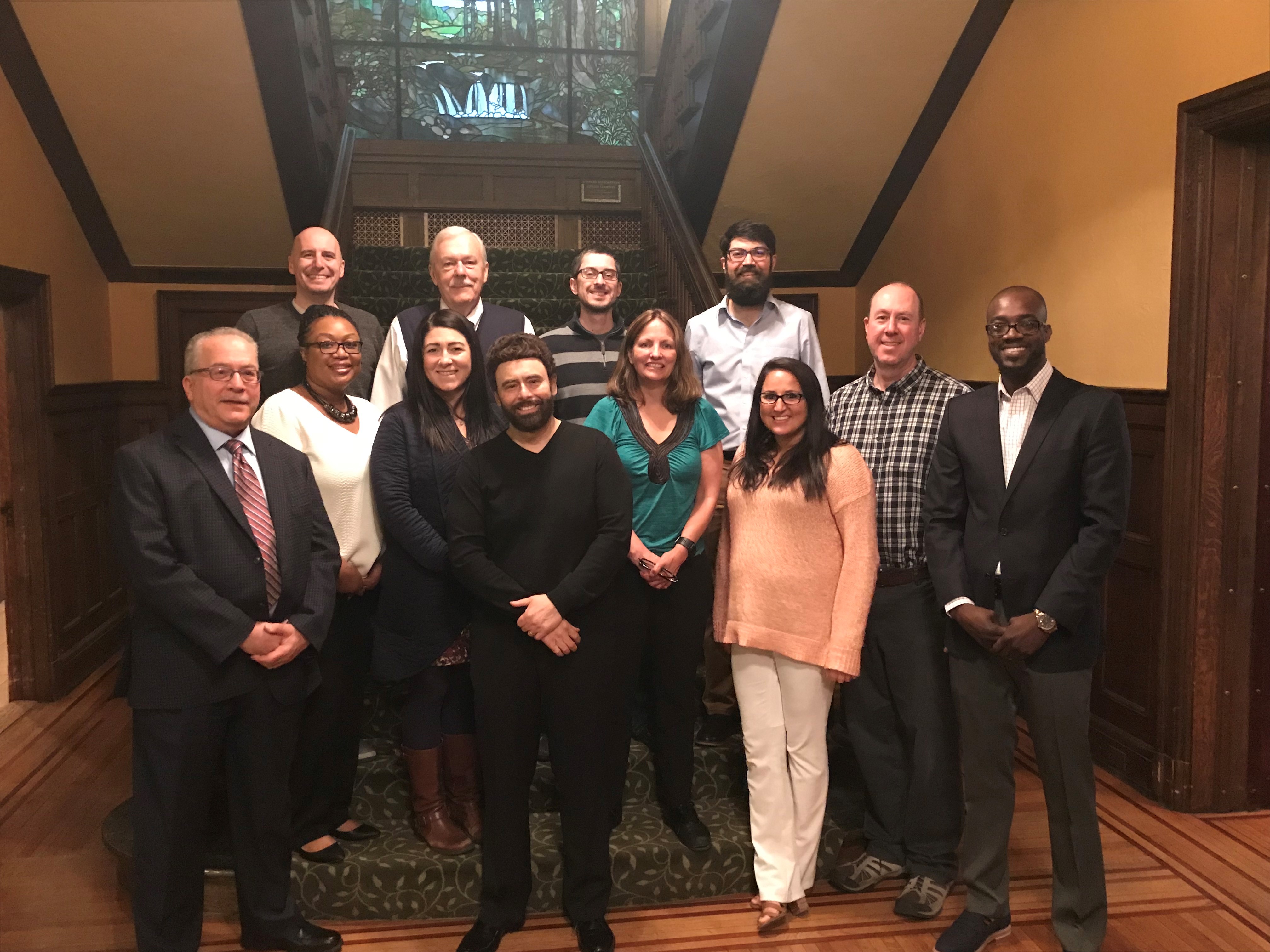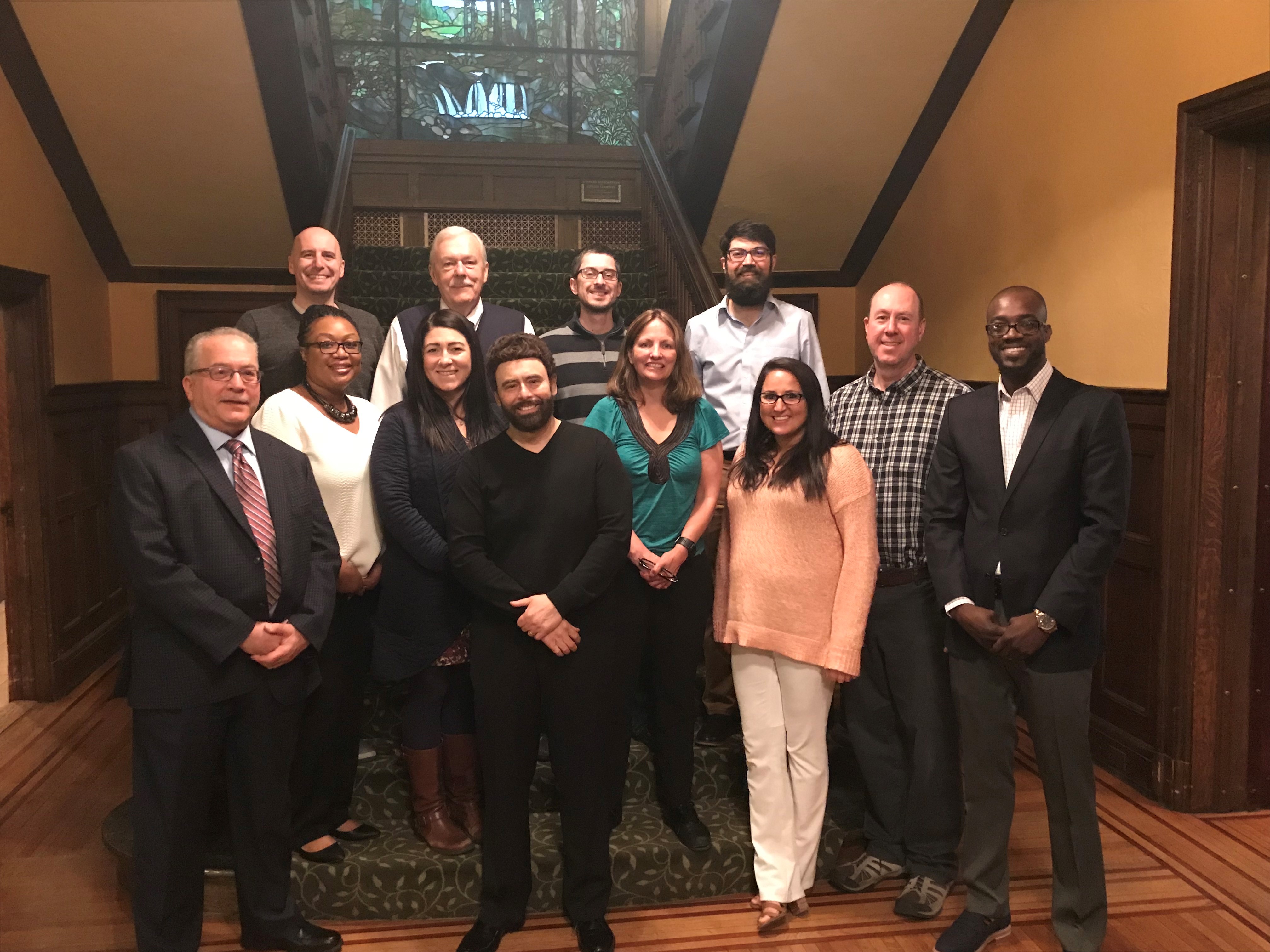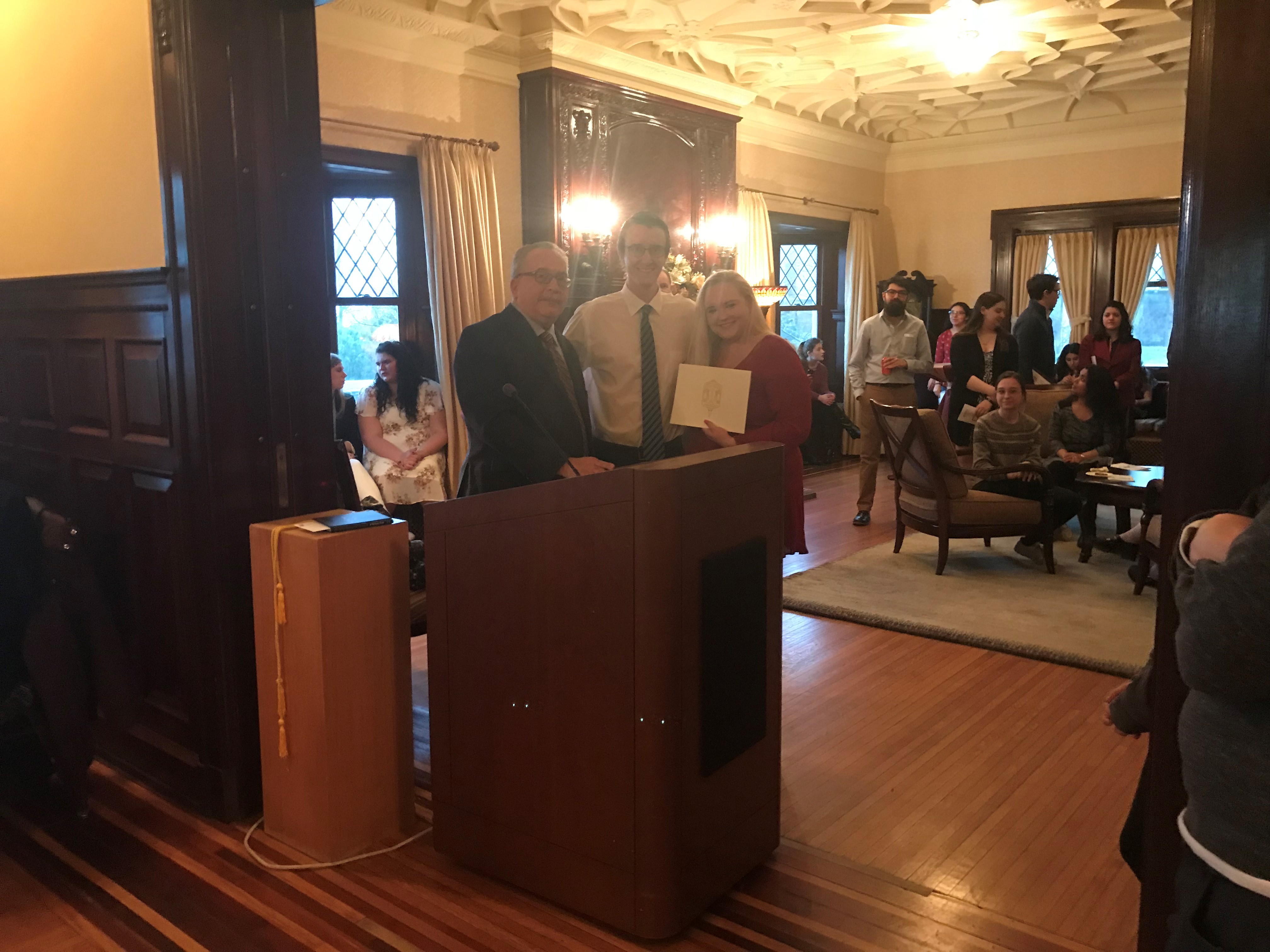 Alpha Phi Sigma Students Volunteering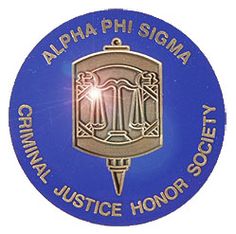 ‌
Brooke and Alex giving a presentation on the role of police officers and soldiers to students at Willye B. White
Seeing crime in a new light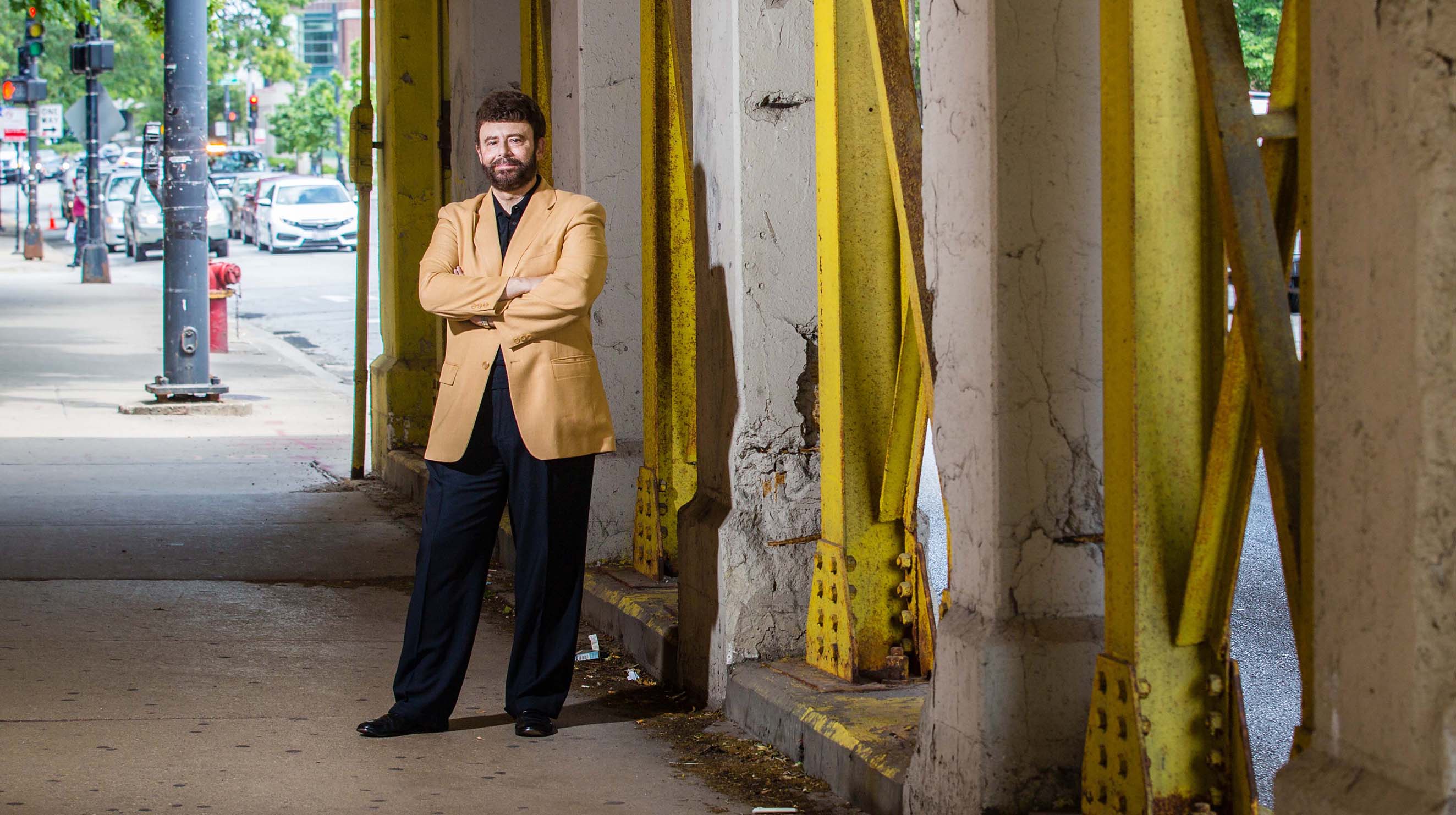 After Dr. Lurigio was robbed at gunpoint, he started on a path to better understand victims' trauma. Dr. Arthur J. Lurigio has become a leading expert on crime in communities and the suffering experienced by victims long after the fact. His own experience of being robbed at gunpoint during his college years helped to shape his understanding of the trauma victims' experience. He stated that "being robbed at gunpoint opened my eyes to one of the most critical needs in our response to crime: healing the lasting emotional wounds experienced by victims." Read the full story at: LUC.edu/loyolamagazine/stories/features/archive/lurigiocrime.shtml
Welcome back for the start of a new semester !
The Department of Criminal Justice & Criminology is excited to welcome back its new and returning students for the 2018-2019 academic year! We hope that each of you found time over the summer to relax, explore something new, and recharge from the past academic year. We are thrilled and looking forward to an outstanding academic year and wish you all much success throughout the year.
Voluntary Consent and the Psychology of Compliance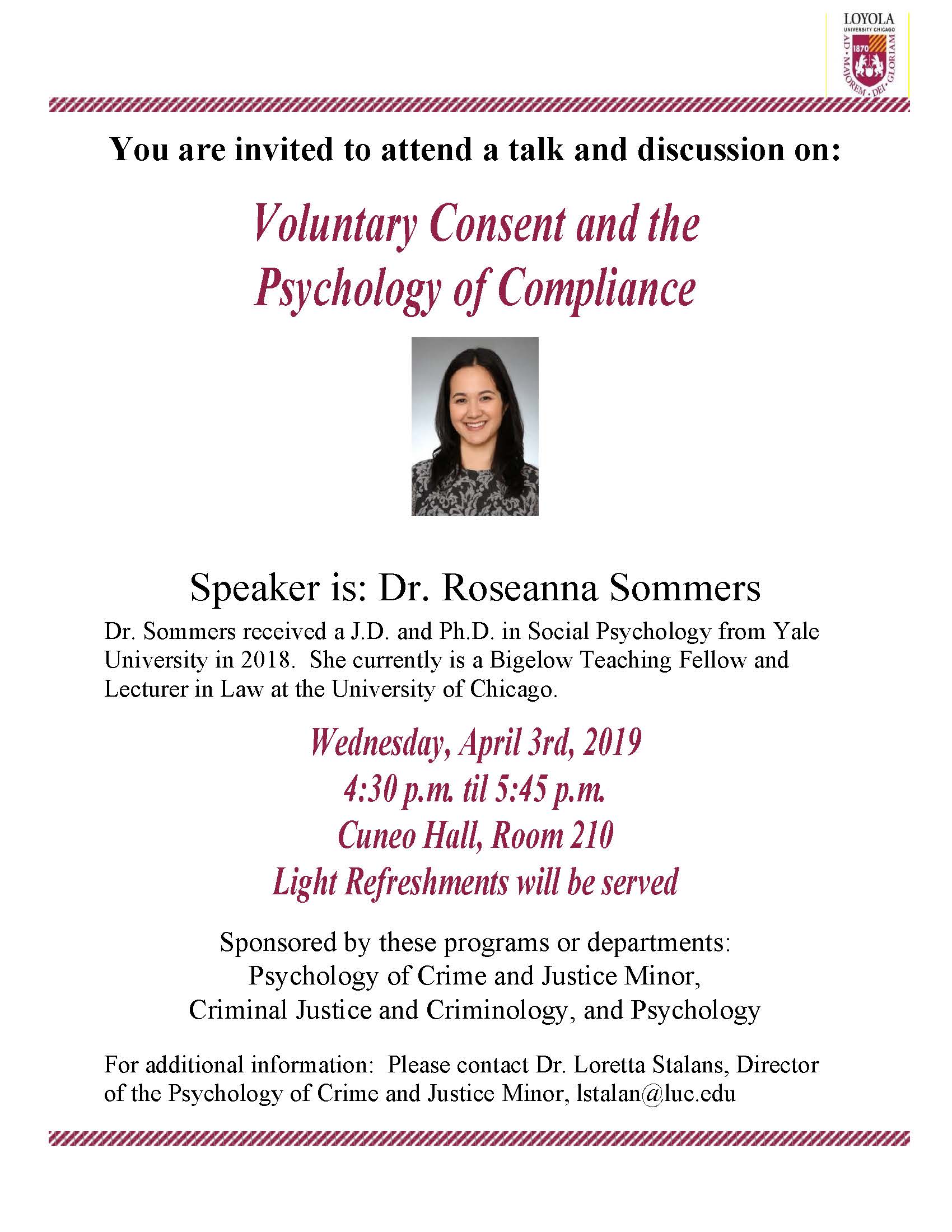 You are invited to attend a discussion on Voluntary Consent and the Psychology of Compliance by Dr. Roseanna Sommers on Wednesday, April 3, 2019 at 4:30 p.m. until 5:45 p.m. in Cuneo Hall, Room 002. Light Refreshments will be served!
For more information click here