About

Our Mission
The Faculty Center for Ignatian Pedagogy encourages excellence in teaching by facilitating the role of faculty in the formation of the student as a whole person. The Center promotes the implementation of creative teaching strategies that reflect the intellectual, social and spiritual context of today's students.
We strive to:
Promote the principles of teaching that encourage transformative education;
Promote and expand outreach of FCIP to university stakeholders;
Promote teaching pedagogies relevant to all teaching modalities;
Promote and recognize teaching excellence.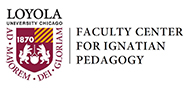 ‌