Focus on Teaching and Learning: Spring 2017
Focus on Teaching and Learning
January 12, 2017

Water Tower Campus

Schreiber Center
Water Tower Campus, Schreiber Hall,
16 E. Pearson
Chicago, IL

Find electronic copy of agenda and handouts online at: https://fotljanuary2017.sched.com/

Program Agenda

8:30–Wintrust Hall (9th Floor) Check-in and light breakfast
9:00 -Welcome, Provost John Pelissero
9:05-Kolvenbach Award for Engaged Teaching presented to Dr. Stacy Neier Beran
9:15-Keynote, Dr. Chavella Pittman: Teaching Excellence: Developing Effective Practices for Inclusive Classrooms.
10:30–11:15 Breakout Session I

Wintrust Hall: Mobilizing for Justice (1): Promises and Pitfalls of a Politically-Engaged Classroom. John Donoghue, Benjamin Johnson

405: Discussion Topic (1): Student Context: Drawing on Life Experiences with Adult Learners, Natasha Teetsov, moderator

406: Deepening Reflections on Social Justice Themes Using Artifacts and Works of Art. Catherine Nichols, Danielle Forchette, Natasha Ritsma

725: Developing Principled Leaders, One Student at a Time: Applying Ignatian Pedagogy to Faculty-Student Mentoring. Anne Reilly
11:30-12:15 Breakout Session II:

Wintrust Hall: Mobilizing for Justice (2): Creating Affirming Classroom Settings and Campus Environments: Promoting Social Justice for Sexual and Gender Minority Students, Faculty, Administrators and Staff Members. Betsy Hemenway, Michael Dentato

405: Discussion Topic (2): Experiences of International Students: the Student Perspective. Don Miro, moderator

406: High Impact Student Learning: Addressing the Why and How of Integrating Learning Portfolios into the Curriculum. Annie Kelly

725: Teaching Team Care in Consultation Psychiatry Rotation. Edwin Meresh, Murali Rao, Aparna Sharma, Nitin Thapar
12:30–1:15 -LUNCH: Wintrust Hall

1:30–2:15 Breakout Session III

Wintrust Hall: Mobilizing for Justice (3): Mobilizing Staff, Faculty and Students. Robyn Mallett, Christopher Manning, Bridget Kelly

405: Core and Engaged Learning Assessment: Process, Procedure and Results. Shannon Milligan, Stacy Wenzel, Patrick Green
725: Creating Interactive Courses Leveraging Loyola's Instructional Technologies. Sarah Kentner, Kristlyn Dalton
2:30 – 3:15-Breakout Session IV

Wintrust Hall: Effective Practices for Moving from On-Ground to Online Teaching. Bruce Montes, Dan VonderHeide

406: A Vocabulary for Justice: Ignatian Pedagogy and Catholic Social Teaching. Susan Haarman

725: Use of Gamification to Enhance Student Learning: Lessons Learned. P. Ann Solari-Twadell and Stacey Zurek.
3:30--Wrap-up and Networking

ITRS Drop-In Help: Throughout the day, outside Wintrust Hall: ITRS staff will be on hand to address your questions about Sakai, TopHat and other technologies.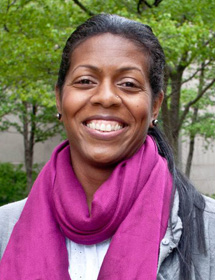 Chavella T. Pittman is an Associate Professor of Sociology at Dominican University. Her research interests and expertise include higher education, interpersonal interactions & marginalized statuses. Some of her teaching publications include "Race and Gender Oppression in the Classroom: The Experiences of Women Faculty of Color with White Male Students" (Teaching Sociology 2010) and "Exploring How African American Faculty Cope with Classroom Racial Stressors" (The Journal of Negro Education 2010). She is also the owner of Effective & Efficient Faculty, a faculty development company that works extensively with faculty and campuses across the country to help them develop strategies for inclusive college classrooms, efficient teaching, and documenting teaching effectiveness for tenure & promotion reviews.