Faculty Spotlight: Q&A with Amanda Peacock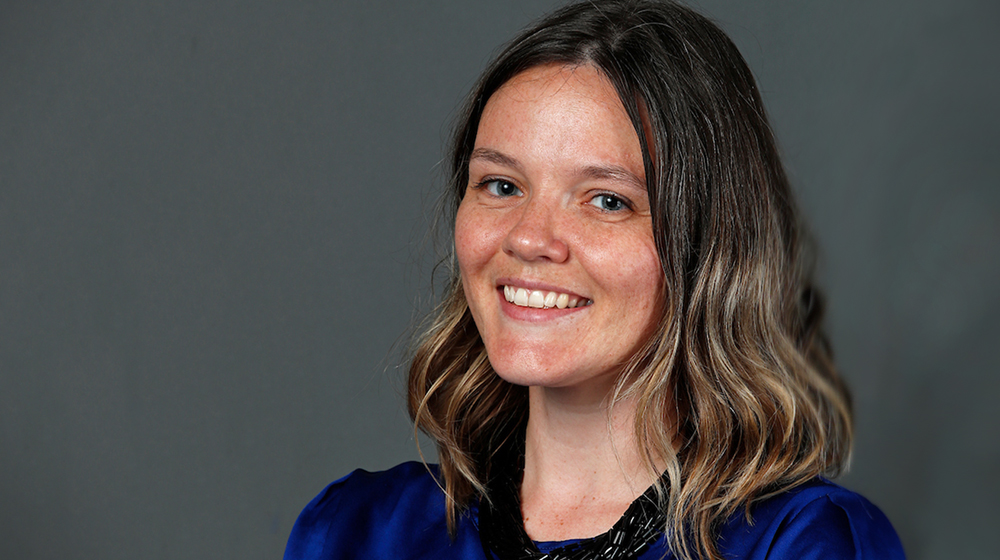 A commitment to community health
By Sam Uhlarik
Amanda (Mandy) Peacock, a clinical assistant professor and the director of the Adult-Gerontology Primary Care Nurse Practitioner (NP) program at the Marcella Niehoff School of Nursing, has dedicated her early career to providing primary care outreach to diverse populations and working with leaders across disciplines to create a holistic approach to community health. That commitment has earned her a place on the Illinois Nurses Foundation's 2021 list of 40 under 40 Emerging Nurse Leaders, a select group of young nursing leaders recognized for impacting the future of their profession and health care overall.
What does it mean to receive this recognition?
I feel truly honored to be selected for this award. I think nurses tend to get overlooked when it comes to what we do for the health system. Awards like this help bring the spotlight to nurses that are out there leading change, making a difference in patient outcomes, and being innovative as we educate the next generation of nurses. There are so many amazing nurses that deserve this kind of recognition, and I feel inspired to be a part of it.
How are you improving community health at Loyola?
When I joined Loyola, I knew I wanted to use my experience and knowledge of primary care and culturally-informed health care to make a difference at the community level. That's when I started to learn about the Maywood community. Through networking, I learned about Loyola Stands Against Gun Violence, a group that brings together stakeholders from Loyola Medicine and several Loyola schools and departments to develop prevention initiatives and support individuals and communities affected by gun violence. It helped me tremendously in building relationships within the Maywood and Proviso communities.
I have a background with inter-professional practice and education, so I want to leverage that to collaborate with other Loyola faculty, students, staff, and community members. I'm working with colleagues in nursing, medicine, public health, law, social work, and more! I am really dedicated to integrating primary care and mental health care, and I'm working with other faculty to design mental health simulations for our primary care NP students. I'm just getting started, but my goal is to help bring nursing's voice to the table and see how we can make the whole greater than the sum of its parts when it comes to community health programming.
---
---
How have other Loyola Nursing faculty supported you and your research?
Professor Lisa Skemp has been my mentor for over 10 years. She supervised my doctoral project during which I partnered with a community in rural south India to implement culturally informed community programming. Assistant Professor Jenny O'Rourke and Associate Professor Ann Solari-Twadell also have been fantastic resources and mentors, too, welcoming me to their primary care HRSA projects with open arms.
How has teaching at Loyola impacted you and your work?
When I introduce myself as a student advisor, I always make a point that students can reach out to me with any concerns—my door is always open. That always has been the way I operate because I want to help in any way I can. What is amazing about the culture here at Loyola is that most people are this way, whether faculty, staff, or students. You just don't find that same level of support at most institutions.
In the last six months, I have lost a couple of close family members. I know that I'm not alone in that, of course. But what really touched me was how many of my colleagues and even my students reached out and followed up with me to make sure I was doing okay. Some of them also were going through rough times, full of doubt and anxiety, but they took that extra minute to check on me. My graduate students (who are not only in school but are on the front lines as nurses in clinics, hospital, and other health care organizations–managing suddenly home-schooling their children and dealing with their own grief in many cases–they took the time to check on me. That is the type of culture that I love being a part of, and that is what I want to be for others.
Why did you choose Loyola?
Two years ago, I was looking for a place where I could grow as a nursing leader. The NP director position was a fantastic opportunity. However, it was not until my interview that I truly understood what Loyola was all about. I never seriously considered working at a private institution before this opportunity and had not thought about a Jesuit institution. I quickly saw that Loyola is an institution that truly "walks the walk" of caring for the whole person and being a person for others. I felt a warm welcome and strong sense of service to others from the very start. My own personal mission and values were mirrored in Loyola's for sure.