Affiliated faculty
Michael Burns, Department of Biology
Michael Burns is an Assistant Professor of Biology whose research focuses on cancer and the microbiome. Additionally, he is exploring the interactions between science and religion, including projects on vaccine hesitancy among religious people. He has been running an extra-curricular Science and Religion discussion group with Dr. Joseph Vukov (Philosophy) since 2017 that brings students together to talk through challenges where the two areas intersect. Additionally, with support from the Hank Center for Catholic Intellecual Heritage, he has developed an interdisciplinary course pairing (with Dr. Vukov) for Catholic Studies, collectively called, Philosophy and Biology for the Future. This concurrent pair of courses expose students to the fine detail of the science behind human genetic enhancement, climate change, and a variety of other scientific topics while at the same time, the students will be integrating the philosophical and religious considerations related to these topics.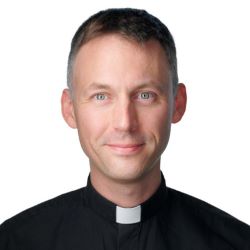 Fr. Matthew Dunch, S.J., Department of Philosophy
FFr. Matthew Dunch is Assistant Professor in the Philosophy Department here at Loyola. He has degrees from Loyola, the Catholic University of America, the University of Toronto, and the University of Oxford. His research focuses on the sensibility of religious language and its relationship to the exercise of practical reason within a community. He has also written on ethically informed mysticism. He is particularly interested in Ludwig Wittgenstein, Thomas Aquinas, and scholarship interrelating these two figures. Before coming to Loyola, he taught at Xavier University, Cincinnati. His teaching includes courses in ethics, epistemology, philosophy of mind, philosophy of religion, and the history of analytic philosophy. He also developed service learning ethics courses centered on homelessness and outsider art. In Spring 2024 he will be teaching PHIL 342/CATH 303, with the topic "The Metaphysics of Creation".
Jeffrey Fisher, Department of Philosophy
Interim Director, Catholic Studies Program
Jeffrey Fisher is Lecturer in the Department of Philosophy at Loyola and Director of Catholic Studies. He regularly teaches a course for Catholic Studies: PHIL 288: "The Philosophical Foundations of Catholic Social Thought", which introduces students to the rich history of Catholic philosophy and the manner in which Catholic Social Thought grew out of this tradition. His research focuses on Ancient Greek philosophy, including Plato's late metaphysics and its connections to the ethical and political philosophy of both Plato and Aristotle, and he runs an ancient philosophy reading group for the Philosophy Department. His has research and teaching interests in ethics and political philosophy and in the history of philosophy more generally.
Naomi Fisher, Department of Philosophy
Director, Catholic Studies Program (On leave, Fall 2023)
Naomi Fisher is Director of Catholic Studies and Assistant Professor of Philosophy at Loyola University Chicago. She has broad interests in the history of philosophy and the interplay between that history and the history of Christianity. She specializes in the philosophy of Immanuel Kant and his immediate successors, focusing particularly on personhood, freedom, and nature, and she has a book forthcoming titled Schelling's Mystical Platonism: 1792-1802. She also as a graduate degree in Physics from UC Davis and has teaching interests in the relationship between science and religion. She is on the executive board of Philosophers in Jesuit Education. In Fall 2022 she taught a course for Catholic Studies titled "Platonism and Catholicism".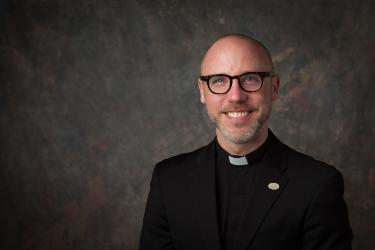 Fr. Paddy Gilger, S. J., Department of Sociology
Fr. Paddy Gilger is a Jesuit priest and Assistant Professor of Sociology at LUC. He was a co-founder of The Jesuit Post, and currently serves as the consulting editor for culture at America Media. His dissertation was a comparative study of three of the new ecclesial movement in the Catholic Church — the Focolare, Sant'Egidio, and Communion and Liberation — and here at Loyola he teaches and studies about religion, secularism, and social theory. He tweets at @paddygilgersj.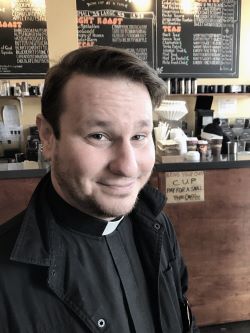 Fr. Jonathan Harmon, S. J., Department of Fine Arts
Fr. Jonathan Harmon is Assistant Professor in the Department of Fine and Performing Arts. He holds an MFA from New York Academy of Art, and he teaches drawing and painting in the university core curriculum. You can learn more about him and see a sampling of his art at https://www.jharmonsj.com/ .
Richard Kim, Department of Philosophy
Richard Kim is Assistant Professor of Philosophy at Loyola University Chicago. He specializes in moral philosophy, moral psychology, and East Asian philosophy. He is interested in drawing on the resources of the Catholic tradition to develop richer accounts of human flourishing through a more profound understanding of human identity and the self. He is currently working on a book on habituation and moral development that draws on the ideas of Aristotle, St. Thomas Aquinas, and the classical Confucian tradition.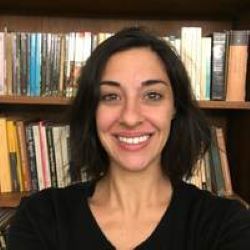 Marcella Linn, Department of Philosophy
Marcella Linn is Lecturer of Philosophy at Loyola University Chicago. Her research interests are in Aristotle's ethics, moral theory, and moral psychology. She combines interpretative work on Aristotle with contemporary issues in ethics and social psychology. This work addresses several areas in ethics such as moral luck, the empirical adequacy of character and virtue, and moral development. She regularly teaches "Judgment and Decision Making". This course introduces students to the many cognitive biases and situational factors that override or bypass human reasoning and the questions about human agency and moral responsibility that arise as a result.

Fr. James Murphy, S.J., Department of Philosophy
Fr. James Murphy has been Associate Professor of Philosophy at Loyola University Chicago since 2009. Prior to that he was lecturer in philosophy at Milltown Institute of Theology and Philosophy, Dublin, Ireland for many years. He has written articles on issues of public policy (in the Irish-EU context), as well as a monograph, War's Ends (Georgetown University Press, 2014) on the ethics of going to war. His main interests lie in metaphysics, epistemology, and philosophy of science. He has written course-textbooks in philosophy of science and philosophy of the person. He is currently completing a monograph on how we relate to (or confront) history. He is a Catholic priest, and a Jesuit.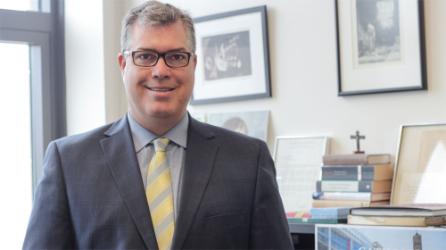 Michael Murphy, Department of Theology
Director of the Hank Center for the Catholic Intellectual Heritage
Michael P. Murphy is Director of Loyola's Hank Center for the Catholic Intellectual Heritage. His research interests are in Theology and Literature, Sacramental Theology, and the literary/political cultures of Catholicism—but he also thinks and writes about issues in eco-theology and social ethics. Dr. Murphy, a Senior Lecturer in the Theology Department, is a National Endowment for the Humanities fellow. Mikes' first book, A Theology of Criticism: Balthasar, Postmodernism, and the Catholic Imagination (Oxford), was named a "Distinguished Publication" in 2008 by the American Academy of Religion. His most recent scholarly work is an edited volume (with Melissa Bradshaw), this need to dance/this need to kneel: Denise Levertov and the Poetics of Faith (Wipf and Stock, 2019). Dr. Murphy was also the second Director of Loyola University Chicago's Catholic Studies Interdisciplinary Minor Program (serving from 2012-2021). His work explores the idea that the Catholic intellectual tradition is not only an essential resource for content but is also one with a deeply ingrained interdisciplinary method as well. This scholarly orientation is also a pedagogy—whether in the classroom or in Hank Center programming—and it seeks to bear its nourishing mark in every expression.
Rebecca Ruppar, Department of Fine and Performing Arts
Rebecca Ruppar is an Instructor of Art History in the Department of Fine and Performing Arts and also teaches in the College of Arts and Sciences Interdisciplinary Honors Program. She has had a lifelong fascination with the intersection of visual art and religion. After working as a Catholic campus minister and retreat director, she moved to Belgium where she learned to write sacred icons and earned a Master's degree in Theology and Religious Studies from Katholieke Universiteit Leuven. She earned Master's and Doctor of Philosophy degrees in Art History and Archaeology from the University of Missouri, focusing on late antique and medieval European and Byzantine art and architecture. Her research centers on the material and iconographic aspects of thirteenth century Franciscan paintings in their response to heterodoxy. She regularly contributes to the Catholic Studies minor, teaching classes such as FNAR 344: Early Italian Renaissance Art and FNAR 349: Art and the Catholic Tradition.
Lauren Schwer, Associate Director of Mission Integration
Lauren Schwer is the Associate Director in the Division of Mission Integration at Loyola University Chicago, where she develops mission-based content for faculty and staff. She regularly teaches CATH 296: All Things Ignatian for the Catholic Studies minor, and also teaches courses on Ignatian Spirituality in the Institute for Pastoral Studies and directs internships for the Jesuit community at Loyola. She served as the Associate Director in Campus Ministry for eleven years, and is currently working on a Doctor in Ministry at the Catholic Theological Union in Chicago.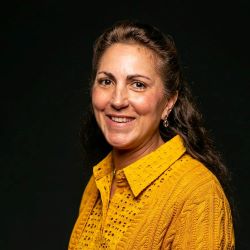 Carla Simonini, Modern Languages and Literatures and Italian American Studies
Dr. Carla Simonini is the Paul and Ann Rubino Endowed Professor in Italian American Studies and is founding director of the program in Italian American Studies. Her research interests include 20th century and contemporary Italian literature and constructs of italianità in American and Italian American literature. Her Catholic Studies courses include courses in Italian American Literature and the Immigrant Experience.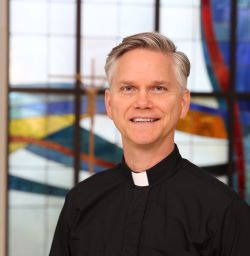 Jayme Stayer, S.J., Department of English
Currently Associate Professor of English, Jayme Stayer is interested in the intersections of literature, poetry, music, theology, and rhetoric. In addition to articles on these subjects, Dr. Stayer is the co-editor, with Ronald Schuchard and Iman Javadi, of Volume 5 (1934-1939) of The Complete Prose of T. S. Eliot (Johns Hopkins, 2017), winner of the Modern Language Association Prize for a Scholarly Edition. His most recent book is Becoming T. S. Eliot: The Rhetoric of Voice and Audience in "Inventions of the March Hare" (Johns Hopkins 2021); other books include Think About It: Critical Skills for Academic Writing, co-authored with John Mauk and Karen Mauk; and T. S. Eliot, France, and the Mind of Europe (editor). He is currently working on a book on T. S. Eliot and religion for Penn State University Press's Religion Around series. He is currently the President of the International T. S. Eliot Society. A professional singer, he has performed with the choruses of the Chicago Symphony Orchestra, the Boston Symphony Orchestra, the Boston Pops, and the Cleveland Orchestra. He joined the Jesuits in 2003 and was ordained a priest in 2013.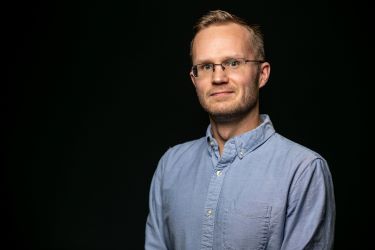 Joe Vukov, Department of Philosophy
Joe Vukov is an Assistant Professor and Graduate Program Director in the Philosophy Department. His research and teaching explore questions at the intersection of ethics, neuroscience, and philosophy of mind, and at the intersection of science and religion. In Fall 2021, he is teaching Philosophy and Biology for the Future with Dr. Michael Burns (Biology), a course that considers near-future problems from ethical, scientific, and Catholic perspectives. Also with Dr. Burns, he leads Loyola's Science and Religion Discussion Group. In 2022, he will publish his first book on Science, Religion, and Intellectual Humility with Eerdmans. He attends St. Mary parish with his family in Evanston, and regularly presents to community groups there such as Theology on Tap.