Loyola Neighborhood News, Volume 2, Issue 6
Loyola and Edgewater - Leaders in Sustainability
Loyola continues to strive to be the "greenest campus in Chicago" through the development of campus infrastructure, community engagement and academic research which has lead to local and national recogtion.  On January 31, Loyola University Chicago received an A- in the College Sustainability Report Card 2011.  Loyola represents one of only two Jesuit institutions nationwide and the only Illinois institution to make the top list of college sustainability leaders. 
The report card, developed by the Sustainable Endowments Institute, evaluates university sustainability in the following categories and grades each one: Administration, Climate Change & Energy, Food & Recycling, Green Building, Student Involvement, Transportation, Endowment Transparency, Investment Priorities and Shareholder Engagement.
On December 1, members of the Edgewater Environmental Sustainability Project (EESP) and Loyola University Chicago received Mayor Daley's GreenWorks Community Leadership Award from Suzanne Malec-McKenna, commissioner of the Chicago Department of Environment. The GreenWorks Community Leadership Award recognizes projects or individuals who envision and enact systemic change towards greater sustainability in accordance with the Chicago Climate Action Plan.
A total of 93 applications were received in three categories: Community Leadership, Sustainable Innovation in the Built Environment, and Innovation in Green Business. After a competitive round of judging, the Loyola-EESP project was one of nine finalists in the Community Leadership category. It was selected to receive one of the three awards in this category.
The inspiration for the Loyola-EESP partnership came when James "Marshall" Eames, PhD, department of Natural Science, and Allen Stryczek of the Edgewater Beautiful Committee of the Edgewater Community Council met at the first annual North Lake Shore Earth Day event in April 2008 and discussed possible partner projects between Loyola and the surrounding communities. Since then, there have been a number of joint projects that represent Edgewater and Rogers Park's commitment to the environment and sustainability. This year, the North Lake Shore Earth Day committee selected the EESP partnership initiative as the lead project to submit for the GreenWorks Award.
The partnership between EESP and Loyola connected environmental classes taught by faculty in the University's Department of Natural Science with the research needed to form the EESP and resulted in 249 students completing 3,200 hours of undergraduate research to help lay the academic basis for the plan.
The EESP has 10 different topic areas, with the collective goal of making the Edgewater community more energy efficient, green, and attractive, while cutting greenhouse gas emissions. It is a blueprint for bringing the community into conformity with the Chicago Climate Action Plan by 2020. The EESP Plan has garnered support from Aldermen Joe Moore, Mary Ann Smith, and Pat O'Connor, State Rep. Harry Osterman, and State Senator Heather Steans. A 40-page report (2010) outlines the background, details, and goals of each of the topics.
For the Loyola undergraduate students within the Department of Natural Science, this relationship with the EESP was first-hand experience with an important aspect of Loyola's mission--to be of service to the community. This unique opportunity developed the student's understanding, through academic research, of the societal challenges of urban sustainable living and contributed significantly to the EESP–a model in community-led environmental planning.
Summur Roberts, assistant director of Loyola's Division of Public Affairs, who also spearheaded the GreenWorks award application process, is excited about what this means for the future of the Loyola community and for prospective students entering Loyola's mission.
"True, organic relationships are the foundation for successful community development. As a service-oriented university that leads the way in sustainability initiatives through building a green campus, research, and programs, Loyola continues to leverage our academic strengths to form partnerships that enhance the undergraduate transformative educational experience," said Roberts. "We are blessed to work with passionate community leaders and volunteers who work toward positive changes that serve the greater good of the neighborhood, City of Chicago, and planet earth."
 
(l-to-r) Summur Roberts, Loyola University Chicago; and Allen Stryczek,
Carmen Vidal-Hallett, and Tom Murphy of the Edgewater Beautiful.
"Gearing Up for Saving Green Together: North Lake Shore Earth Day 2011"
Community leaders from Andersonville, Edgewater, Lincoln Square, Rogers Park, Uptown and Ravenswood have come together once again to begin planning for North Lake Shore Earth Day (NLSED) scheduled for April 16, 2011 from 10:00 am -3:00 pm. This year's them, apropos for today's challenging environmental and economic times is "Saving Green Together."
The idea of "Saving Green Together" came together when a group of 49th Ward Green Corps members began organizing a spring six-week workshop series to begin in March, with North Lake Shore Earth Day in the middle. The series will focus on weatherization and steps that people can take to save money and reduce energy use in buildings. According to the Chicago Climate Action Plan, buildings account for roughly 70% of all city greenhouse gas emissions and therefore reducing energy use in buildings is a major way to curb the emissions that lead to climate change.
Sue Lannin, co-chair of the program committee and member of the 49th Ward Green Corps, liked that topic, and wanted to expand its meaning to include not only what people are doing to reduce energy use in buildings, but also ways they work with others to reduce carbon footprints both inside and outdoors. Engaging in activities like creating community gardens, installing solar panels atop school roofs, planting a community orchard, are just some ways communities marshal their resources to create sustainable neighborhoods.
According to Sue, "'Saving Green Together' is not only about saving energy and money, but also creating and protecting 'green' spaces. The 'together' was added intentionally, to highlight people sharing ideas and working with others, whether in an educational, business, community organization, or residential setting."
As community environmental education continues to a passion in the community, North Lake Shore Earth Day will continue to provide high quality, fun and informative programs for the entire community. New features of NLSED 2011 include a slightly more condensed day with four robust presentations and an adult hands-on workshop led by local community art therapist, Sharon Hyson who will demonstrate how old t-shirts are designed into attractive and sturdy re-useable shopping bags.
Neighbors and students can also participate in a community bike ride and bike repair workshop to learn how to safely ramble around town while maintaining their own bicycles. Loyola's transportation intern, Spencer Schmid, shares his thoughts on just how easy it is to lead a more sustainable life and how community education like that offered at North lake Shore Earth Day help to break down personal barriers. 
"Environmental movements need to be as challenging as they are welcoming," said Spencer. "The hardest part about pushing communities to become the stewards of a sustainable future is the breakdown of falsehoods and misconceptions. It is not necessarily hard to 'go green' in your own personal life, but without positive guidance along the way, the bridge to cross seems a heck of a lot less supportive. Earth Day is Loyola's response to help strengthen this path towards a greener tomorrow."
The family-friendly event continues to feature delicious food samples and over 50 vendors representing local business and organizations who will offer product samples, giveaways and information. The State Representative Harry Osterman Kid's Corner from 10:00 am – 3:00 pm will engage young people aged 5-12 in crafts, yoga, and environmental art activities. Passionate voices will take center-stage as young people from Chicago Public Schools, City Colleges of Chicago and other institutions discuss how their projects and initiatives are bringing the next generation to the fore-front as leaders in the environmental movement.
It is not too late to get involved. If you are interested in reserving a table in the green fair or serving as a sponsor, contact Summur Roberts at 773-508-7450 or srober6@luc.edu. Also, more information can be found by visiting the website at luc.edu/earthday. 

Loyola Spotlight: Division of Public Affairs Student Interns
The work we do in Community Relations could not be done without the support from our phenomenal interns.  Some of you have met these talented young professionals at community meetings or events, or simply in our office.  If not, then, we would like to introduce you to our interns!
MEET JAMES
Junior, Film Production major
Responsibilities: James is our Special Projects Advisor.  He helps manage news projects that come through the office whether they are events or long-term initiatives.
Favorite Food: Italian and anything with bacon
Favorite Class:  Municipal Police Operations
Favorite Hobby:  Watching movies
Favorite Movie: Rear Window by Alfred Hitchcock
MEET LAUREN
Junior, Molecular biology major and bioethics minor
Responsibilities: Lauren is our Special Events Coordinator.  She helps plan events involving both the department and community groups.
Favorite Food: Sushi and anything vegetarian
Favorite Class: Philosophy of Medicine
Favorite Hobby: Yoga and dog parks
Favorite Movie: Documentaries and cheesy movies from the 80's and 90's
MEET MAGGIE
Junior, Political Science & International Studies major/Minor in Asian Studies & History
Responsibilities: Maggie is one of our Public Affairs Interns.  She is responsible for updating the Public Affairs website, organizing Inside Government, staying up-to-date with grassroots lobbying efforts.
Favorite Food: Steak Tacos with guacamole
Favorite Class:  Just War Theory
Favorite Hobby: Taking photos and family events
Favorite Movie: Princess Mononoke  
MEET ELVIS
Junior, Political Science and International Studies major
Responsibilities: Elvis is one of our Public Affairs Interns.  His primary role is to lead the equipment manager initiatives and manage initiatives that encourage students to register to vote. 
Favorite Food: Oven roasted crab
Favorite Class: Political Science (Model United Nations)
Favorite Hobby: Debate
Favorite Movie: Francis Coppola's Apocalypse Now 
MEET NICHOLAS
Sophomore, Communication Studies major
Responsibilities: Nicholas is our Communications Coordinator. He helps manage our newsletter, website, and printed publications.
Favorite Food: Homemade
Favorite Class: Women, Art, and Society
Favorite Hobby: Impromptu bike rides around the city with friends
Favorite Movie: Rosemary's Baby
MEET SPENCER
Senior, Accounting major
Responsibilities: Spencer is our Alternative Forms of Transportation Intern.  He is responsible for promoting alternative transportation on and off campus and managing the Borrow-A-Bike program.
Favorite Food: Japanese
Favorite Class: Financial Accounting
Favorite Hobby: Biking
Favorite Movie: Life Aquatic by Wes Anderson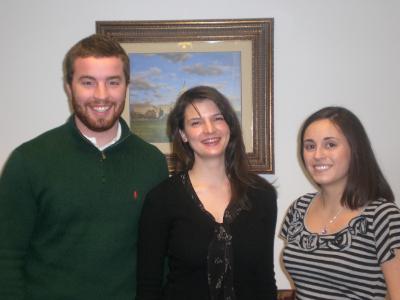 Student Interns James, Lauren, and Maggie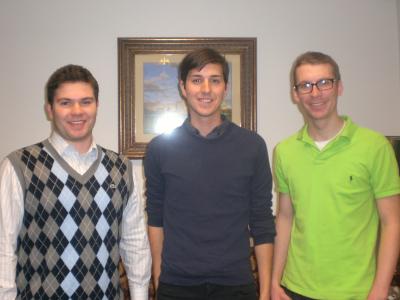 Student Interns Elvis, Nicholas, and Spencer
by Sangita Gosalia
Loyola Honors Retiring Alderwomen
Save the Date: The Ann F. Baum Women and Leadership Speaker Series.
In honor of their public service, Loyola University's Gannon Center for Women and Leadership will be honoring retiring Alderwomen Mary Ann Smith, Helen Shiller, Vi Daley, and Ginger Rugai as part of the Ann F. Baum Women and Leadership Speaker Series.

This free and public event is scheduled for Thursday, March 24th at 7:00 p.m. in Mundelein Auditorium, 1032 W Sheridan Road.  Registration inquiries can be sent to gannoncenter@luc.edu or 773-508-8430.

The Ann F. Baum Women and Leadership Speak Series takes place four times a year and highlights an individual or group of speakers that revolve around a pre-selected topic to take part in a panel discussion.  The March speaker series will be part of Loyola's Women History Month celebrations and include an open panel discussion about how each Alderwoman understood and exercised public service.