Loyola Neighborhood News, Summer Issue
Neighbors Enjoy as Students Learn to Run Loyola Farmer's Market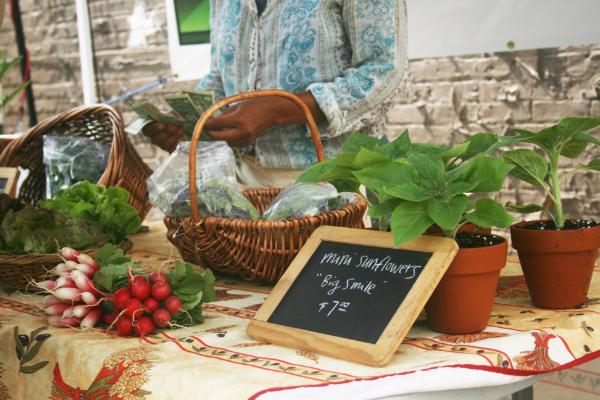 Photo by Nicholas Passarelli / Loyola University Chicago
Students from Loyola's Center for Urban Environmental Research and Policy bring sustainable and locally-grown food to Chicago's 49th Ward with the debut of its Loyola Farmers Market Monday, June 6.
The market is held at 6556 N. Sheridan Road, near the University's Lake Shore Campus in the Rogers Park neighborhood. This will become the second market in the 49th Ward, after the Glenwood Sunday Market.
Conceptualized and planned by students enrolled in the University's Solutions to Environmental Problems (STEP) class, the market's goal is to increase students' relationship with the environment by demonstrating first-hand where their food comes from and by promoting the benefits of access to locally grown food.
Students also hope to teach the campus-community about the importance of supporting the local food economy, small family farms, and sustainable agriculture practices that continuously yield fertile lands.
The market is managed by Gina Lettiere, Coordinator of the University's Center for Urban Environmental Research and Policy (CUERP), student assistants and volunteers. 
"This is not just a great benefit for our students, staff and faculty, but all area residents as they will now have access to fresh, organic foods right on campus," said Lettiere. "We've been planning this market for a couple of years now with input from the local community and we're just really excited that it's all finally come together in time for the summer. We expect it to be a wonderful gathering spot that will ultimately bring the Loyola and neighboring communities together."
The Loyola Farmers Market is held on Mondays, from 3 p.m. to 7 p.m., from June 6 to October 17, 2011.
Market Vendors include:
Baking Beauty
Chicago

Specializes in baked treats made with organic produce

Brockway Farm
Riverside, Illinois

Flowers, beans, beets, broccoli, chard, cucumbers, eggplant, kale, kohlrabi,
lettuce, peppers, spinach, tomatoes

Brunkow Cheese
of Wisconsin

Variety of Wisconsin made cheeses: Cheddar, Monterey Jack, Colby

H&Sun Kissed Organics
La Porte, Indiana

Flowers, herbs, shrubs, beans, beets, carrots, cucumbs, kohlrabi, peppers,
potatoes, pumpkins, radishes, summer squash, tomatoes, zucchini

Mick Klug Farms
St. Joseph, Michigan

Asparagus, apricots, blackberries, blueberries, cherries, grapes,
nectarines, peaches, pears, peas, plums, raspberries, rhubarb, strawberries

Mike & Clare's Farm
Gurnee, Illinois

Flowers, arugula, beets, bok choy, broccoli, cabbage, carrots, celeriac,
celery, chard, fennel, frisee, kale, kohlrabi, leeks, lettuce, okra, oregano,
parsley, peas, rutabaga, scallions, shallots, soy beans, spinach,
summer squash, thyme, tomatoes, turnips, winter squash

Midnight Sun Organics
Grayslake, IL

Eggs, beets, broccoli, cabbage, carrots, cauliflower, greens, onions,
peppers, squash, tomatoes
 For more information on the market and how to get involved, please contact Gina Lettiere at glettie@luc.edu or via phone at (773) 508-8255.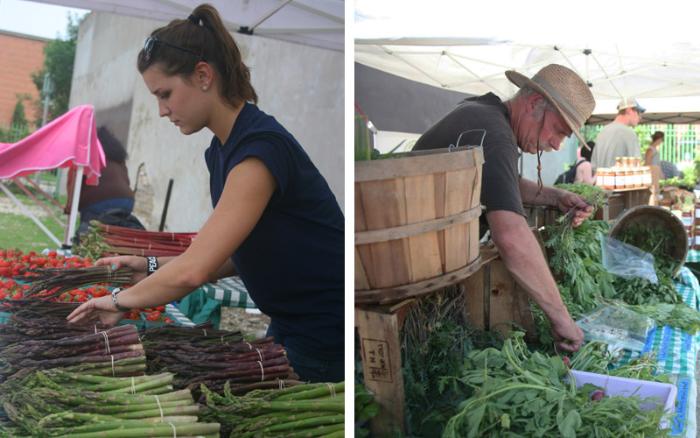 Photos by Nicholas Passarelli (L) and Mark Beane (R) / Loyola University Chicago