Kenmore Vacation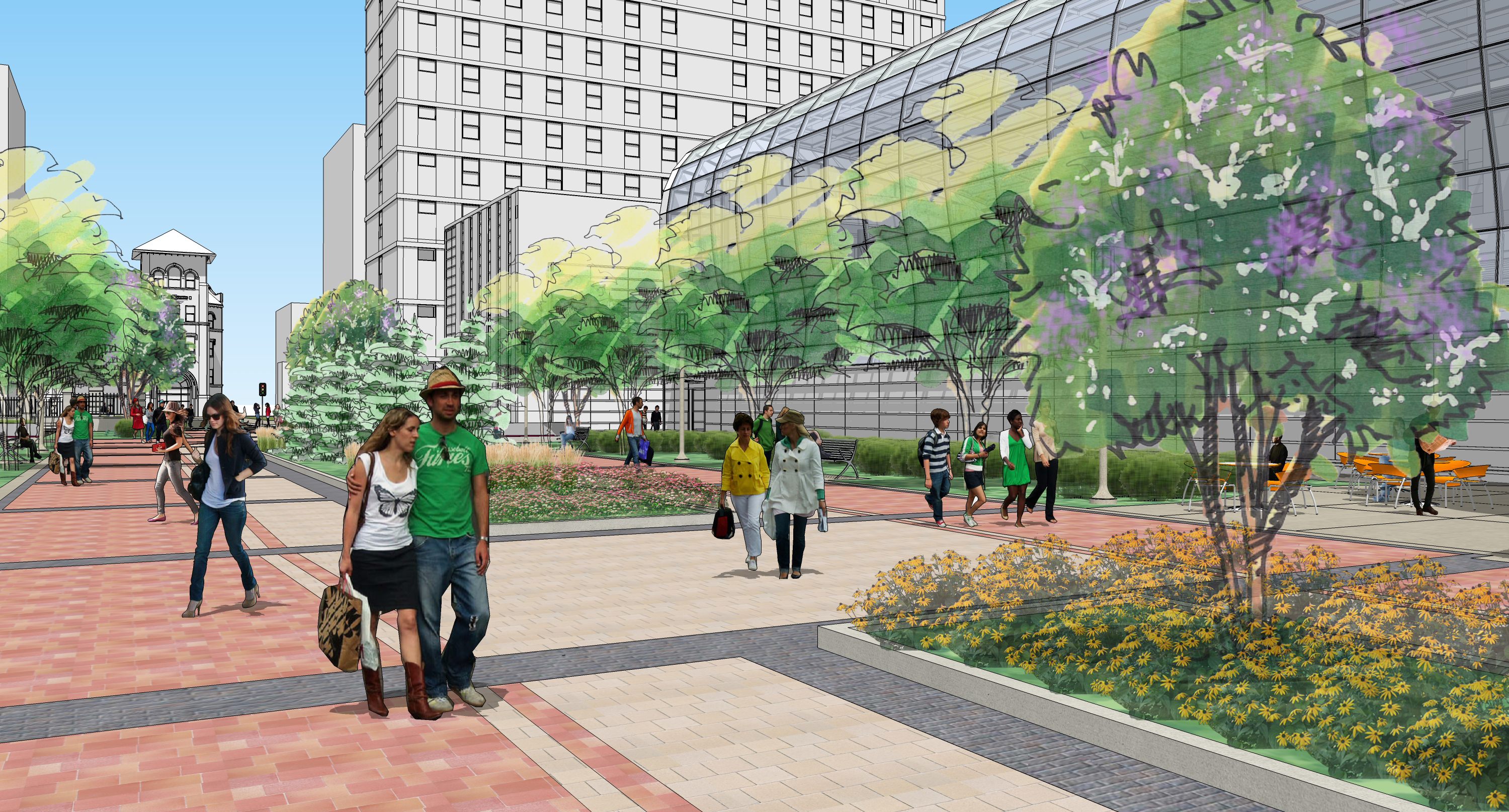 Kenmore Closure Overview: Environmental Sustainability Corridor
Loyola's new Institute of Environmental Sustainability (IES) is near completion. The IES will be an innovative, interactive and adaptable sustainable living and learning environment; and provide both a prototype and a demonstration of the opportunities for innovation and integration that an urban academic/residential setting provides.
As part of the extension of the campus south of W. Sheridan Road, IES will act as a link between the residential area and create a unique identity for the south campus. Through the creation of a "people street" or "environmental sustainability corridor" along 6300 Kenmore, the exterior will mirror the interior. The development of the outdoor corridor allows Loyola to share sustainable learning and green amenities with its students and neighbors.
The corridor will feature:
Bike Lane
Maps
Play fields
Bench seating
Outdoor cafe
Rain Garden
Butterfly sanctuary
Shade trees
Native landscape
Educational signage
North-south gateways
Emergency access routes
Traffic Impact
The 6300 Kenmore block has been closed during the construction of IES and de Nobili Hall since 2011. Since then, there have been some notable changes in the traffic patterns, creating safer conditions for pedestrians. There is a reduction in traffic on the 6200 block of Kenmore with Sheridan Road absorbing roughly 1–2 additional cars per minute during peak hours. The alley to the west and east have also absorbed an additional 6–11 vehicles in the morning and 1-3 fewer vehicles in the evening. Rosemont has seen a slight uptick in eastbound traffic from Broadway.
Parking Impact
Parking in the area has been positively impacted since the closure of Kenmore. According to Loyola's two traffic studies conducted in 2011 and 2013, there has been an 6% overall increase in the availability of on-street parking for non-student neighbors. The reasons for this are:
Loyola-owned parking has increased by 65%. This increase enables Loyola to provide parking to all students, faculty, staff, tenants and visitors.
The acquisition, demolition and/or conversion of more than a dozen buildings within the study area since 2011, along with University policies that deter first and second year students from keeping a car on campus reduces the overall demand for on-street parking.
Community Process
The University began the process to vacate Kenmore in November of 2011. The table below is an overview of this process.
Date
Step of Process
November 2011
Projected traffic and parking impact study
January 2012
Kenmore closes for construction
February–April 2013
Preliminary community group presentations:
Association for Sheridan Condo Owners (ASCO)—Supporter
Edgewater Environmental Sustainability Project (EESP)—Supporter
North Edgewater Beach Association (NEBA)—Supporter
Edgewater Neighbors North—non-opposed
Edgewater Glen Association—non-opposed
March 2013
Vacation applications to Chicago Department of Transportation (CDOT)
April–June 2013
Board of Underground Review—City of Chicago
April–June 2013
Appraisal
April–June 2013
Design phase
June–July 2013
Five community meetings to show design, seek input
July 2013
Alderman Harry Osterman community meeting
July 2013
Ordinance introduced to City Council pending aldermanic approval
August 2013
Payment and property title transfer
August–September 2013
Kenmore temporarily re-opens during Sheridan Road resurfacing project
November 2013–July 2014
Construction and landscaping
August 2014
Project complete
Media About Kenmore Vacation:
Loyola Phoenix, February 2012
Loyola Student Dispatch, April 2012
Architects Newspaper Blog, May 2013