Northside Religious Leadership Prayer Breakfast
Cook County Board President, Alderman Joe Moore, and Loyola President Rooney convened first gathering of religious leaders on Northside.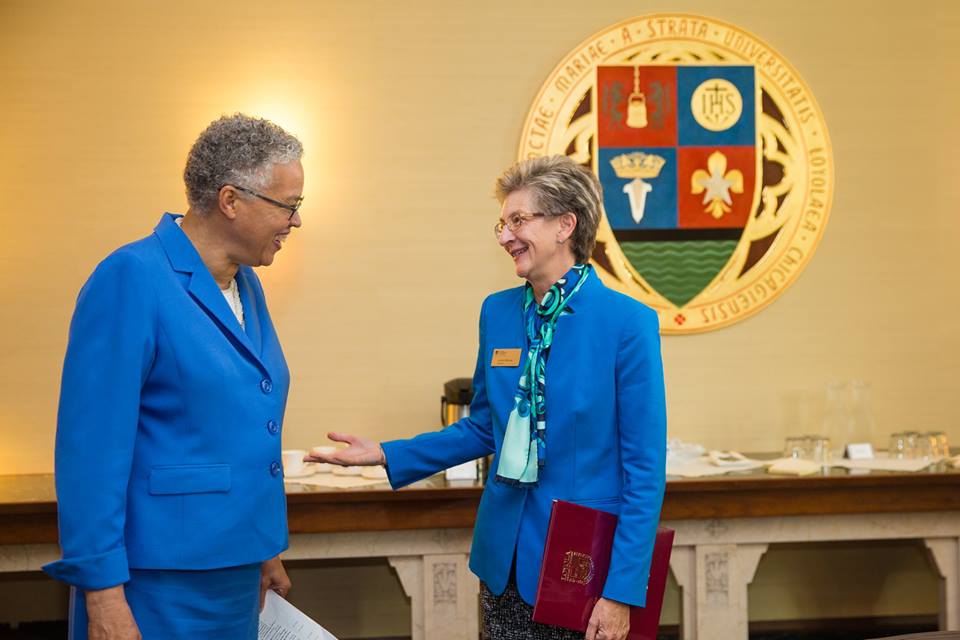 Loyola University Chicago held the first annual Northside Leadership Prayer Breakfast at the Coffey Hall, McCormick Lounge in Rogers Park.
Community stakeholders, parish leaders and clergy from Edgewater, Evanston, Rogers Park, West Ridge, gathered on Tuesday, September 20, at Loyola University Chicago's Lake Shore Campus to hear from local lawmakers about new projects and programs in Cook County and City of Chicago.
"Toni has held prayer breakfasts within the city and suburban Cook County, and she is pleased and excited to host the first on the Northside," Al Kindle, Special Assistant, Cook County.

The event was co-convened by Alderman Joe Moore, 49th Ward and Loyola's new President, Dr. Jo Ann Rooney.

"I brought this event to the 49th ward because I am proud of the diverse and robust faith communities in this part of the City. The prayer breakfast brings our local leaders together to fellowship and hear about relevant topics from our public servants," said Moore.
Dr. Rooney began her tenure as the first female lay president in Loyola's 146 year history on August 1. Many attendees met meet her for the first time and she delivered remarks about Loyola's Plan 2020 Initiatives. "Loyola's new strategic plan is focused on deepening outreach and programmatic initiatives in this area of the City and Partners in Faith is engaging in conversations and hosting programs with local worship centers already. This was the perfect event to further the conversations and develop new relationships," said Summur Roberts, Director of Community Relations for Loyola.
The event was kicked off by Alderman Moore who welcomed everyone to the northside and praised the local community for its diversity and cultural richness. Following his welcoming remarks and an opening prayer from Fr. Bosco, Director for the Hank Center for Catholic Heritage, Dr. Rooney welcomed attendees to Loyola and shared Loyola's accomplishments with the local community; from the efforts of Loyola Health Sciences to the soaring success of Arrupe College since opening its doors only one year ago.
Following Dr. Rooney's remarks, Toni Preckwinkle introduced the presentations from the County which included John Stroger Hospital campus redevelopments from Jessica Caffrey (Director of Real Estate), long-range transportation plans from John Yonan (Superintendent of Transportation and Highways), an update of the Cook County Forest Preserve from Arnold Randall (General Superintendent) and state and county budget updates presented by Tanya Anthony (Budget Director).
The event wrapped up with a Q & A where participants were able to directly ask questions to Toni Preckwinkle following the presentations and many attendees had questions regarding the John Stroger Hospital campus and the state of mental health clinics in the county. A closing prayer was done by Rabbi Craig Marantz from Emanuel Congregation.
To see photo highlights of this event, click here.
‌