archive
Get Your Challenge On at LUREC
Loyola's Retreat and Ecology Campus – located in Woodstock, Illinois – features 100 acres of prairies, savannas, woodlands, wetlands, and ponds. Its natural environment fosters spiritual growth, leadership, and community through a multitude of activities. Visitors can try their hand at the outdoor challenge and ropes course, participate in a farm workshop, or feast on a farm dinner. Visitors are even encouraged to take a peek at Loyola's Student Farm – a student-run business that promotes healthy ecological relationships. This summer is a great time to get involved with LUREC. Keep reading for some reasons why!
The Retreat and Ecology Campus' Challenge Course Program offers adventure education at its very best. The challenge course staff works with each group to custom design experiences that fulfill specific learning outcomes. Groups are presented with problem-solving initiatives and led through low and high ropes elements. The challenge course also features a rock-climbing tower, a zip line, jump poles, and more. LUREC's challenge course is one of the most extensive and exciting in the region and available for groups of 12-100+ participants.
To learn more, contact Challenge Course Coordinator, Eric Howden at ehowden@luc.edu or 815.338.1032.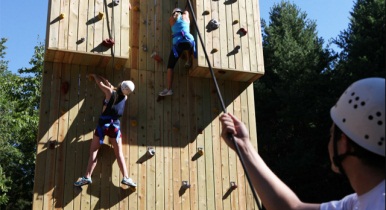 Sent by Eric Howden