Lunchtime Lectures
Lunchtime Lectures provide talented scholars with the opportunity to share their Digital Humanities work with interested students, faculty, staff, and members of the community over lunch. All workshops are free and take place on Wednesdays from 12:30-1:30 pm.
Fall 2019
Margaret Heller | Wednesday, October 23rd | 12:30-1:30 PM | CTSDH
Community technology projects underpin so much of the digital humanities and libraries, but building these communities and maintaining them over time is not easy. Various models for sustainability have been tried over the past 150 years, and there are some clear better practices to follow when planning projects. Margaret Heller, Digital Services Librarian at Loyola University Chicago Libraries will discuss the special challenges in making community digital academic and library projects sustainable, based on her 2019 book Community Technology Projects: Making Them Work.
Dr. Samantha Blickhan | Wednesday, October 9th | 12:30-1:30 PM | CTSDH
In this session, attendees will hear about digital humanities research taking place on Zooniverse.org. Subjects will include the aims and outcomes of crowdsourcing projects being hosted on the platform; internal research being conducted involving the evaluation of newly-built tools for online crowdsourced transcription; and how Zooniverse makes tools for crowdsourcing available to the public free of charge.
Miller C Prosser (University of Chicago) | Wednesday, September 11
Text criticism, lexicography, epigraphy, GIS data and digital imaging, complex querying, and web publication. These are a few of the topics highlighted in this showcase of research projects using the Online Cultural and Historical Research Environment (OCHRE). Along with this show-and-tell, we also wrestle with the challenge of knowledge representation in Digital Humanities. From the interpretation of a single stroke on the page, through to the publication of an open data set on the web, how should we model our data so it can be put to good use in our research? The case-studies for this Lunchtime Lecture are drawn from various philology projects working in a wide range of corpora; from Shakespeare, to the Hebrew Bible, to the little-known epic tales from ancient Ugarit.
Spring 2019
Indigenous Collections and Digital Horizons: New Approaches for Connecting Communities, Archives, and Museums
Christine DeLucia (Mt Holyoke) | Wednesday, February 6
Native American communities, archivists, museum curators, and digital technology specialists are pursuing innovative techniques for re-envisioning collections of original Indigenous heritage materials and decolonizing knowledge-sharing processes. This presentation draws on examples from the Native Northeast to examine opportunities for digital interventions into historically colonialist modes of collecting, while also recognizing cautions and constraints about making materials more widely available. It invites conversation about best ways to reconnect significant objects and texts with their communities of origin as well as scholars, students, and public audiences.
Building a Midwest DH Community: The Digital Humanities Research Institute in South Bend
Dan Johnson (Notre Dame) and Sarah Noonan (St Marys) | Wednesday, February 13
Sarah Noonan and Daniel Johnson will discuss their collaboration on an inaugural, four-day Digital Humanities Research Institute in South Bend, Indiana this May, which will introduce participants to the foundational computational methodologies that undergird DH projects of all kinds. Projecting use cases from their own research, Johnson and Noonan will discuss the importance of community creation in DH circles, how this event seeks to promote a digital humanities network across the region, and how Loyola University Chicago students and alumni can become involved.
How Maps Reveal (and Conceal) History

 
Susan Schulten (Denver) | Wednesday, March 20
From the voyages of discovery to the digital age, maps are fundamental to American history. Whether handmaidens of diplomacy, tools of statecraft, instruments of reform, or even advertisements, maps both reflect and shape particular moments in time. As such, they remain rich yet underutilized sources of historical research. Join us as Susan Schulten demonstrates the way that maps illuminate and complicate modern understandings of the past, and in turn how the digital humanities has transformed the study of maps. To glimpse a bit of the past through maps, visit the site for Schulten's newest work: www.america100maps.com.
The Sesquicentennial Scholars: Preparing for 2020
Tina Figueroa, Hannah Overstreet, Zach Stella, Austin Sundstrom (Loyola) | Wednesday, April 10
Since early 2018, the Sesquicentennial Scholars have been preparing for Loyola's 150th anniversary in 2020. This preparation includes the creation of a digital exhibit, "Then and Now: 150 Years at Loyola University Chicago," and other research and outreach projects. Over the past year, the Scholars have been prototyping user experience and other features and building code for Omeka S.
Fall 2018
The Mark Twain Project: Longevity and the Digital Edition
Mandy Gagel (UC Berkeley) | Wednesday, November 7
Amanda Gagel, PhD, will discuss her work as an editor at the Mark Twain Project (www.marktwainproject.org), a print and digital scholarly edition project at UC-Berkeley. With a full-time team of editors, this project has been going strong for decades, maintaining a commitment to producing award winning critical editions of Twain's novels and personal writings. Dr. Gagel will discuss how the project operates, the editorial policies it employs, and career paths in the fields of textual scholarship and digital humanities.
Digital Humanities from a Polish Perspective
Danuta Smolucha (Ignatianum) | Wednesday, October 24
The last two decades have been a time of great development in the Digital Humanities, a discipline at the intersection of the humanities, computer science, and art. But not every country in the world has enjoyed the same growth. Learn how this discipline has been undertaken in Poland, what are the factors which raise the potential growth of the Digital Humanities and also the challenges which inhibit this development. Dr. Smolucha will share examples of Polish projects and how people are learning to be digital humanists in Poland.
"What do you do when your school suddenly becomes famous? Digitally Archiving #MarchMadness"
Ashley Howdeshell and Margaret Heller (Loyola)| Wednesday, October 3
What happens when a school not known as a college basketball powerhouse suddenly becomes the Cinderella story of the NCAA March Madness Tournament?
The frenzy over Loyola's Men's Basketball Team's historic NCAA Basketball Tournament run resulted in the creation of hundreds of memes, online articles, digital videos, tweets, and images taken by cell phone cameras. Assistant University Archivist Ashley Howdeshell and Digital Services Librarian Margaret Heller will discuss the tools and strategies used to preserve this digital moment of fame. Learn how Archive It was used to capture and preserve over 300 unique URLs and how a function of Omeka allowed for Loyola fans to submit their digital images and videos to the University Archives.
Creating Digital Archives and Careers in the Digital Humanities
Xavier Snowman and Hannah Davison (Adam Matthew) | Wednesday, September 19
Ever wonder what goes into creating a commercial digital resource? Curious about careers doing that kind of work?
For our first lunchtime lecture of the new year, Xavier Snowman, Academic Outreach and Project Development, and Hannah Davison, Development Editor, at Adam Matthew will talk about the work that goes into creating digital resources, from coming up with an idea for a new collection, working with archives, editorial and technical production, and finally to outreach and support for users.
The Transformation of the Medium and Meaning of Illustration in Early 19th C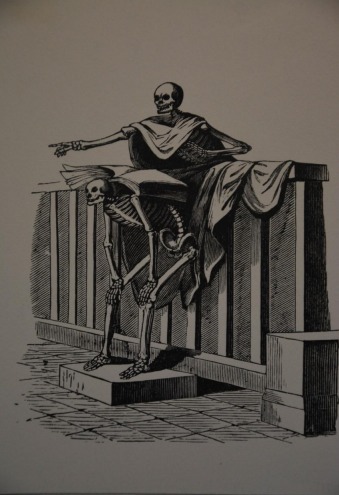 Dr. Chris Lukasik (Purdue University) | Thursday, October 20th | 12:30 PM - 1:30 PM | Loyola Hall, Conference Room 318
While the significance of illustration to the rise of a mass visual culture across the nineteenth century has been well documented, our understanding of what illustration meant during the period leading up to its dominance remains confused. Using a combination of quantitative and qualitative methods, this talk examines the transformations in the medium and meaning of illustration as they appear in periodicals published in America from 1775 to 1825. Evidence from this case study will be discussed as it pertains to the study of literature, art history, and book history as well as our understanding of the rise of optical media across the nineteenth century.
Please register here for this Lunchtime Lecture. Food will be provided.
Gathering Places: Religion, Community, and Digital Public History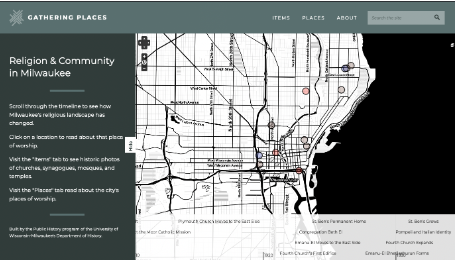 Dr. Christopher Cantwell | Thursday, November 17th | 12:30PM-1:30PM | Loyola Hall, Conference Room 318
The rise of digital humanities methods and pedagogies has fundamentally altered the study of religion. At the same time, our networked world currently is experiencing a profound shift in the nature of religious life. How might these two trends be brought into conversation? Can one help understand the other? This talk will draw upon a recent digital public history project to explore how religious studies, digital humanities, and public history can fruitfully work together to build a vibrant digital archive of our current moment.
Please register here for this Lunchtime Lecture. Food will be provided.

Digital Paris, c 1400
Dr. Emily Hutchinson | Tuesday, November 15th | 12:30 PM-1:30 PM | Loyola Hall, Conference Room 318
Mapping is a critical element of my scholarly work, and a useful form of evidence. Mapping often reveals things that are otherwise hidden in textual, artistic, or material sources. It offers insights into the physicality of a space, but also into patterns of use. The primary aim of Digital Paris c. 1400 is to have this platform answer queries for users that range from the very simple and straightforward (such as locating a particular street) to the more complex (for example: tracing the trajectory of the Dit des Rues de Paris and identifying ONLY the sites of interaction with women). Mapping evidence from our textual sources forces us to recognize that people's experiences differ across the terrain in very concrete ways, and mapping enables these realities to come to life in ways that we might otherwise overlook.
Please register here for this Lunchtime Lecture. Food will be provided.

Digital Humanities + Textual Studies Showcase
Melissa Bradshaw, Ian Cornelius, Elizabeth Hopwood, Frederick Staidum, and Marta Werner | Wednesday, November 9th | 12:00 PM - 2:00 PM | Loyola Hall, Conference Room 318
Presentations of digital humanities projects by faculty in the Department of English.
Please register here for this Lunchtime Lecture. Food will be provided.