The night was dark and full of terrors-- But it was also entertaining!
On Campus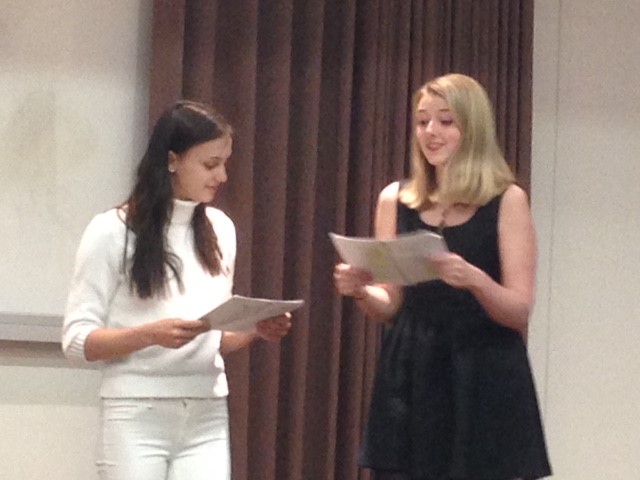 On April 24, MSTU student Nate Ferguson directed fellow students in the 12th century "Play of Adam and Eve", to explore the way medieval people expressed the relationship between humans and the supernatural.
Four internationally-known scholars present on animals in the medieval period and how they illuminate the present.
Oct 12 Conference: Editions and manuscripts of Middle English poetry
Saturday, October 12, 2019
IC 4th Floor
"Editions and manuscripts of Middle English poetry" is a day-long a conference that will feature five lectures on late medieval English poems and the manuscripts and editions that transmit them.
Co-sponsored by the Martin J. Svaglic Endowed Chair in Textual Studies, the Edward L. Surtz, S.J. Endowed Chair in Medieval and Early Modern English Literature, and the Center for Textual Studies and Digital Humanities.
Direct questions to Ian Cornelius (icornelius@luc.edu).
Fall 2019 Medieval Studies Courses
Click here to check out classes in Medieval Literature, History, and Theology.
Why Choose Medieval Studies?
Your future employers—whatever you decide to do—want to see evidence of your broad range of interests, your skills in assessing and interpreting evidence, your critical thinking abilities, your foundation in the humanities, your keen curiosity about the world, your adaptability in using different methods and techniques to solve problems and your communication skills.
All of these skills and more are honed in the Medieval Studies minor. In addition, you will find that the cultural worlds of the Middle Ages are endlessly fascinating, both evocative of our age and very remote from it. In the Medieval Studies Program you will discover great literature, profound philosophy, groundbreaking theology, fabulous art and some the most interesting people you'll ever meet.
For more information, contact:
Professor Tanya Stabler Miller: tstabler@luc.edu
Interim Co-Director, Medieval Studies