Undergraduate Conference 2019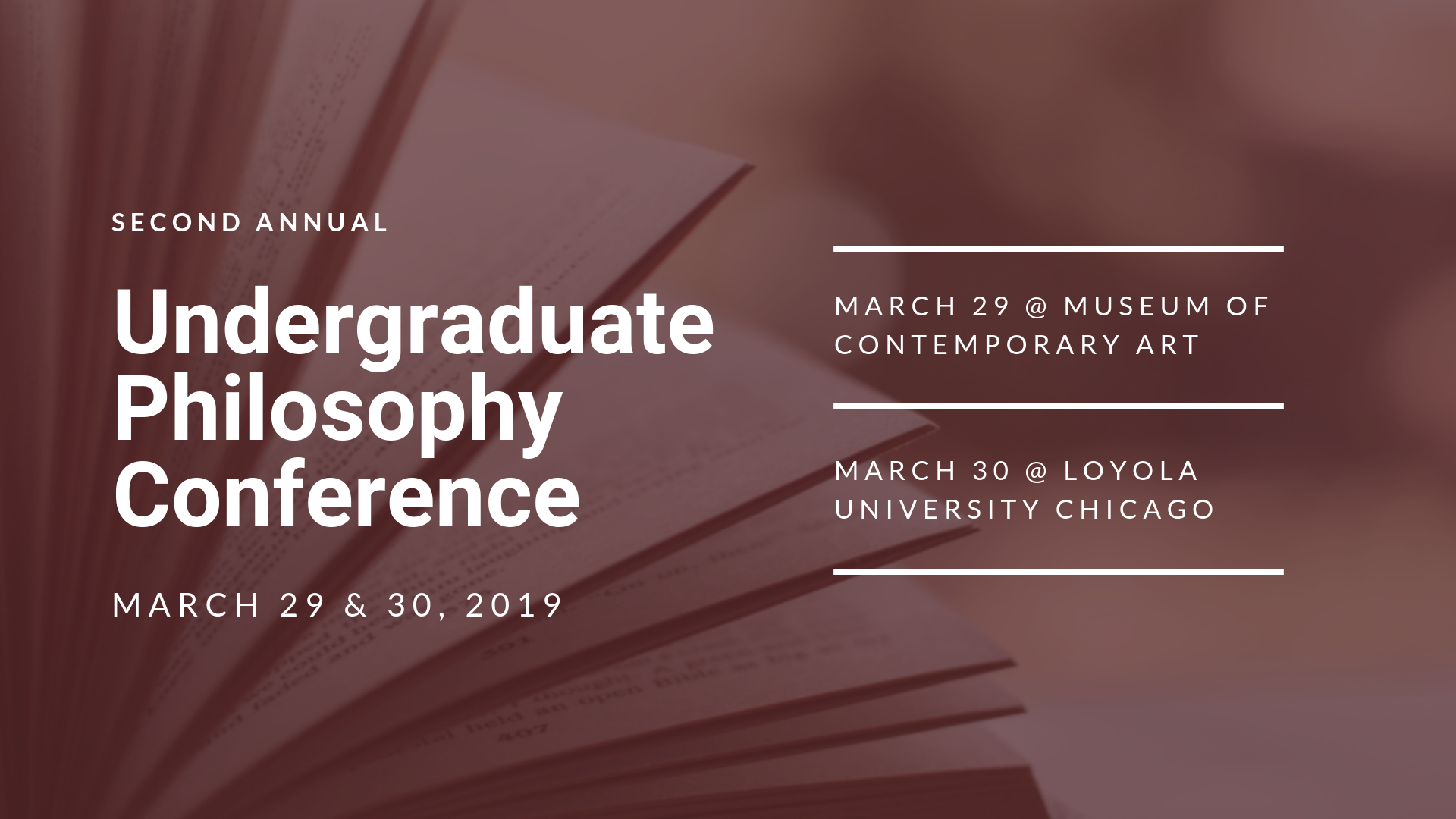 Undergraduate Conferece: March 29 & 30
March 29th @ Museum of Contemporary Art
Loyola's Minorities and Philosophy (MAP) chapter is hosting a philosophy and art panel at the Museum of Contemporary Art. Students and faculty from the MAP mentorship program will give short presentations on philosophy and art in the presence of the work itself. Admission to the MCA is free for those who RSVP.
"Art as Language: Opening Up the Conversation," Joohee Cho & Gina Lebkuecher
"Artistic Epistemic Friction," Barni Nuur & Hanne Jacobs
"Art and Suffering in Nietzsche and Prisoner of Love," Chanté Wilson & Rebecca Valeriano-Flores
March 29, 2019 @ 3PM - 5PM
Museum of Contemporary Art
220 E. Chicago Ave.
March 30th @ Loyola University Chicago
Schedule
9:30am
Breakfast
Crown Center 210
9:45am
Welcome & Opening Remarks - Joe Vukov, Yiran Zhang
Crown Center 210
10:00am-11:15am

Knowing Thyself (Crown Center 140)
Kouki Kubota: "Communal and Individual Philosophy"
Amanda Loeffelholz: "Desire, Consumption and the Self in Hegel and
Hobbes"
Liam Berg: "Hermeneutical Nonsense: Towards a Holistic Concept of
Gobbledygook"
Consciousness (Crown Center 141)
Alexandra Frisch: "Exploring Consciousness: Nishida and Perceptual
Neuroscience"
Lydia Picoli: "States of Consciousness as Manifestations of Transcendental
Knowledge"
11:30am-12:45pm
Contemporary Ethics (Crown Center 140)
Joohee Cho: "Universal Moral Education for Invisible Adolescents"
Anwar Khan: "Free Will vs. Determinism"
Anna Dexter: "Women as Jesuits"
Love & Beauty (Crown Center 141)
Nojan Komeyli: "Sincerity versus Performativity"
Samantha Chipman: "Eros in Virgil's Aeneid and Plato's Symposium "
Sophia Todorov: "AI and its Inability to Process Beauty"
1:00pm
Lunch
2:30pm-3:45pm
The Examined Life (Crown Center 140)
Schola Iradukunda: "Thinking Socratically about Life and Death"
Alena Stankaitis: "Reflections on Ancient Eastern Philosophy: Marginalizing
the Essential"
Chanté Wilson: "Lessons from Descartes: Philosophy as a Way of Life"
Labor & Exploitation (Crown Center 141)
Patrick Ronan: "An Ethical Examination of the Economical "Mega-City" and
Pure Agglomeration"
Adrian Sibaja: "Philosophical Implications of African Spirituality on Latin
American Countries"
Maria Kardasis: "The War on Food Sovereignty"
4:00pm
Keynote Speaker: Dr. Grant Silva, Marquette University
"On Racism, Ideology, and Liberation Philosophy"
Chair: Yiran Zhang
Cuneo Hall 203
5:00pm
Reception
Cuneo Hall 203