Undergraduate Conference 2019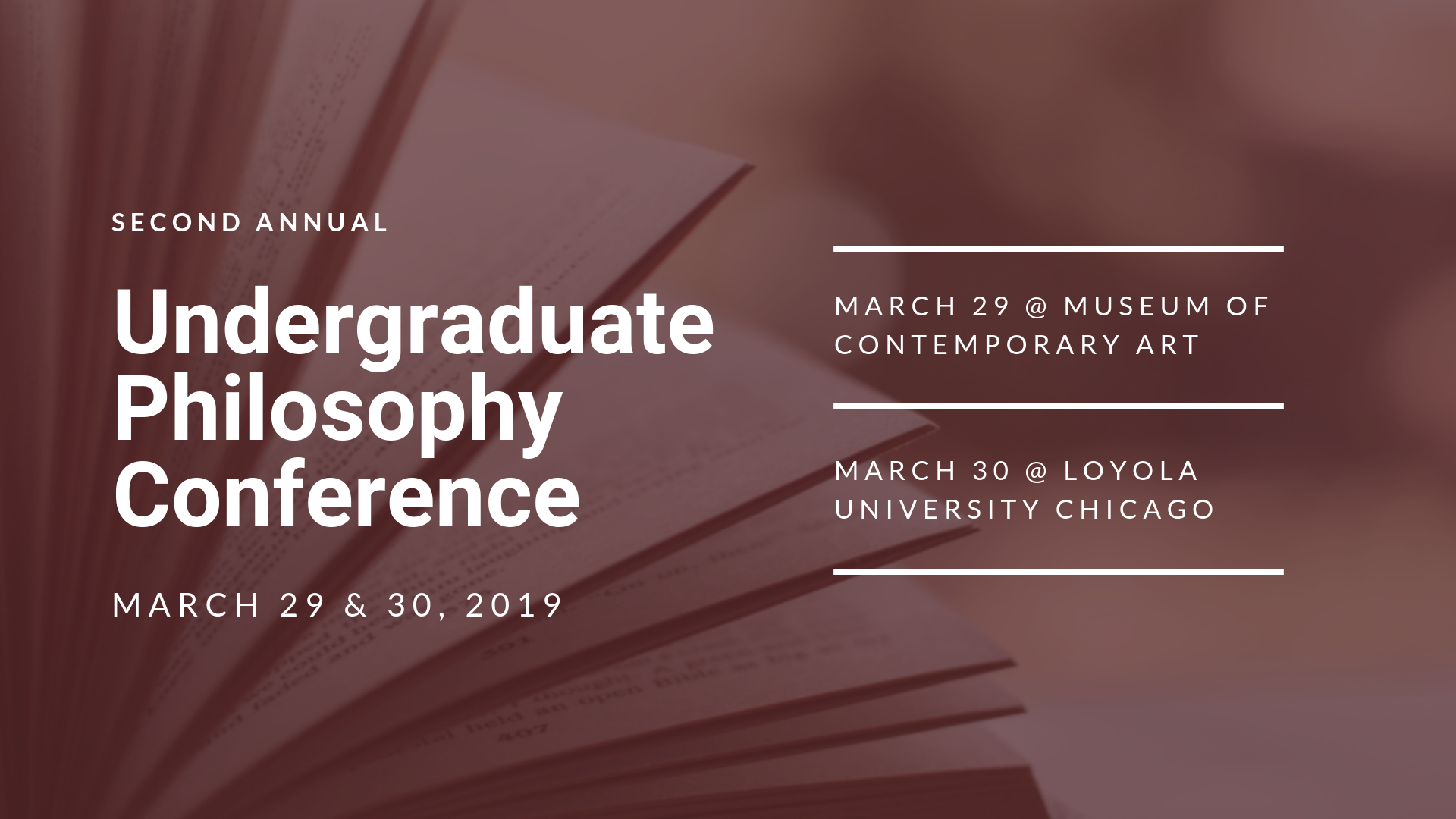 Undergraduate Conferece: March 29 & 30
March 29th @ Museum of Contemporary Art
Loyola's Minorities and Philosophy (MAP) chapter is hosting a philosophy and art panel at the Museum of Contemporary Art. Students and faculty from the MAP mentorship program will give short presentations on philosophy and art in the presence of the work itself. Admission to the MCA is free for those who RSVP.
"Art as Language: Opening Up the Conversation," Joohee Cho & Gina Lebkuecher
"Artistic Epistemic Friction," Barni Nuur & Hanne Jacobs
"Art and Suffering in Nietzsche and Prisoner of Love," Chanté Wilson & Rebecca Valeriano-Flores
March 29, 2019 @ 3PM - 5PM
Museum of Contemporary Art
220 E. Chicago Ave.
Meet the Loyola group outside the entrance on N. Mies Van Der Rohe Way.
March 30th @ Loyola University Chicago
Our keynote speaker will be Dr. Grant Silva, assistant professor at Marquette University specializing in Latin American philosophy, political philosophy, and the philosophy of race/ethics of racism. He has worked with the National Endowment for the Humanities (UCLA summer 2011, "Re-thinkining International Migration") and is a member of the APA Committee for Hispanics in Philosophy. Dr. Silva is currently writing on the problem of democratic exclusion, the dynamic nature of racism, and the challenges that undocumented immigration and the militarization of the border pose to mainstream political philosophy.
MAP will sponsor and award a $250 first-place prize and two $100 runner-up prizes for outstanding undergraduate essays to conference participants from underrepresented groups in philosophy. To be considered for the prize, send your full paper (maximum 3,500 words) to Rebecca Valeriano-Flores (mvalerianoflores@luc.edu) by April 15.
Send any questions to the conference organizers: Yiran Zhang (yzhang45@luc.edu) and Joe Vukov (jvukov@luc.edu).