Basketball, best-selling author, and a Quinlan MBA: An alum's journey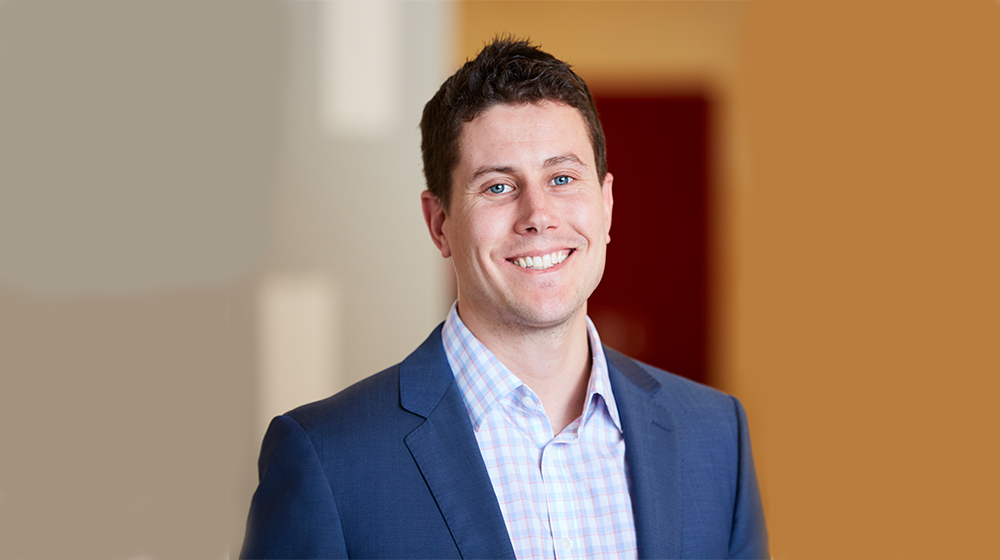 By Mikal Muhammad | Student Reporter
John Willkom's (MBA '14) book Walk-On Warrior: Drive, Discipline, and the Will to Win has been a #1 best-seller in the college basketball category on Amazon for more than 30 weeks and counting.
In the book, Willkom describes earning a walk-on spot on the Marquette University basketball team, and the lessons he has learned to get to the career he has today. As a walk-on at Marquette, Willkom was not guaranteed a spot on the team like the scholarship players, so he had to prove he had the work ethic and skills to be on the team. The result was a series of unforgettable experiences, people, and stories that would eventually extend beyond the court.
Willkom transferred his passion for basketball into his work, earning an MBA from Quinlan on his way to serving as an e-commerce executive for The Stable. The Stable is a consumer brand agency representing world-class clients across all channels of commerce.
Below, Willkom speaks about his book and professional journey.
Tell me about your book.
My book, Walk-On Warrior, is about my life and basketball and the opportunities that I had as result of my hard work, dedication, and persistence. Growing up in a small Wisconsin town, I wasn't sure if I would ever get the opportunity to play Division 1 college basketball. However, after a stop at a Division 2 school in Minnesota, my dream of playing D1 college hoops became a reality at Marquette.
I was able to parlay my love for the game into unique positions, including serving as a personal assistant to legendary college basketball coach Rick Majerus, working for a sports agent, doing public relations for the Milwaukee Bucks, and coaching youth basketball across the United States.
The book itself was a culmination of 13 years of writing, and readers see my personality evolve, as certain parts of the book were written at different times. What started out as a fun side project that I eventually hoped to share with my kids got to the point where I'd lie in bed at night and think, "There's probably a lot of young people out there that have similar dreams and could benefit from a story like this." The book isn't a culmination of stats or game recaps, but rather, a raw look into what a student-athlete truly experiences and how I felt as I went through that journey. I decided last summer to move forward with getting it published, and I've been overwhelmed with the feedback.
Why did you decide to pursue an MBA?
Similar to my attitude towards basketball, I wanted to be the best business person I could be. For me, that started with my undergraduate education at Marquette and my first job in Salt Lake City, Utah.
Once I had some work experience, I knew I needed to expand my skill set and getting my MBA made the most logical sense. I started my MBA at Loyola Marymount in southern California. At the end of my first year, my company wanted to transfer me to Chicago, and I was a bit wary at first, thinking I might lose all of my credits. Through the Jesuit Transfer Network, I was able to transfer to Loyola Chicago without losing a single credit. This was a huge benefit of attending a Jesuit business school.
How did Quinlan's MBA impact your career?
I certainly felt like I received a top-notch education, which has always given me confidence out in the marketplace. Because I had already earned an undergraduate degree in business, my approach to the MBA program may have been different than others. Instead of taking classes in subjects I felt comfortable with in sales and marketing, I intentionally took as many finance, management, and accounting classes as I could.
While some of these classes were extremely challenging (international taxation sounded like a foreign language to me), having that attitude and taking on that challenge has really benefited my career. The book I wrote is a living example of venturing outside of my comfort zone.
What is your most valuable life lesson?
Having attended Jesuit schools, life is certainly about serving others, and I've found the most gratification in my own life when I take on that mindset. As a father, a husband, and a business person, I certainly believe in treating others well. Not only does it open up more opportunities, but it's much more fun to go through life that way!
What was more challenging: College basketball or MBA?
In a lot of ways, they were very similar. I worked full time during my MBA program, which resulted in a lot of late nights and early mornings to get homework done. Playing college basketball certainly prepared me for that type of rigor, as student-athletes are on the go from sun-up to sun-down.
As much as I learned from a business standpoint, the biggest thing I took away from graduate school is how much I'm capable of in a day. My outlook on life has always been: "Every day I'm either getting better or getting worse, I never stay the same." I tried to apply that same mentality to my MBA program, which helped me persevere when the caffeine just wasn't kicking in.
Any advice for student-athletes in business?
Student-athletes have a built-in advantage because they understand the type of preparation and effort required to have success. The biggest challenge is just transferring that passion for sports into a field that they're just as passionate about. Once they find that, it's that same mentality of consistent improvement, self-reflection, and action that should make any student-athlete successful in whatever they choose to do next.
Learn more