Esports take off as a 'pandemic pastime'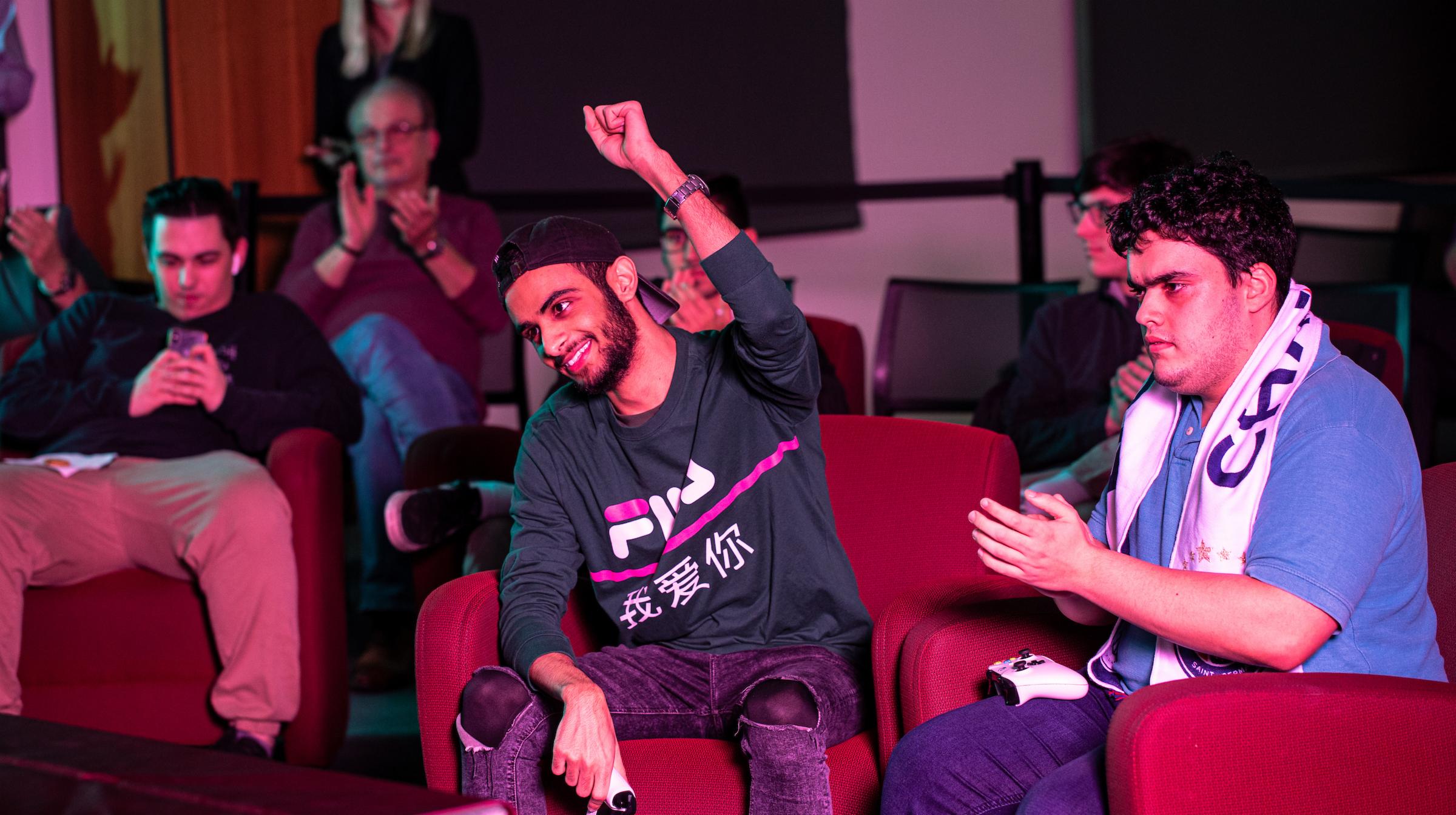 Esports have been on a meteoric rise in the past few years, and as the COVID-19 pandemic put a halt on traditional sports in the spring and early summer, the excitement surrounding esports has only grown.
Esports is an umbrella term for competitive video games such as Overwatch and Rocket League that are designed to be played against other users. Some even mirror traditional sports. Madden (football), FIFA (soccer), and NBA2K (basketball) have all made adjustments to their popular video games to create competitive elements. As esports have grown in popularity, professional teams and leagues are adding esports elements to their own rosters.
"Esports have taken off during the pandemic," says Zach Binkley, sport management lecturer at the Quinlan School of Business. "Esports became the only outlet for new sport content, and we've seen a huge spike in popularity."
Below, Binkley identifies four key trends in esports.
1. Potential for partnership
Esports have skyrocketed in part because they are generally inclusive in terms of participation by taking a global approach. Because the games do not physical mobility requirements like traditional sports, esports are more accessible.
"Esports has strong enough legs to stand alone," say Binkley. "But if esports and traditional sports were to couple together, there is opportunity for both to grow. For example, the Chicago White Sox and Chicago Fire have both sponsored live esports events. Moving forward, they can co-exist and build off each other."
Rather than erasing traditional sports, this pandemic has exposed the need for traditional sports, says Binkley.
"Esports fill the void of wanting new sport content, but I think this legitimizes both traditional and esports," he says. "Professional esports players are at elite levels in the same way traditional sport pro athletes are. Esports players have tested with similar dexterity and hand-eye coordination as traditional athletes. Partnering them up, I think they would find a lot of common ground."
2. Issues around sports behavior
While esports are often more inclusive, there have still been issues of poor sport behavior and gender issues that need to be addressed.
"The esports space is generally very accepting, but there are still some challenges to work through regarding behavior," says Binkley. "Efforts are being made, however, to police these issues. Esports teams and sponsors are addressing issues and dropping players when they exhibit poor sport behavior."
3. Opportunities for advertising
As esports playing and watching has grown, advertisers have taken note of the potential to reach their audiences. Twitch, a livestreaming platform where users can watch esports players as they play, has become a hotspot for advertisers.
"Twitch can have ads in the livestream, and a number of live events have corporate sponsors," says Binkley. "As live online esports events become more popular, there's also great opportunity for pre- and post-game shows where ads can be shown, and a number of esports games have even found ways to embed advertising directly into the game."
4. Creating the future of virtual events
Esports platforms have found ways to connect with new audiences and promote play in new ways that show the possibilities esports create for virtual experiences. In late April, Fortnite – another online gaming platform – hosted a virtual concert with Travis Scott with 27.7 million unique players on the game in attendance.
"Players could log in and witness a live concert in a virtual environment," explains Binkley. "This was a completely original event that shows the potential for connecting with people virtually. It presents an opportunity for esports environments to host live events, and the popularity of these events will only grow.
"As we live through this pandemic, it is hard to see big stadium concerts and other large in-person events coming back to normal quickly. But the esports technology being used to create virtual environments and virtual live events show the potential of this technology to grow in the future. And with the numbers that Travis Scott's Fortnite event had, it's hard to argue with its popularity."
Learn more