Finding a new calling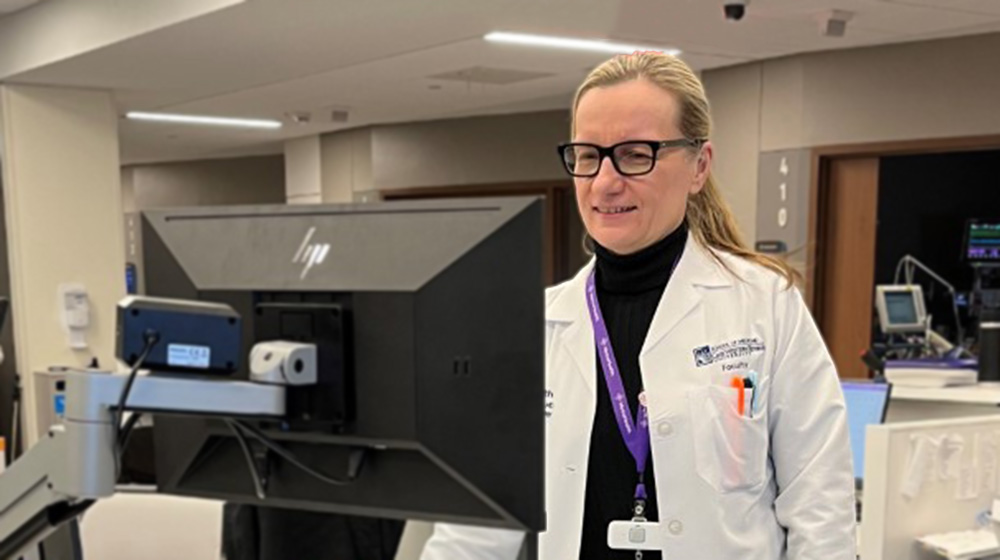 For Agnieszka Ardelt, MD (MBA-HCM '17), hospitals should go beyond simply providing healthcare to patients. They should create opportunities and care for those who otherwise might not have them. That's why she shifted her career trajectory to help those in need at MetroHealth of Cleveland, a public safety net hospital where she now serves as the chair of neurology and director of stroke programs.
"I chose Loyola for a reason," Ardelt said. "It ended up nudging me to this pathway. Every medical professional should go through an MBA in healthcare management program like Loyola's."
A transformational experience
Ardelt entered the MBA program while serving as an attending physician at the University of Chicago. For two decades, Ardelt spent time in research labs and caring for stroke patients but found herself frustrated at not being able to communicate effectively with business partners.
"That was a big challenge," Ardelt said. "That was the reason for enrolling in the MBA program: to learn and to understand the language related to administration and finances. It ended up providing with me much more in the end.
Broadening perspectives
Beyond the lingo of business, she learned something through the program that is taught only through experience: how to work with those unlike yourself. In Quinlan's healthcare management MBA, students from across the medical field, from practitioners to administrators, work together in a cohort.
"If you don't do that, you tend to have blinders on," Ardelt said. "I think that it teaches leaders to be humble and that they don't have all the solutions."
Ardelt encourages hospital leadership to stay in touch with what colleagues working bedside are going through and to listen to their ideas.
"Without seeing that sense developed, I see leaders fail," Ardelt said. "It's something that seems obvious but in real life, I think the majority of physicians don't realize that which is why I think something like the healthcare management program should be included into every medical school."
Care for a community
Upon completing her MBA, Ardelt was called to a new purpose in Cleveland at MetroHealth, which seeks to go beyond medical treatment to improve the foundations of community health and well-being.
"The MBA program helped me to think deeply about providing patient-oriented care and caring for the whole person," Ardelt said. It also helped her crystalize her thinking on how she could help create change.
"In my academic hospital, we provided amazing care to the patients," said Ardelt. "However, when the patients left the hospital, there were so many social determinants of health that prevented them from continuing that journey."
At MetroHealth, Ardelt serves as the chair of neurology and director of stroke programs. As part of her work in the community, she is overseeing a partnership with a local public high school to teach students about strokes. After initial success, the partnership will be expanded to include the students teaching others in the community about stroke awareness.
"We are innovating and pushing the envelope on how to address social determinants of health, and helping patients overcome those barriers," Ardelt said.
Learn More: