Jesuit values in data analytics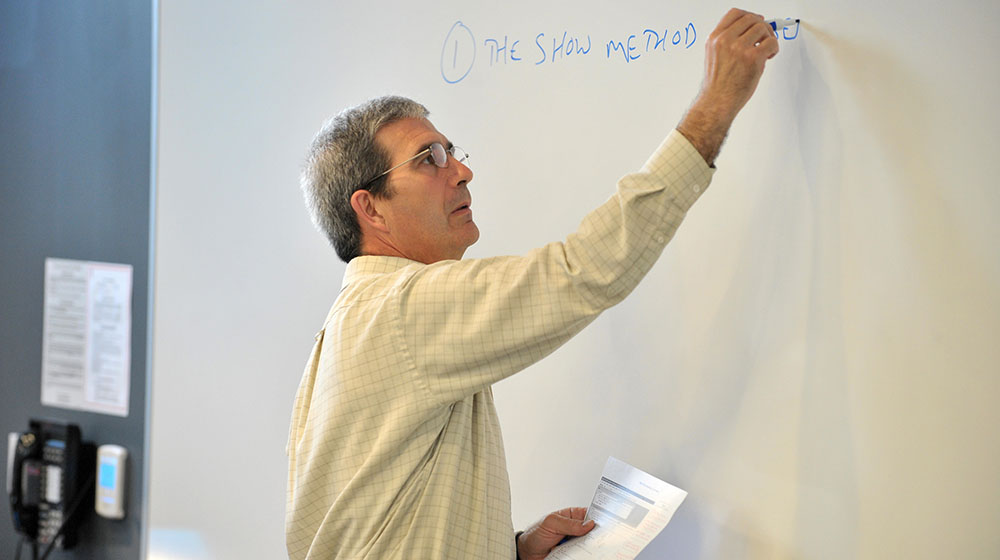 "If you're developing information systems, can you develop them for good to serve the community?" asks Fredrick Kaefer, professor at the Quinlan School of Business. From his perspective, the answer is a resounding yes.
With professors from around the world, Kaefer co-authored a set of coursework guidelines called "Inspirational Paradigm for Jesuit Business Education." The guidelines aim to help classrooms recognize social injustice in data, understand technological ethical issues, and understand how information technology and systems can be used for good.
"There is a responsibility that comes with the development and implementation of information systems," said Kaefer.
Working together from around the world
Work began in the summer of 2020, when Kaefer received an invite to join a taskforce of professors from Jesuit universities from around the world studying the ethics of data analysis. With the pandemic in full swing, the group focused much of its efforts on health data, crisis management, and environmental sustainability.
Kaefer and the others were called by the Jesuit value of cura personalis; or care for the whole person. As part of this, they wanted to share their findings for classrooms studying data analytics, putting ethics at the forefront of their studies.
"A number of the people that were involved said let's keep going with this, let's investigate more," said Kaefer. "Now let's identify resources that people can use."
These resources and teaching materials are now available on the Jesuit higher education website IgnitED.
Our goals were to compile relevant materials that business faculty could use in their technology and analytics courses, and to bring their focus to critical issues," Kaefer said.
Using data for good
The guidelines and teaching materials will help instructors teach topics including machine learning while focusing on the ethics of data analytics, including privacy, misinformation, and algorithm bias, said Kaefer.
The findings are broken down into five categories: ethics, privacy, algorithm biases, income inequality, and using data analytics for the greater good. Kaefer said each plays a vital role in how data can be interpreted.
"If you develop machine-learning algorithms, they're only as good as the data they're working with," Kaefer said. "If the data isn't representative, then the conclusion won't be representative, and the predictions won't be accurate. This can lead to the exclusion of some members of society."
He argues ethical use of data is vital to a company's ability to keep the trust of its customers. For other organizations such as nonprofits, understanding how data is collected will allow them to better serve their clients or customers.
"If you don't behave ethically, it will catch up to you," Kaefer said. "(Customers) want to support socially responsible businesses. They may make buying decisions based on if a company has high standards and a mission about serving, not just taking."
Learn more