Q Mentors leads to internships and friendship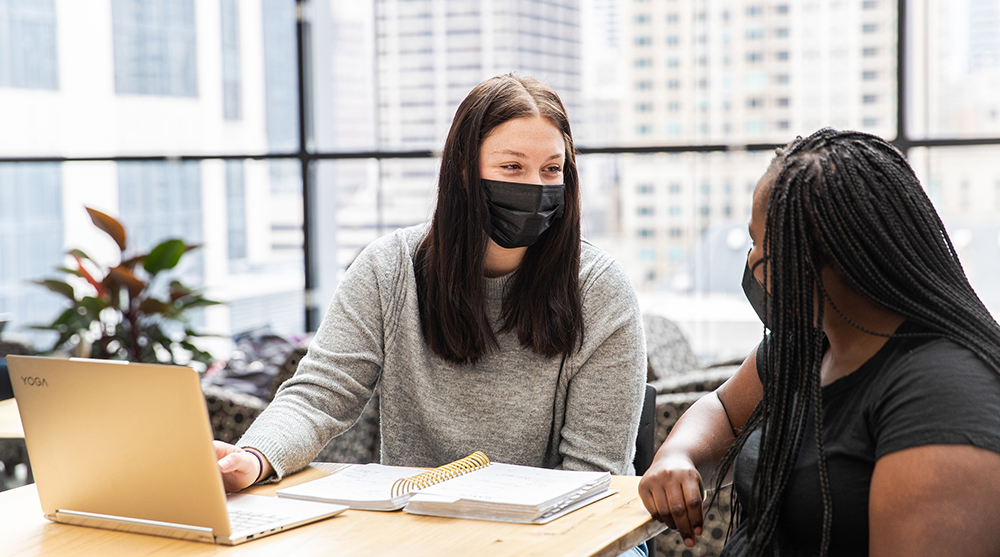 By Courtney M Jackson | Student Writer
"Trust yourself, trust your preparation. You deserve to get this internship," Jay Kulle (BA`87) said to Alexandra Snyder (BBA `23) on the morning of her internship interview with Amazon.
And Kulle was right: Snyder was hired for the supply chain internship with Amazon for summer 2021. Then Kulle's continuing guidance, Snyder successfully landed a procurement internship with Boeing this coming summer in Seattle.
She attributes her internship success to Kulle, a transportation logistics consultant for GE Healthcare in Ohio, who has been her mentor since October 2020. The two were paired through the Q Mentorship Program, which is part of the BSAD 220 Career Preparation course.
Preparing for the job
Kulle focuses his mentorship on sharing his professional insights with Snyder.
"What is taught in school and in the office are very different," he says. One of the first things Kulle did was help Snyder revamp her LinkedIn page to make it more visible to future employers.
"He went through my entire LinkedIn with me, and we changed a few things to make it look professional," Snyder says. "This led to Amazon contacting me and asking me to apply for an internship that I did this past summer."
Snyder also says that Kulle spent time going over supply chain management topics and workplace projects. "He gave me advice for a project I was working on at Amazon and how I could make more connections," Snyder says. Kulle even invited her to his Ohio workplace to help her compare the operations of Amazon and GE Healthcare.
A mentorship turned friendship
Both Kulle and Snyder say that they have gained a new friend from this mentorship experience.
"We talk all the time. I am learning what young professionals are learning and the challenges they face. It is obviously different than when I was school," Kulle says.
Snyder agrees, saying that her professional friendship with Kulle has been incredible.
"It kind of changed from a mentorship to a professional friendship to where I can text him and ask him about anything," she says.
Connecting through Q Mentors
Snyder says that the advice that Kulle has given her is one reason why she is successful in her career now.
"I think it is invaluable at our age when we walk into an interview and know that we belong there. I can't list everything he has taught me because it's so much," Snyder says.
Kulle encourages more alumni to get involved with the Q Mentorship Program.
"Serving as a mentor is fun and intellectually stimulating, and you are helping students who are interested in learning. I think people should look out for these kinds of opportunities," Kulle says.
Learn more