Welcome, new faculty members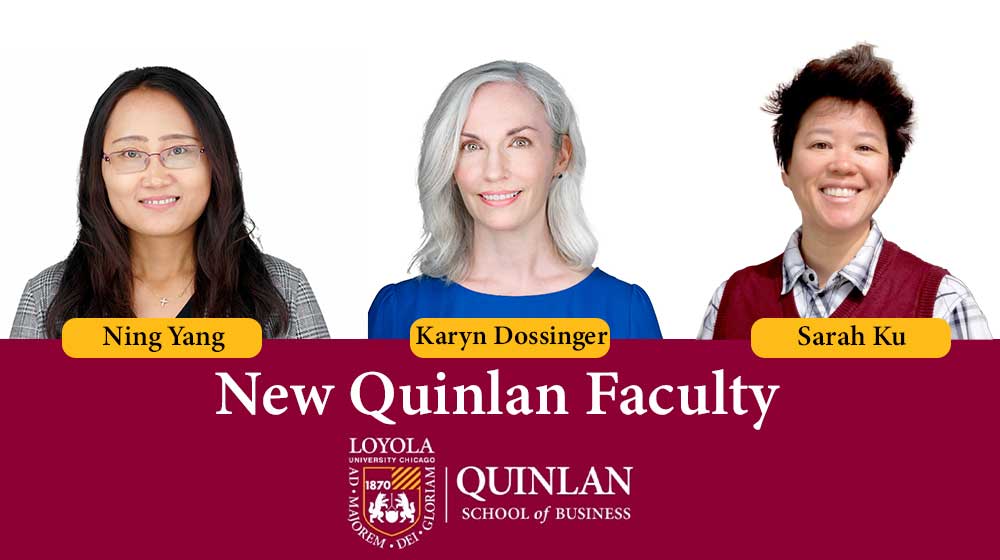 The Quinlan School of Business welcomes four new faculty members for the 2022-23 academic year, all of which bring unique and enriching experiences with them.
Read about their backgrounds and fields of study below.
Ning Yang
Ning Yang is an assistant professor of information systems. Her research interests include but are not limited to technology uses and adoptions, AI awareness, Internet of Things, cybersecurity, business analytics, and pedagogy.
She has taught courses such as business analytics, system requirements, and introduction to information systems. She has papers published in Journal of Internet Medical Research and AIS Transactions on Replication Research.
Karyn Dossinger
Karyn Dossinger earned her PhD in business administration with a concentration in organizational behavior and human resources (OB/HR) from the Carlson School of Management at the University of Minnesota – Twin Cities.
She has taught classes in leadership, organizational behavior, positive organizational scholarship, staffing, and human resource development. she research examines how people successfully navigate career transitions such as choosing a career, finding and starting a new job, and deciding to retire. Dossinger also conducts research on the role of curiosity in employee learning, development, and creativity. Prior to her academic career, she worked in HR and marketing strategy consulting for more than a decade.
Sarah Ku
Sarah Ku is a tenure-track assistant professor of sustainable business management and has a joint appointed between the School of Environmental Sustainability and the Quinlan School of Business to bridge these disciplines.
Her research examines sustainability and equity in business, with a particular focus on organizational food waste and circular strategies. She advocates for biomimicry, which is a concept that imitates strategies found in nature to solve human problems. She uses this approach to seek business solutions that work for all stakeholders, not just shareholders. Her overarching research objective is to explore how sustainable strategies can become standard business practice through mindful, equitable, and cooperative collaborations.
Xiang Gao
Xiang Gao is an assistant professor of finance. His research and teaching interests include corporate finance, financial markets, financial institutions, investments, and fixed income. His research findings have been published in leading academic journals, such as Management Science, Journal of Financial and Quantitative Analysis, Journal of Business Research, etc. He is currently interested in how the government borrowing behavior influences private sectors.
Learn more