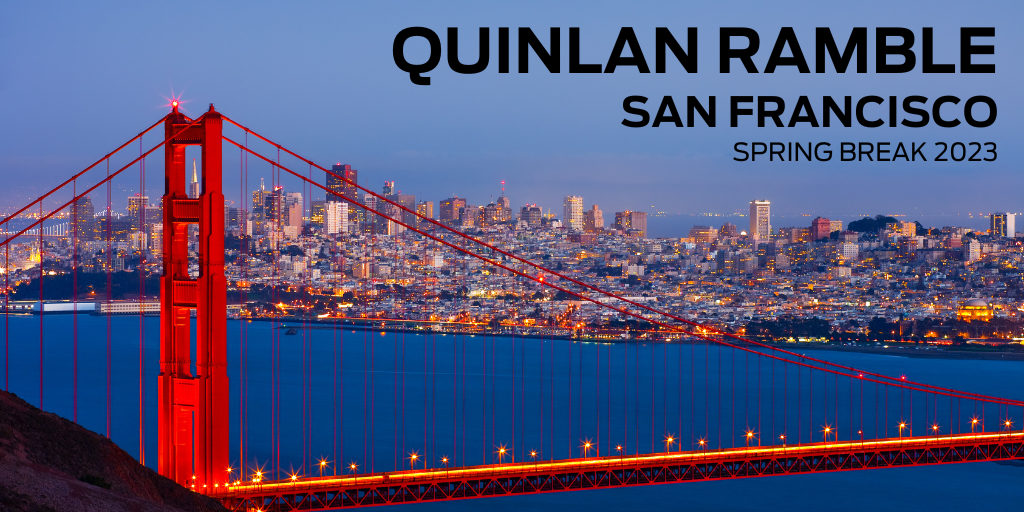 About The Quinlan Ramble
Spend your spring break on the Quinlan Ramble to San Francisco. Visit companies, meet with Loyola alumni, and experience all that the city has to offer. The Quinlan Ramble is an annual alternative spring break trip that enables undergraduate business students to experience business in another part of the United States.
If you have any questions, please contact Allison Davis, associate director for student services, at QuinlanRamble@LUC.edu.
Bottom line:
Limited to 11 undergraduate Quinlan students and 1 Arrupe College business student. Students must have a major in the Quinlan School of Business or be in the A.A in Business Administration program at Arrupe College.
$450/student; includes air fare, hotel, ground transportation to and from site visits and group activities, and some meals. Limited financial assistance is available to eligible applicants.
Tours/information sessions with local businesses.
Applications for the 2023 Quinlan Ramble to San Fransisco are closed.
See what past participants thought about their Quinlan Ramble experience through our student blogs.