Atlanta: Busy Day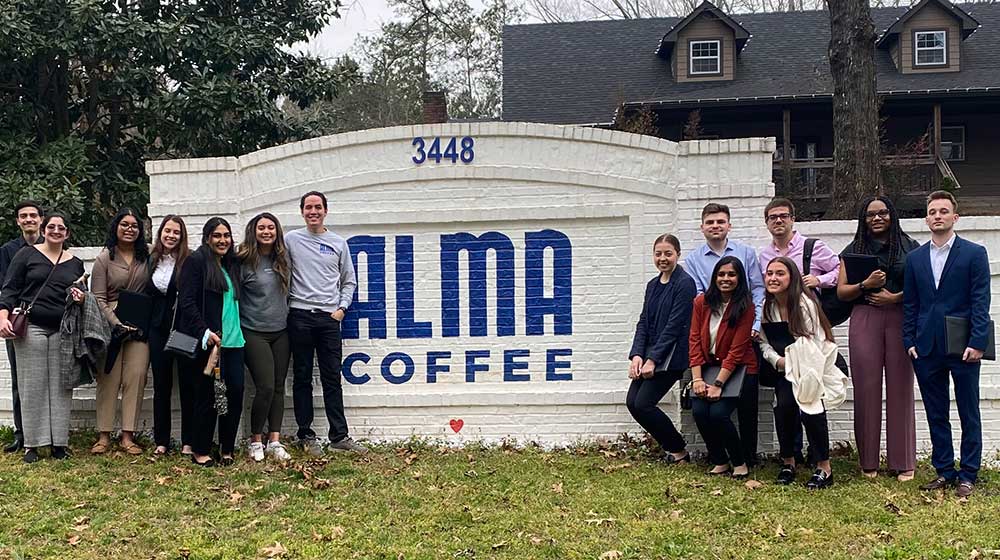 Rohini Donakonda '24
Major: Finance, Biology
Today was such an eventful day! We had two great site visits (Alma Coffee, Invesco), and the alumni reception in the evening. My day started off by waking up in the morning at 7:15 am; I got ready and went downstairs for breakfast where my other Quinlan Ramblers were eating. We all talked for a bit and got on the shuttle to go to our first destination, Alma Coffee.
We reached Alma Coffee, and it was in an area I did not expect it to be. We were warmly greeted by Leticia and Harry Hutchins (Loyola University Chicago alum) at the front of their building, and the energy was amazing. Leticia and Harry are the co-owners of Alma Coffee, and this family-owned business seemed super caring and energetic. There was not a single dull moment during the entire visit. We got a tour of the roastery and we also got to taste three different types of roasts. The roasts were super delicious and had a unique flavor that made my heart happy.
After Alma Coffee, we had lunch and drove to Invesco. This investment firm was open to letting people learn everything about them and understand what they do. It was super interesting to learn about syndicate fixed income, equity, etc. We also heard from the chief strategist, a new associate, head of DEI, and head of communications about the company and its journeys. I felt more relaxed after listening to all of them and felt like they wanted us to be there and learn from them. This company shows how much they care about their employees' well-being in such a great way.
The alumni reception was the last major event of the night. We were able to talk to and connect with several alumni from Loyola University Chicago, and hear about the companies they work(ed) for and their journey after undergrad/grad school. I was able to learn so much from their experiences, and they gave me a lot of recommendations and tips that I will for sure be implementing in my life. All of the alums were very kind and genuinely seemed to care about what my goals and aspirations are.
At the end of the day, a few of my fellow Quinlan Ramblers and I went to get some dinner at a Spanish restaurant. We were all able to talk to each other and connect about random things, which was a wonderful way to end a busy day!