Boston: Fidelity and the Alumni Reception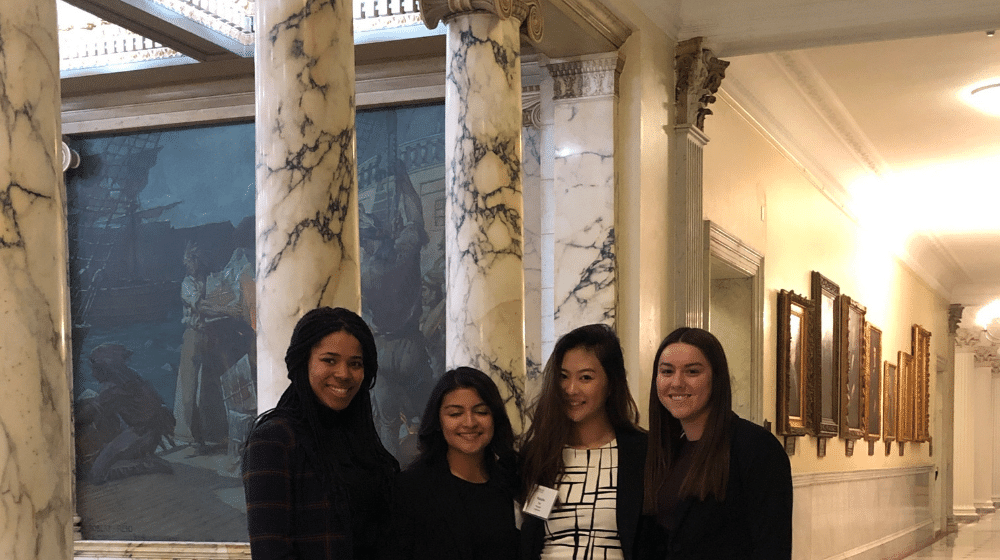 On Tuesday March 5th, the Quinlan Ramble group went to visit Fidelity and had the wonderful honor of visiting the Massachusetts State House. After visiting Slalom and Protobrand on day 1, I could not wait to see what was in store for day 2. We arrived at the headquarters of Fidelity around 12pm and the hustle and bustle of everyone going on their lunch breaks was exhilarating. Seeing everyone moving around only made me envision what it would be like to work in a big corporate office like Fidelity.
The Ramblers had the amazing opportunity to meet Executive Vice President and Chief Auditor Jeff Jarczyk. With Mr. Jarczyk being an alum and advocate for Loyola, the Ramblers were able to visit Fidelity headquarters. After eating lunch, a panel of recently graduated students who majored in Information Systems, Accounting and Biology expanded on what it was like to work for Fidelity after graduating. What I found most interesting was how Fidelity was able to recruit those from all different majors, not just business majors. Although being a nationally recognized financial company, Fidelity does so much more such as business incubators and has even created their own mobile products such as FidSafe.
The next visit was to the Massachusetts State House and the Quinlan Alumni Reception. The state house was absolutely breath taking and learning about the history in Boston extends far beyond what I learned in any U.S. History course. The Alumni reception gave Ramblers a chance to network and connect with executive members of the Quinlan School of Business. Talking with working professionals gave me real insight on how each person had a unique story after graduating college in finding what they truly want to do with their life. I am so thankful for the opportunity I have been given to be able to network with past Loyola students. Even though I am only a freshman, I feel that I was able to work on creating professional connections that will be of importance to my future and this reception gave me the chance to learn more about the professional world outside the classroom.
Natalie Tse (BBA '22)
Finance