Boston: Travel and Tourism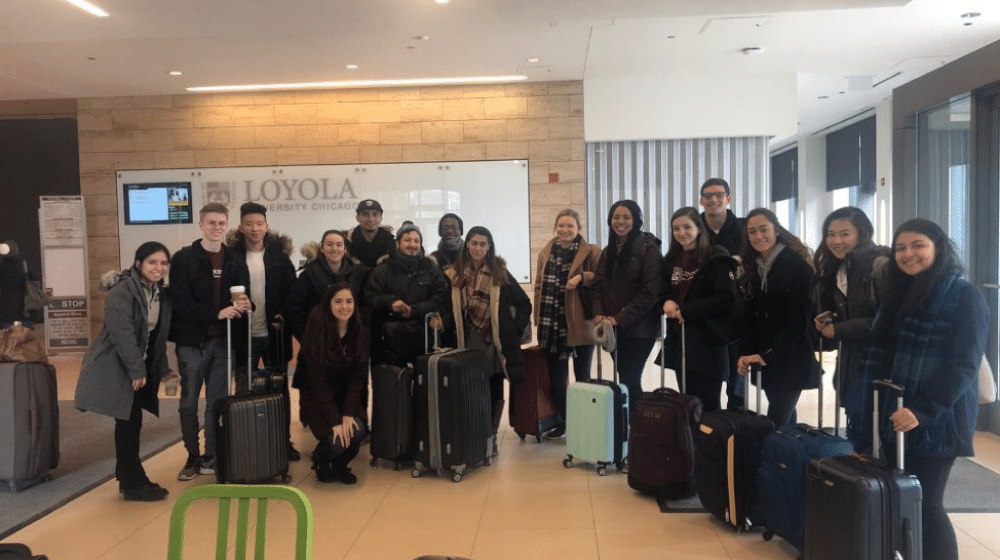 As the first two days of the 2019 Quinlan Ramble to Boston closes out, I've realized that I'm here for much more than just visiting companies. Being on this trip has also allowed me to build community with people who were formerly just passing faces in the Schreiber Center.
On Saturday, we all met up for breakfast a few hours ahead of our flight in order to get comfortable with each other. I'll admit, it was a bit awkward at first, but after traveling with someone, you almost don't have a choice but to get to know them. The Quinlan Ramble cohort is so diverse and I've been able to learn about a variety of cities, cultures, and languages just in these two days alone.
I think that Boston was a great choice for the Quinlan Ramble this year. It's full of history, its walkable, and packed with passionate Loyola Alums. After a two hour flight to Boston, we had dinner together at the "Rebel's Guild" in the hotel and called it a night. Sunday morning, we had the opportunity to attend a cruise in the Boston Harbor. We learned about things such as Specter Island, the fast growing urban center, and old Navy ports.
Shortly after, my personal highlight was attending the aquarium. The level of detail that goes into caring for their penguins, fish, and more really amazed me. By then, we slowly started to break off into different groups based on interests. My group decided to go up the Prudential Tower to the sky deck and sight-see. This was really meaningful to me because I got a new perspective on Boston and learned more about its history. My grandfather is from Trinidad and I learned that there is a notable Trinidadian population here. People from all over the world lay their roots in Boston, and I think that truly represents the great American melting pot.
Finally, a group of us went out to dinner to a local Chinese spot. We shared stories and bonded (or divided) over local cultures. We learned obscure facts about each other such as favorite high school memories and the way our different regions affect our language. (Coke, pop, or soda?) I was really impressed at the shared experiences we had such as the song "Fifty Nifty United States" despite all being from different ends of the country. I think that Ami and Allison did a really good job of bringing together a diverse group of people not only ethnically, but also life experience-wise. Although I am definitely looking forward to visiting companies such as Protobrand and Slalom, having built such good relationships will enrich those experiences.
Alyssa Cuffie (BBA '20)
Marketing, Information Systems