Boston: Fidelity and the Alumni Reception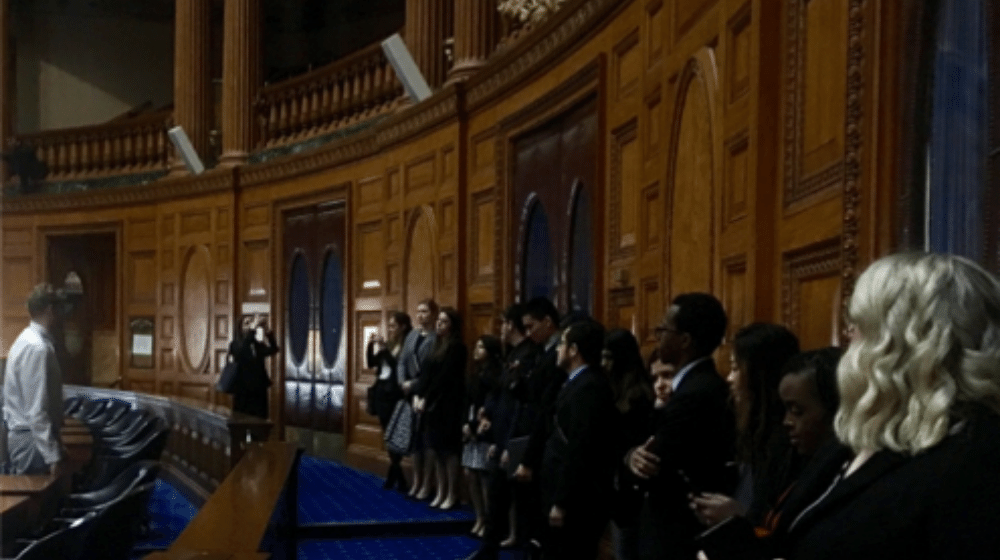 As a first year student at Loyola, I did not know what amazing opportunities were available to me. When I found out I received the chance to visit Boston with other fellow Quinlan School of Business majors, it was apparent to me that I needed to take advantage of every minute I had on this trip. So far, my time in Boston has exceeded my expectations. Meeting with Slalom and Protobrand yesterday opened my eyes up to what a normal workday is like in this beautiful city. In our itinerary for March 5th, the goal was to visit with Fidelity, and then make our way to the Massachusetts State House where we would have a reception with the Loyola alumni that are all spread around the Boston area.
As my fellow Ramblers and I boarded our shuttle to Fidelity, we went over a summarization of how successful this investment company is. It was said that Fidelity operates a brokerage firm, manages a large family of mutual funds, provides fund distribution and investment advice, and even life insurance. Fidelity's headquarters is based in Boston, which was definitely noticeable as we all filed into the immense building. Each of us met with the Chief Auditor and Loyola Alumni, Jeff Jarczyk, who took us to the third floor where he gave us a deeper description of how Fidelity works to satisfy the needs of their customers. After, our alumni panel filed in to speak about how they attained a position at Fidelity. I personally enjoyed how one of the panelists, Linnea Patterson, gave us valuable advice: in any interview you are in, don't necessarily focus on what the employer wants for the company, but what the employer needs for the company. By maintainig this driven mindset, it will cause you to stand out from the other people interviewing. I thanked her for such good advice and thereafter, we all got to have a tour around the building. The tour gave all of us an appreciation for the work environment found in Fidelity. You could tell the people working were happy to be there, and it made many of us imagine ourselves possibly in one of those chairs someday.
As we all thanked Fidelity for allowing us into their headquarters, we filed into the bus where we headed for the Massachusetts State House. Due to Loyola having incredible connections, we had the opportunity to go inside to have a tour of the entire building and then have an Alumni Reception so each of us could speak to the different Alumni that now live in the Boston area. The tour took us around the various breathtaking rooms within the State House, and it allowed us to appreciate even more the fact that we were able to witness something so amazing. As the tour ended, our alumni event began. We entered a room filled with delicious food as we waited for the various alumni to join us. When I began to meet everyone, I was able to see how Loyola prepared each of them for their futures and how they were where they are today because of the opportunities that they provide for their students. Some attained their current occupations through other alumni, professors, or even just by putting themselves out there.
To be able to have met the various alumni has given me an understanding on how much I really do appreciate the resources that Loyola supplies to me. It is opportunities like the Quinlan Ramble to Boston trip that I am able to gain my network and grow my passion for the world of business!
Tom Simmons (BBA '22)
Marketing