Boston: KPMG and Jobs for the Future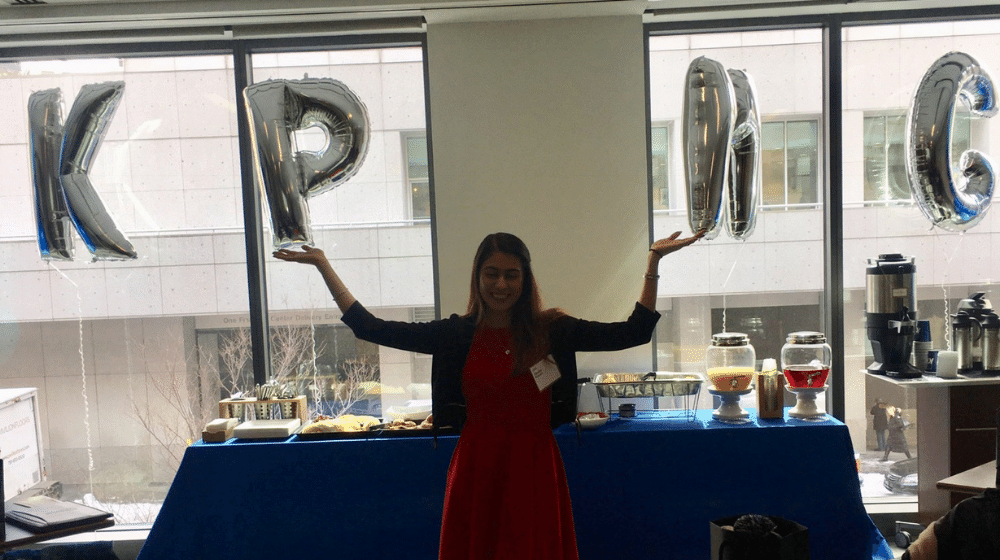 On Friday, March 8th our itinerary was set up to see KPMG in the morning, grab lunch from Chipotle and visit Jobs for the Future in the afternoon. We started our day at 9:30am with all the Ramblers eager to share their research and embark on their last day of adventures in Boston.
I was particularly excited for KPMG since I am a second-year accounting major; KPMG is a firm I have always wanted to learn more about since there are no representatives recruiting at Loyola's campus. Going into their office being able to tour around and speak with a number of associates was extremely insightful! I was able to get so many perspectives from all of the staff members and hearing each and every one of their journeys was amazing. We also briefly spoke with John who is an audit partner at the firm. Hearing his background and advice was so helpful; he was very personable and I hope to reach out to him to be able to keep in touch.
Mary was absolutely amazing; she gave us such a great presentation on the company's values and culture, in addition to explaining all of the opportunities available for students. The career path options are unlimited! I would love to explore the audit internships and diversity leadership programs to get more experience in that area of accounting since I only have a tax background as of right now. Their advisory department seems to be the most ideal in my opinion with all of the traveling involved.
From a higher education perspective, I really loved the company's incentives. I already plan on doing a Masters in Science of Accountancy with a Data Analytics Certification post-undergrad to be able to sit for the CPA and they have incentives directed for exactly that! On top of the training programs based in Florida for training, it was amazing to see a firm invest in their staff's education and professional development. I had a blast; we also were given a KPMG blanket which made all of our students very happy!
After visiting KPMG, our group went to Jobs for the Future to learn more about the not for profit industry. I had a wonderful time learning the mission and vision of the firm and seeing everyone's passion. With my background in politics, specifically congressional campaigns, I loved hearing about the legislative process and the D.C. office. I personally want to work with not for profits in the future and build my own for children with disabilities in third world countries when I have developed my career to be able to contribute financially in addition to physically. It is something that hits home for me that I am very passionate about and would love to spread more awareness for Autism and special needs.
At the end of the day, we all went to the pool and reflected on our entire trip. I am personally so proud of myself and my peers for getting out of our comfort zone every day visiting so many firms and networking with a numerous amount of Alumni and professionals. I am extremely proud of the bond our group has created and how close we have gotten within the week. We are all ending our trip with some last minute adventures in Boston at the Science Museum and ordering food back to our rooms as we all hang out one last time together. I can't wait to get back to Chicago and continue to grow my relationships with my peers, staff, and professionals that I have met on this trip and plan to take the skills I have learned to enhance my journey at Quinlan.

Mashal Hassan (BBA '21)
Accounting