Local Service
Serve with CSA!
Community service offers wonderful opportunities for enriching your time at Loyola. Whether you are looking to see more of the local neighborhoods, deepen your classroom learning, meet new people, explore your faith, or simply try something new, local service can provide great opportunities. The CSA offers one-time and on-going service opportunities that fit a variety of schedules and interests. Check out our programs below to learn more!
***Please contact the CSA staff if you are looking to have service hours verified for any reason. Not all service sites allow this, and we will not verify any hours without an advance request.***
‌Loyola4Chicago (L4C) is a weekly service program where students- led by a peer student leader- serve at a community organization once a week for the entire semester. Opportunities for service include working with immigrants and refugees, building community with folks in a shelter, working in after school programs, or working with adults with disabilities.
Loyola4Chicago recruits for the first two weeks of each semester. To find out more about the program visit this website.
Incoming Students: Join your classmates as we volunteer in the neighborhood during move-in weekend! Spend a morning volunteering on meaningful service projects throughout the Rogers Park and Edgewater neighborhoods, all while spending time with fellow new students. See the neighborhood, meet new people, and make a difference from the start! Click here to read more!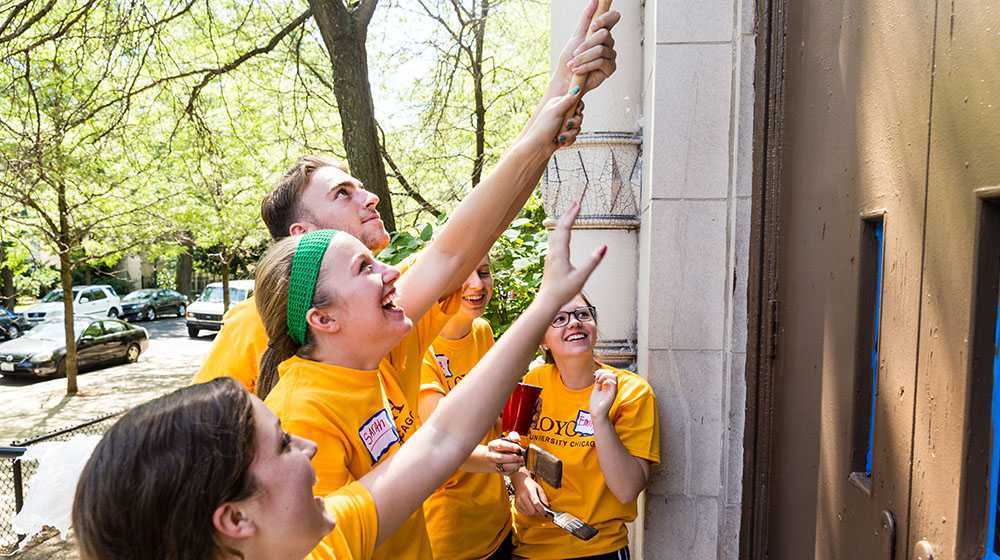 ‌
The Soup Kitchen is a drop in service opportunity for students. A group attends the St. Thomas of Canterbury Soup Kitchen each week on Fridays, meeting on campus at 3:30 and returning to campus about 7:15. Once on site, students will be led by peer student leaders in tasks such as meal preparation, distribution, and clean-up. Due to a pause in programming because of COVID-19 not all days may be available to students in fall 2021. Please check this website for more details. We look forward to seeing you soon!
*** If you would like to come with a group, be sure to contact serve@luc.edu at least two weeks in advance so we can try to accommodate you. ***
Please note: The Soup Kitchen is not an appropriate option to fulfill any type of service hours.