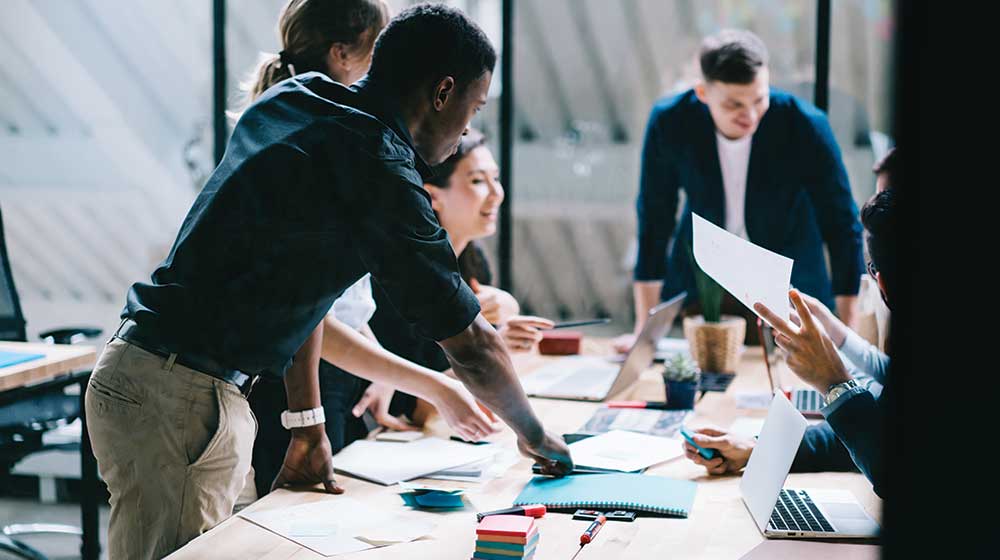 Applications for the 2022 cohort will be open soon. If you're interested in learning more, please reach out to BaumhartCenter@luc.edu.
---
LEADING FOR DEI is a first-of-its-kind cohort-based program offered by Loyola's Institute for Racial Justice and the Baumhart Center for Social Enterprise and Responsibility. The cohort experience equips executives with the values, knowledge, and tools to design and implement enterprise-wide DEI strategies.
Leading for DEI marries the Institute for Racial Justice's research and deep understanding of systemic inequity, racism, and xenophobia with Baumhart's expertise in change management and higher-purpose business leadership. The program engages leaders to explore how DEI can enhance each business function—from human resources to supply chain to executive governance—and add social, financial, and societal value.
New Tools for Driving Impact
Leveraging Loyola's leadership in DEI, governance, human resources, and responsible business, Leading for DEI offers:
Immersive learning: Cohort members participate in an immersive two-day opening retreat followed by five facilitated cohort sessions that cover topics including understanding systemic inequity, the role of companies in advancing equity and inclusion for society, DEI as a business imperative, inclusive leadership, building inclusive cultures and teams, and change management.
Individualized coaching: Cohort members work with a strategy coach to unpack their own understanding of diversity, equity, and inclusion and how to harness their own leadership to advance DEI. Cohort members also work with their coach to develop and deepen a tailored approach to their company's DEI strategy.

Peer networking:

Cohort members build community throughout the program, sharing best practices, strategic efforts and challenges, and additional resources.

A nationally recognized certificate: Cohort members graduate with a certificate in DEI leadership from Loyola University Chicago's Quinlan School of Business.
Structured for Continuous Learning
Leading for DEI provides executives from companies and large nonprofits with the tools to develop enterprise-wide DEI strategies that are tailored to the company's unique purpose and positioning.
Learning objectives
Business and Society
Understanding the systemic inequity we face as a society
Understanding the role of companies in advancing equity and inclusion
Leadership
Unconscious bias and inclusive leadership
Change management
Business Strategy
Developing a deeper understanding of DEI as a business imperative
Aligning DEI strategy with enterprise strategy
Building DEI strategies that actively involve stakeholders across functions
Supplier diversity
Developing diverse leadership pipelines
Building inclusive cultures and teams
Program structure
Leading for DEI will open with an immersive two-day retreat taking place October 14 and October 15. Following the opening retreat, the cohort will meet five times (in-person and online) from November 2021 to February 2022, with a celebratory dinner taking place in March 2022. Each learning session will have a specific learning objective and will be structured to promote a high level of open peer exchange and feature facilitated strategy workshops. Alongside cohort meetings, cohort members will participate in three individualized coaching sessions and will be invited to attend special executive gatherings at the Baumhart Center.
Throughout the Institute, cohort members are encouraged to invite up to three leaders within their companies to participate in select guest speaker visits and workshops.
Guest Speakers
Connie Lindsey
EVP, Head of Corporate Social Responsibility and Global Diversity & Inclusion
Northern Trust
Malik Henfield
Founding Dean, Institute for Racial Justice
Loyola University Chicago

Mercedes Jenkins
Diversity, Equity and Inclusion Strategist

Myla Skinner
Founder and Managing Partner
Quarter Five
Matt Johanson
Senior VP of Diversity, Equity & Inclusion
Discover Financial Services
Rich Johnson
Founder of Ignite
Principal at sr4 Partners
Scott Hoesman
CEO and Founder
inQUEST
Tom Alexander
Co-Founder and CEO
Holistic
LaTonya Wilkins
Founder
The Change Coaches
Vincent Williams
President and CEO
Chicago Minority Supplier Development Council
Eligibility
We are seeking the foremost leaders for inclusion to join Leading for DEI and to be our partners in moving the needle for diversity, equity, inclusion, and belonging our workplaces.
We seek professionals who:
Have proven experience in engaging teams to solve complex problems
Demonstrate a deep understanding of their company's current diversity, equity, and inclusion strategy and can clearly identify areas of opportunity to move the needle
Have the power to engage internal stakeholders and executive leadership in cohort learning sessions
Are passionate about and committed to moving the needle for diversity, equity, inclusion, and belonging across sectors and industries
Cost
Leading for DEI costs $5,000 for the year.
The cost includes:
An immersive two-day opening retreat
Five facilitated cohort sessions
Three individualized coaching sessions
All food and drink
All materials
Note: The Baumhart Center may offer partial or full cost assistance in rare cases where a candidate's participation ensures a more diverse, inclusive, and successful program for all participants.
Timeline
August 13, 2021
Applications for the 2021 cohort are due by 5 p.m.
September 3, 2021
Applicants are notified whether they have been admitted to Leading for DEI.
October 14, 2021
The first session takes place, launching Leading for DEI 2021.
Questions?
For questions about Leading for DEI please email Ella McCann at emccann@luc.edu.