Upcoming events
Visit our events page to register for upcoming application sessions, info sessions, and live text Q&A.
Faculty
Our faculty are world-class researchers, teachers, and practitioners who seek to harness business for a better world.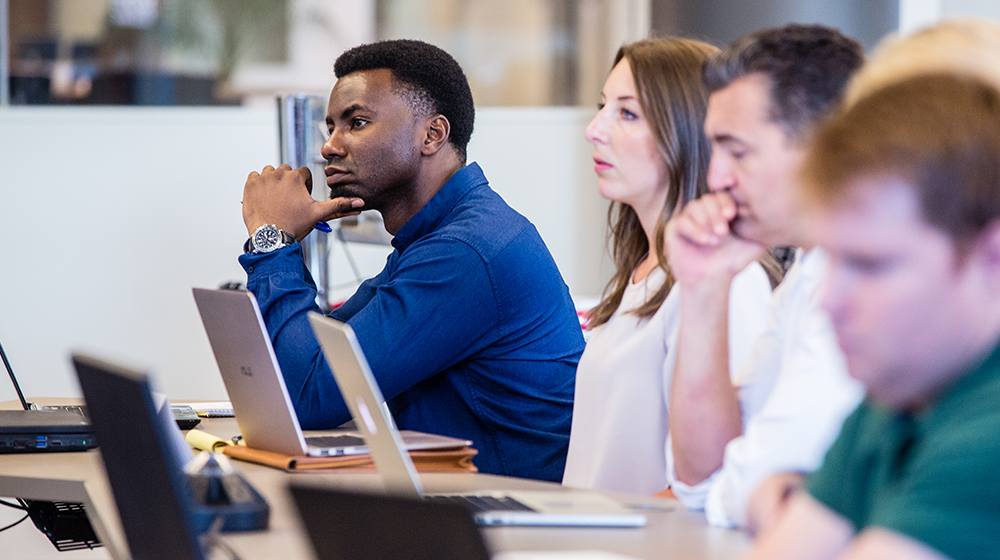 Mentors
Our mentors are extraordinary executives who are eager to guide Scholars on their transformative journeys.
Scholars
Baumhart Scholars are rising leaders who are committed to achieving sustainable success for their companies and communities.
Scholarship support
All Scholars receive a $20,000 scholarship to celebrate their commitment to harness the power of their MBAs to advance the greater good. Scholars are also eligible for additional support through the Schreiber Scholarships for nonprofit leaders or the Edelman Scholarships for social responsibility leaders.
The MBA for Purpose
Rebekah Kikama, Executive Director and Co-Founder at One-on-One, shares why she is proud to be a Baumhart Scholar.
The Scholars Experience
Meet current Scholars and hear about how our MBA is equipping them to advance their careers and their impact.
What is the schedule for Baumhart Scholars?
Baumhart Scholars is designed for working professionals who are ready for an intensive program alongside their careers. Depending on the schedule for the quarter, Scholars typically take courses on two evenings each week alongside a seminar that takes place over two Saturdays on Loyola's Water Tower Campus.
In addition to this core coursework, Scholars are expected to participate in an opening immersion weekend, ongoing leadership development programming, and monthly mentorship.
What is the application process for Baumhart Scholars?
Baumhart Scholars is a highly selective program within the Quinlan MBA. Scholars must meet all current MBA admission requirements, plus:
Have at least 3 years of work experience with a clear progression in leadership responsibilities
Have a demonstrated commitment to environmental and social issues
Have a vision for how to use this MBA experience to advance their career and their impact
Scholars must also go through an interview process with program faculty members and mentors.
When are applications due?
Candidates for Baumhart Scholars should submit their application by January 31 (early decision), March 31 (round one) or May 31 (round two). Selected candidates will be interviewed shortly after the close of each round.