archive
Understanding bioinformatics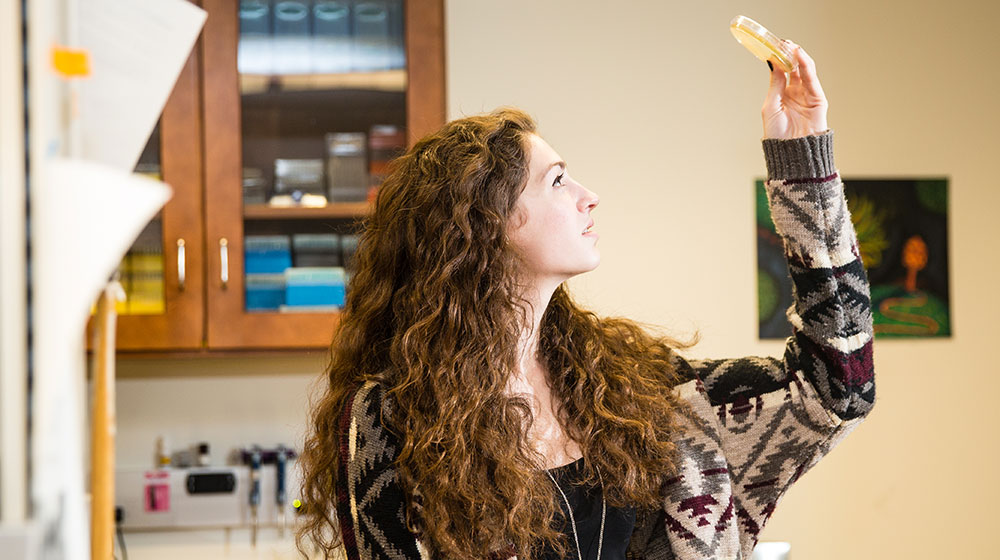 By Anna Gaynor
When Catherine Putonti, PhD, joined Loyola's faculty in 2007, she would constantly have to explain what bioinformatics was to recruit potential students.
But as the program has become more popular over the past few years, she's noticed a change. Now, students are coming to her already familiar with the field. For Putonti, who has a master's degree in biology and a doctorate in computer science, it's been a pleasant surprise.
"A lot of our students are coming in because they want to major in bioinformatics," Putonti said. "There's education about the field that's happening obviously at the high school level, which is amazing and always floors me. When we have open houses for potential students and they say, 'Oh yeah, I want to study bioinformatics'—I'm thinking, 'Where did you learn about this? What is going on?' "
Loyola's bioinformatics program melds computer science, biology, chemistry, and statistics into one field of study. The idea, Putonti said, is to apply computer science and statistics to the life sciences so researchers can make sense out of patterns gleaned from massive databases. Recent innovations, such as DNA sequencing, have created huge amounts of scientific information—making bioinformatics even more essential for today's researchers.
Bringing the sciences together
When Loyola senior Francis Cocjin came to the University four years ago, he was a biology major just looking for another program to fill out his schedule. That's when an advisor introduced him to bioinformatics. He liked the program so much, that he ended up with a double major in biology and bioinformatics.
"The amount of computer science I've learned from this program has just astounded me," said Cocjin, who will attend Loyola's Stritch School of Medicine this fall. "I only took one introductory level course in high school, and I didn't think that I was that great at it."
Cocjin is working with Qunfeng Dong, PhD, director of the Center for Biomedical Informatics at Stritch. Getting the chance to analyze a massive database of electronic health records has given Cocjin, who was always interested in research, the opportunity to branch out even before he starts medical school.
This semester, five students are working with professors at the Health Sciences Campus in Maywood with the help of a video conferencing system.
"I just feel like science is moving in a direction where you simply can't isolate things," said Laurynas Kalesinskas, another biology and bioinformatics double major. "You can't just know biology and not know any chemistry or physics. Everything's all connected together. Being in a cross-disciplinary major like this really helps you realize that and helps you build your skills."
Hands-on experience
Kalesinskas is putting those skills to good use. He's working this semester with Putonti and Alan Wolfe, PhD, a professor at Stritch. But unlike Cocjin, who is analyzing data on the entire body, Kalesinskas is focused on just one aspect: urine. Researchers want to isolate the bacteria in bladders to identify patterns showing which ones thrive and to see if there are links between certain bacteria and diseases.
For Cocjin and Kalesinskas, this isn't their first time getting hands-on experience with Loyola professors. Both participated in a study surveying the bacteria living in Lake Michigan.
"A lot of the freshman I know in the bioinformatics program already have gotten involved with research projects," Kalesinskas said. "There are tons of projects we have rolling around and tons of professors that are looking for help. So by the time you're a senior, you're probably going to have the ability to work on publishing a paper or writing software for others to use."
Even Putonti has asked students to help with her own research on viral populations.
When analyzing viruses, Putonti and other researchers had to use programs designed for bacteria, which would sometimes take a few months to dissect a single sample. So her students deconstructed existing software to identify what was slowing down the process. Eventually they developed a new tool that could complete the analysis in just a few days.
"It's way beyond just writing programs," Putonti said. "It's being able to do computer programing with the knowledge of what is both biologically significant and statistically significant.
"They don't have to go ask a statistics teacher. They don't have to go ask a computer science teacher about a problem. They have all of the skills necessary to really tackle these problems."