home_news
Loyola Dance Students Attend the American College Dance Association Conference (ACDA)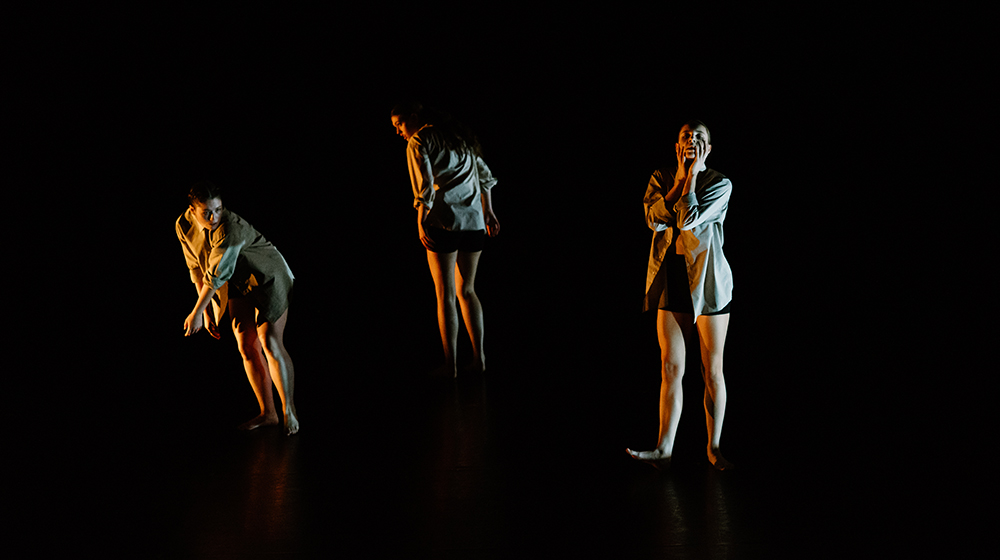 At ACDA Regional Conferences, attending universities enter dance works choreographed by students, faculty, or guest artists into concerts throughout the weekend. Each university can submit two pieces into the adjudicated concert and any remaining works into the informal showings. A student choreography research piece about chronic pain, "Glossolalia" by Molly Kaiser, was entered in the informal concert. Representing the Loyola dance program in the adjudicated concert was student choreography piece "Dialed In" by Emily Carroccio and Senior Solo Showcase ensemble piece "We Built This House" by Sarah Cullen Fuller.
In an independent research project, Molly Kaiser sought to explore and call attention to the unseen experiences of living with chronic pain through her piece titled "Glossolalia." At ACDA, the piece was entered into one of many informal concerts to receive feedback from collegiate dance educators. The panel discussed creative topics like the importance of titles as an entry point for audience members, movement phrasing, and effective structures in a dance work. Following the performance and feedback session, Molly noted, "I will strive to take a more external view of my work and put myself in the audience's shoes in future choreography projects."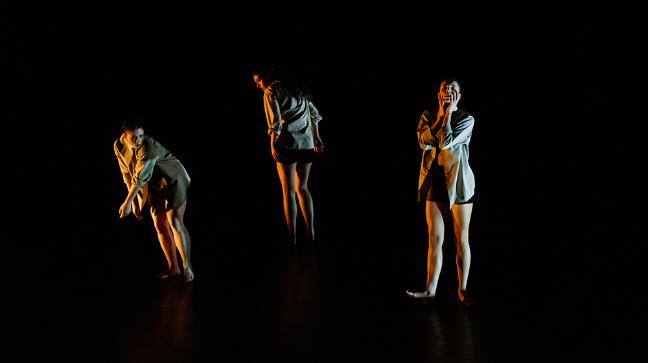 Senior dance major Emily Carroccio and her cast (Caitlin Dyer, Gretchen Plinke, and Sydney Osborne) have developed "Dialed In" for over a year, beginning with a dance film and ending with a staged work for the mainstage dance concert and ACDA. With each performance throughout its journey, the piece evolved and amazed audiences with its effortless athleticism, strong emotion, and clean partner work. After watching her piece on stage for the final time, Emily reflected, "The cast had an incredible night, and the audience was so generous with their support. I am so proud of what we made."
"We Built This House" debut in Loyola's Palm Court for the 2022 Senior Solo Showcase back in February. The senior ensemble piece was performed on stage for the first time at ACDA, and the cast maintained an intimate and moving presence for the new setting and audience. After several adjudicated dance concerts, "We Built This House" was one of 11 pieces selected to perform at the prestigious gala concert on the final day of the conference. A panelist remarked of the piece, "The exquisite group exploration reveals each of its number to the audience with careful rushes of activity that encourage a building of house as home."
When students were not performing, they took open workshop classes throughout the day. Dancers were free to choose any class that piqued their interest and join with faculty and students from other universities. ACDA offered a variety of classes like salsa, yoga, ballet, contemporary jazz, Bartenieff fundamentals, improvisations, lectures in pedagogy, and dance film screenings. Junior Nina Jackson enjoyed an Afro-Fusion class, remarking, "There was so much energy and positive spirit in the room, and I felt pushed out of my comfort zone in all the right ways." At night, the group recovered from a long day of dance by going out for pizza and tacos or staying in for a dip in the hotel pool.
The Loyola dance program presented several spectacular pieces, each one unique in displaying the dedication and hard work of the dancers over a school year. "I learned how capable I am as a dancer. I was able to apply what I learned in classes here at Loyola and feel confident in my knowledge," reflected junior Caitlin Dyer on the weekend of dance and performance. As senior Arielle McKeever prepares to graduate this May, she takes an important lesson from the ACDA trip. "Adaptability was a huge part of the weekend, as being able to adjust given the new location, environment, and teachers was important to our learning." Loyola dancers wrap up a fantastic year of coursework, research, and programming with their successful trip to the American College Dance Association Conference.
"Dialed In," "We Built This House," and "Glossolalia" will be presented at the Loyola Virtual Undergraduate Research and Engagement Symposium during the week of April 19 – 24, 2022.
-Annie LeDuc (BA Dance, BA Advertising & Public Relations, 2023)