Arnold J. Damen, S.J.
President of Loyola: 1870-1872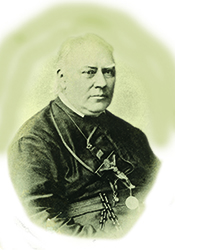 Born in Leur, Holland, in 1815, Arnold J. Damen, S.J., came to the US to become a Jesuit priest under the Belgian Jesuit missionary to Native Americans, Father Pierre-Jean de Smetand. Studying at St. Stanislaus Novitiate in Florissant, MO, Father Damen was ordained in 1844 and appointed pastor of the college church of St. Francis Xavier in St. Louis in 1847.

Damen was known as "one of the most zealous and forcible preachers" according to the Chicago Tribune and established one of the largest parochial schools in Chicago in less than 10 years. After being sent to institute a Jesuit presence in the city, he established the first Jesuit parish in Chicago, Holy Family, and later its accompanying school on the Near West Side. All this occurred despite the rising anti-immigration and nativist sentiment coming from the people of Chicago.

In 1870, he founded St. Ignatius College on 12th Street, the predecessor school to Loyola University Chicago. As the first president, Damen oversaw a faculty of four priests and a student body consisting of only 37 young men. Today, the University is home to a faculty of more than 4,000 and a student body of over 16,000 young women and men.

In 2013, the University's new student union, housing a dining hall, a student-run pub, meeting rooms, banquet halls, and study spaces was erected in his honor and named the Arnold J. Damen, S.J., Student Center.