New donors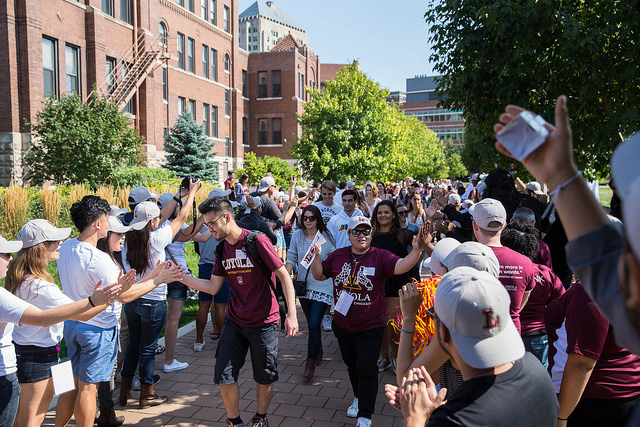 WELCOME
Thank you for making a difference by supporting Loyola University Chicago.
By making your gift to Loyola, you have joined an extraordinary community of supporters committed to advancing the University's mission.
We count on your partnership every year to deliver premier academic programs and meaningful student experiences rooted in the Jesuit tradition. Additionally, gifts to the University help support our strategic priorities and investments in Loyola's future, which will continue to raise the University's national profile. We are so grateful for the commitment you have made, and we hope you will continue to partner with us for many years to come.
Thank you for helping our students continue their journey as men and women for others.
LEADERSHIP GIVING
The Damen Society, named after Arnold J. Damen, S.J., is composed of leadership-level supporters who make annual gifts of $1,000 or more to Loyola. Members of the Damen Society send clear messages, through their generous support, that this University is on the rise and possesses a tremendous opportunity to share its Jesuit ideals with a global audience.
Father Damen helped establish Holy Family Church, Chicago's first Jesuit parish. His vision of a church, school, and college on the city's Near West Side led to St. Ignatius College's opening in 1870. In 1909, the college was rechartered as Loyola University Chicago. Father Damen's steadfast work to create a visible Jesuit institution in Chicago is reflected directly in Loyola's ongoing success. When you become a part of the Damen Society, you join a community of leaders who honor our Jesuit tradition of excellence in education, and you help secure Loyola's future.
MONTHLY GIVING
Becoming a Sustainer is easy, convenient, secure, and eco-friendly.
Sustainers make ongoing credit or debit card gifts to Loyola on a monthly basis. Recurring giving provides dependable funding for schools and programs while minimizing fundraising costs, so gifts can directly support Loyola students. Learn more.