Raymond C. Baumhart, S.J.
President of Loyola: 1970–1993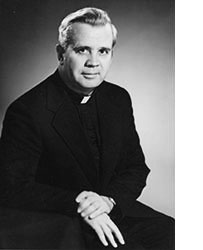 Raymond C. Baumhart was one of the influencers for the mutually beneficial ‌merging of Mundelein College and Loyola University Chicago in 1991. He also had a major hand in the 1969 opening of the Loyola University Medical Center in Maywood, Illinois.
Father Baumhart had an extensive history at Loyola even before his presidency. In addition to his acts of service at the University, he served as a professor in and a dean of Loyola's School of Business and as executive vice president during the student protests of May 1970.
Born and raised on Chicago's North Side, Father Baumhart—the first in his family to graduate from college—went on to earn his Bachelor of Science degree from Northwestern University in 1953, his Master of Business Administration degree from Harvard University in 1953, and his Doctor of Business Administration in 1963. He was the first of Loyola's presidents to have earned a degree in business administration.
In 1946, after a tour of duty in the navy as an officer in World War II, he entered the Society of Jesus. From this training, he learned the Jesuit values that he would apply to programs such as the Progress for Loyola University in the Seventies (PLUS) campaign, an initiative to increase and improve buildings, scholarships, faculty, books, and academics programs at the University. He also ardently defended the rights of private colleges and universities to have full access to the tax-exempt bond market.
Today, the $5 million state-of-the-art residence hall named in his honor at the Water Tower Campus recognizes his contributions to the University.