Henry J. Dumbach, S.J.
President of Loyola: 1900–1908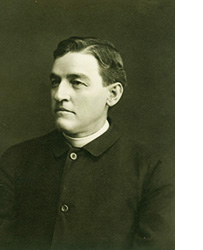 Responsible for the move of St. Ignatius College to the current location of Loyola's Lake Shore Campus on the city's north side, which was at that time a growing part of the city, Henry J. Dumbach, S.J., explored many other strategies to ensure that the Jesuit mission remained alive and well in Chicago.
After receiving his undergraduate education at Saint Louis University and entering into the Saint Stanislaus Novitiate in Florissant, Missouri, Father Dumbach became an ordained Jesuit in 1893 after spending several years at different institutions throughout the US, including Woodstock, New York, and Chicago. Called back to Chicago after his ordination, he served as a professor of science at St. Ignatius College and eventually as president.
During his administration, Father Dumbach completed the transition of the school from a college to a university, expanding and diversifying the number of students and programs. He also established Loyola Academy, a parish project. The academy building, now a facility for university classrooms, was renamed Dumbach Hall.