Samuel K. Wilson, S.J.
President of Loyola: 1933–1942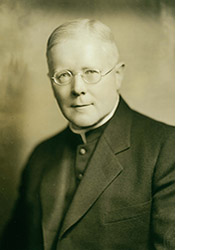 As Loyola's first Chicago-born and alumni president, Samuel K. Wilson, S.J., brought unique wisdom and experience to the position. His father was a member of the Chicago Board of Trade and his mother a founder and one of the presidents of the Catholic Woman's League, an influential women's group with ties to the University.
Father Wilson became a member of the Society of Jesus in 1902 and was ordained in 1917 by Archbishop John Glennon. He went on to receive his doctoral degree in history in 1924 from Christ College in Cambridge, England. After completing his education, he held various teachings positions at a number of high schools and universities.
Father Wilson began his time at Loyola as a member of the faculty, chair of the history and political science department, and dean of the Graduate School before taking on the role of president in 1933. The textbook he authored, American History, remained in print for decades after its 1929 release.
One of Wilson's greatest contributions to the University was his ability to raise enrollment during the years of the Great Depression by raising the standards of scholarship and requirements needed for acceptance to Loyola.