James F. Maguire, S.J.
President of Loyola: 1955–1970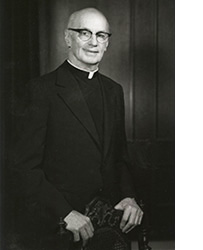 Serving as Loyola's 20th president, James F. Maguire, S.J., led the University through a time of major development. Constructing over 10 campus buildings, securing funds for the Loyola University Medical Center, and doubling the number of enrolled students at the University are just a few examples of his expansive work.
A native Chicagoan, Father Maguire believed that the city could become an excellent example of a successful dual system of higher education, with a number of both public and private universities. This inspired the start of his campaign in 1957 to recognize the legacy of the Jesuit mission in Chicago and particularly to reconnect Loyola to its deep-reaching Chicago roots.
One of his greatest contributions to Loyola came from his establishment of Loyola's Rome Center for the Liberal Arts in 1962 in partnership with the center's founder, John Felice. Today, the John Felice Rome Center boasts the title of the second largest study-abroad program in Italy.
After his time as president, Father Maguire served as chancellor of the University until 1976, when he was named chancellor emeritus. He continued to aid the University in many different capacities, such as in the area of donor relations, until his retirement in 1994.