With unwavering conviction
Assistant United States attorneys John D. Mitchell (JD '04) and Jimmy L. Arce (JD '12) team up to prosecute the violent Wicked Town gang
When the Wicked Town Trial ended on November 15, 2022, resulting in convictions of two violent defendants and guilty pleas from 11 more, lead prosecutor John D. Mitchell (JD '04) finally exhaled.
"Because of the scale and scope of the violence involved, it's safe to say this is the most important case I'll ever work on," says Mitchell, an assistant United States attorney (AUSA) for the Northern District of Illinois.
The two-month trial—co-prosecuted with Jimmy L. Arce (JD '12) as second chair—convicted leaders of Wicked Town, a faction of the Traveling Vice Lords gang, which operated primarily in Chicago's Austin neighborhood and was responsible for at least 19 murders, 19 attempted murders, several armed robberies, and assaults.
"In most of our cases, there are victims who care about the outcome, and it's important to them and to us that we do a good job," says Mitchell. "But they're not in the newspaper every week. There were a lot of eyeballs on this case, a lot of moms who lost their sons to the violence, and I had an enormous amount of relief when the jury returned guilty verdicts on all counts."
The trial capped a sprawling, multiyear investigation by several federal agencies that resulted in the convictions of Donald Lee and Torance Benson on racketeering conspiracy and firearm charges, as well as drug charges for Lee. Both may receive life sentences. Eleven other defendants who pleaded guilty before trial—with several becoming cooperating witnesses—will receive sentences of 20–35 years to life.
Separate routes to a common goal
Arce and Mitchell took different paths to the Northern Illinois United States Attorney's Office (USAO). As a child watching TV courtroom dramas, Arce decided he wanted to be a trial attorney—a goal that was reinforced when he witnessed a mock trial during his School of Law first-year orientation. He became a Loyola Corboy Fellow, which provided "valuable training in thinking on my feet and formulating a story that's easy for a jury to grasp," he says. After a stint at a law firm and a federal clerkship, Arce secured his "dream job" at the USAO in 2016, spending several years in the Civil Division. He's now in the Criminal Division focusing on violent crimes—and Wicked Town was the first criminal case he tried as an AUSA.
Mitchell became interested in securities litigation during a Loyola law class at the height of the Enron scandal. He held an appellate clerkship and worked for a law firm, then prosecuted securities fraud cases for the U.S. Securities and Exchange Commission's Division of Enforcement. The U.S. Department of Justice often has criminal cases running parallel to SEC civil cases, Mitchell says. After working alongside the DOJ on cases including Ponzi schemes defrauding elderly people, Mitchell decided to make a shift to criminal prosecutions. He joined the USAO in 2015 and now works in the securities and commodities fraud section, but he's kept cases from his days in the gangs and narcotics section.
"I might have insider trading in the morning and gang murders in the afternoon," Mitchell says. "Only working at the U.S. Attorney's Office can you have that kind of cool mix on your docket."
Each AUSA's caseload can go as high as 75 cases, so days in the office are a busy mix of court hearings; conferrals about ongoing investigations with agents from the Federal Bureau of Investigation and Bureau of Alcohol, Tobacco, Firearms, and Explosives; and appearances before grand juries to present evidence. "If we have a brief to write, that usually happens at night or on the weekend, because during the day we're getting phone calls and emails and pulled in every direction," Arce says.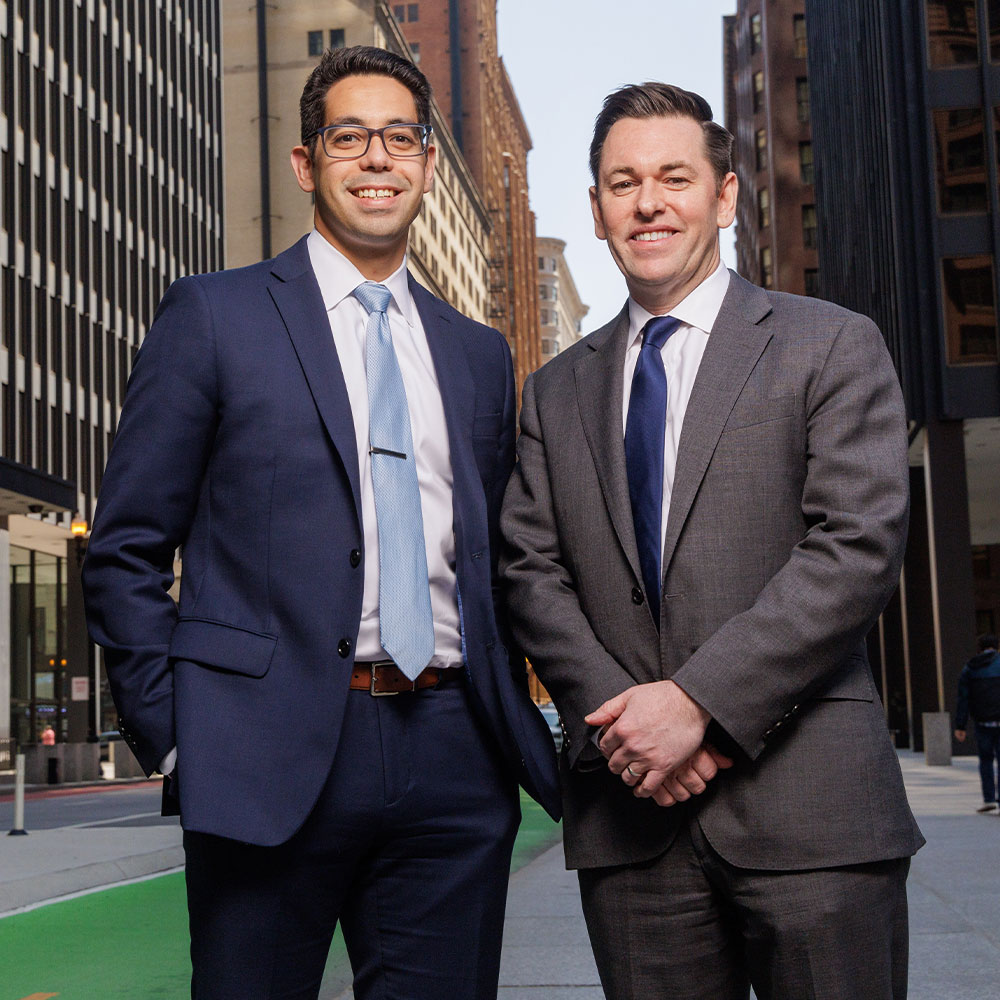 Friends for life
John D. Mitchell and Jimmy L. Arce discuss their winning chemistry
Assistant U.S. Attorneys (AUSAs) John D. Mitchell (JD '04) and Jimmy L. Arce (JD '12) had not met until they were assigned to try the Wicked Town case together—and discovered they were both Loyola alumni when Mitchell spotted Arce's diploma on the office wall.
"It was great to be paired up with a fellow Loyola grad who's now a friend for life," says Mitchell, who praises Arce's Corboy training and calls his partner in prosecution "smart, kind, and thoughtful, with an incredible energy."
Says Arce, "Loyola teaches you to meet people where they are. Through this case I saw a real connection between John and the victims and their families, and I think that's an important part of his Loyola background. John was a wonderful leader and guide, a dynamite lawyer who built the case in an incredible way. I hope one day I'm half as good an AUSA."