Lessons in lawyering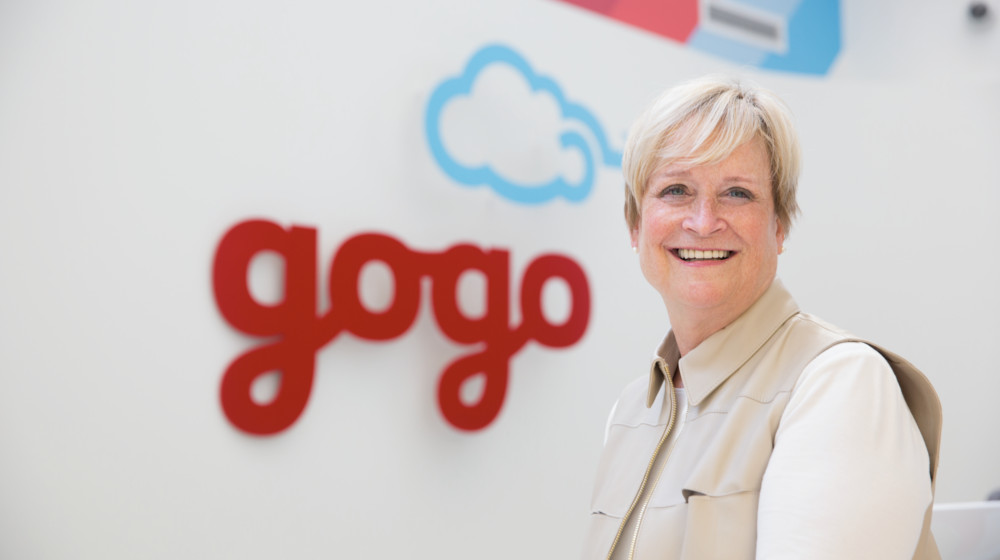 Lessons in lawyering
Margee Elias (JD '86) is the executive vice president and general counsel and secretary of Gogo, the leading inflight internet and entertainment provider. Before joining Gogo, she was senior vice president and general counsel of eCollege.com, a provider of outsourced eLearning solutions. She also worked for more than 15 years in private practice at two major Chicago law firms, where she concentrated her practice in federal securities law, corporate finance, and mergers and acquisitions. Here, she shares her career highlights, her challenges, and what she enjoys most about the practice of law.
What has been your greatest professional accomplishment?
My work at Gogo. When I joined the company almost 10 years ago, I was the first lawyer in a company that had only 60 employees and was pioneering in-flight internet service with no revenue—in fact, no customers. We have since grown to 1,200 employees with annual revenues of more than $500 million. I had no prior experience with the industry and had to familiarize myself with many new areas of law—for example, FCC and FAA regulation and consumer internet issues. My job continues to be very challenging, and I encounter new issues all the time. The most challenging thing I've done is negotiate contracts with airlines. It's not easy for a start-up company to negotiate with a major airline—David and Goliath come to mind—and these negotiations stretch on for months and sometimes more than a year. My legal team has successfully negotiated long-term contracts with more than a dozen airlines. I'm particularly proud of that.
If you weren't a lawyer, what would you be?
A teacher of English literature, a travel guide accompanying people on exciting adventures around the world, the owner of a small bookstore, or (my dream job) a backup singer for Sting.
What did you enjoy most about law school?
I worked for seven years between college and law school, and it was wonderful to be able to focus on studying and thinking—law school was so much more cerebral than the day-to-day demands of a job. I loved learning how to think in new ways. I loved making new friends, some of whom remain my best friends 30 years later. We bonded as we commiserated, and collectively stressed out about tough professors and ridiculously hard exams, but nonetheless managed to have fun.
What career advice would you give new graduates about successfully navigating a changing legal profession?
First and foremost, be a sponge—be curious and soak up all the knowledge you can. Second, challenge yourself by taking on things that are outside your comfort zone. Third, acknowledge that however good you are at what you do, you are not perfect and you will make a mistake at some point in your career. Learn that while it's incredibly painful to fail at something, you will survive, and you will be better for it. And last (and most important), do what you love, and if you're not loving what you do, move on to something else.
How did private practice prepare you for the important role of general counsel with Gogo?
Private practice gave me great training in the fundamentals: how to write, how to spot issues, how to research, how to deal with very complex issues, and how to stay up all night! Also, years of practice dealing with a variety of legal issues have been extremely valuable. When I was a junior associate I was always amazed when a partner, without knowing anything about a particular issue, could get to the right answer—or at least the right direction–on the spot. I called it the "judgment thing." Well, after more than 30 years of practice, I think I now have the "judgment thing" and it's that, combined with the terrific training I received at law firms, that gives me the ability to deal with whatever issue comes over the transom at Gogo on any particular day.
What do you like best about being a lawyer?
On the pure legal side, I'm always delighted to be presented with a horribly complicated issue—like a law school exam question—and to work through it with my legal team. (Our business colleagues roll their eyes and often leave the room when the lawyers get nerdy.) I also enjoy the breadth of my work, which includes both my responsibilities as GC and my involvement as a senior executive in business and strategic decisions, and being a trusted legal and business advisor to my clients at Gogo, who fortunately view my team and me as partners and not obstacles.
How has technology changed the practice of law?
I'll answer that from two angles. In terms of how we get our jobs done, technology has dramatically changed the speed of our action plan by facilitating communication and vastly increasing access to legal research materials, guidance from scholars and practitioners, and changes in the law. More substantively, technological advances have created numerous areas of legal expertise that didn't exist 10 or 20 years ago. Privacy, data security, and some very complex intellectual property issues are just a few examples.
What brings you the greatest personal joy?
My wonderful family, my amazing friends, and my pug Maisie, whom I spoil beyond belief.