Brewing sustainable coffee and improving lives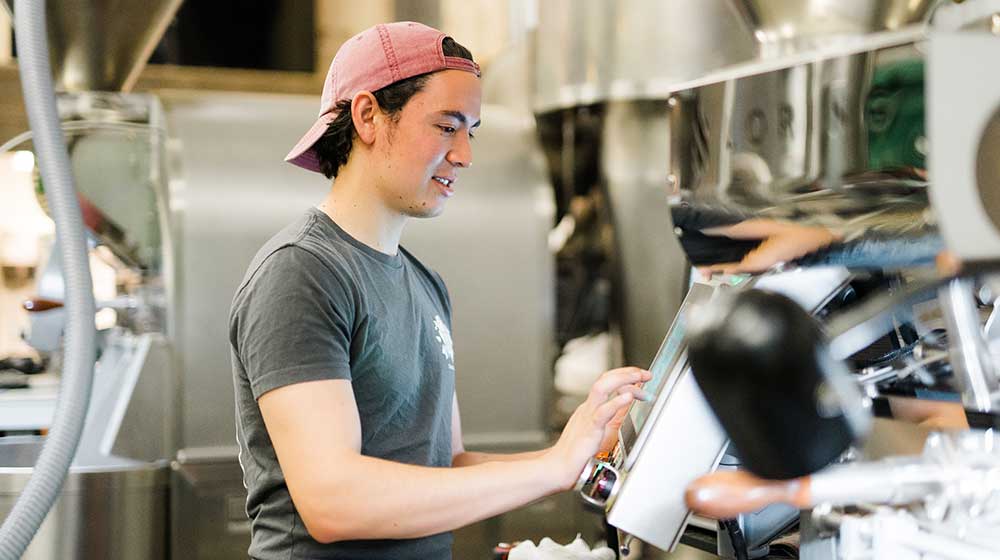 Harry Hutchins (BBA '16) took a leap of faith in 2018 when he left his Chicago accounting job to found Alma Coffee with his wife, Leticia Hutchins, and her father, Al Lopez. Four years later, Quinlan School of Business students traveled to Atlanta as part of the Quinlan Ramble where they met Harry and learned about his family's mission-focused entrepreneurship.
Surviving the pandemic
From its inception, the company focused on sustainable practices and crafting extraordinary coffee through some online business and wholesale partnerships. The business quickly grew but the COVID-19 pandemic threw a curveball that forced him to re-think how Alma Coffee could meet its goals of furthering the impact through coffee.
"We were originally more focused on our wholesale, selling to local business and restaurants. We even had our own little café," Hutchins said. "All of that like a light switch was shut down."
Hutchins credited his Quinlan education for his ability to switch his business model.
"We had to really pivot ourselves to increase our online traffic," Hutchins said. "I think having that Loyola education to pivot and be agile through the changes has really helped us succeed to get us where we are today."
Now, Alma Coffee focuses much of its efforts on e-commerce, selling and shipping bags of coffee throughout the country. After finding success there, Alma Coffee opened a café inside its manufacturing facility, allowing customers to experience all it takes to brew coffee.
Creating sustainable coffee
Alma Coffee's commitment to being environmentally and economically sustainable begins with its roasters. The shop uses sustainable Loring Smart Roasters which use up to 80% less fuel compared to conventional roasters of the same size.
Hutchins' family farm, Finca Terrerito also has earned five seals of quality and sustainability: USDA Organic, Smithsonian Bird Friendly, USA Service-Disabled Veteran-Owned Small Business, Fair Trade TSA, and Con Manos de Mujer.
Each harvesting season, Finca Terrerito employees 250 seasonal workers at Leticia's family farm in Honduras where the coffee beans are grown. Beans are hand-picked to ensure they've reached the correct ripeness.
"Our big motivation was to have a lot of impact (in Honduras)," Hutchins said. "Improving lives is a big part of what we want to do."
Sharing real-world experience
In spring 2022, Quinlan undergraduate students traveled to Atlanta on the Quinlan Ramble to visit Alma Coffee and other leading businesses.
"I think it's a pretty cool way for the Quinlan students to see how a business works and how costs really flow through a manufacturing floor," Hutchins said.
Having navigated through the pandemic, Hutchins shared with students how to think on their feet when things don't happen as planned. He also wanted to show Quinlan students that business is more than just dollars and cents.
"In business, there are real people putting their whole heart and soul into the product," Hutchins said. "It's not about seeing a direct labor line item as x amount of dollars. Business needs to have compassion for the many people behind the numbers."
Learn more