Demystifying entrepreneurship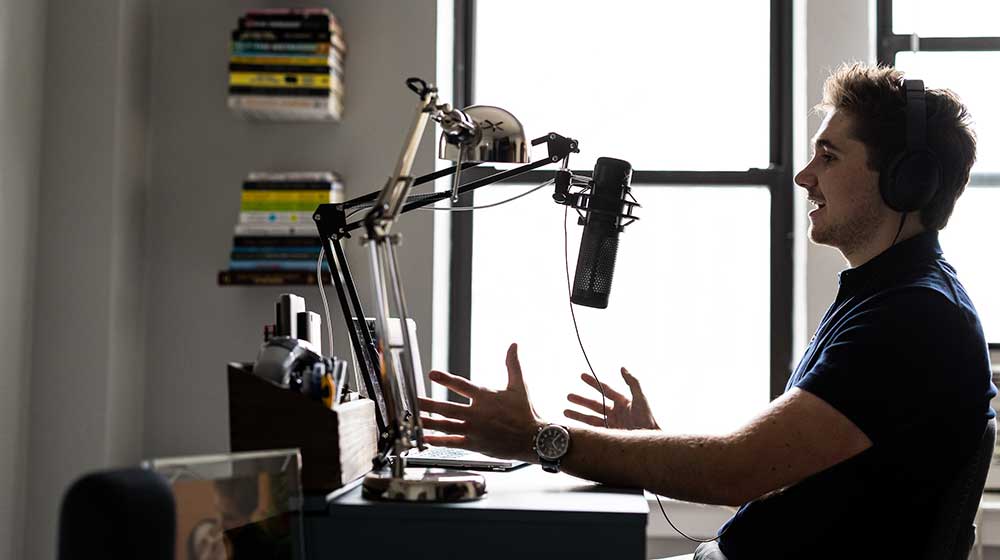 Nicolas Soto Hay has been immersed in entrepreneurship his entire life. His parents and grandparents all started companies, and he started his own company in eighth grade.
Not surprisingly, after arriving at the Quinlan School of Business to study entrepreneurship, he was drawn to Ignite Lab, Loyola University Chicago's virtual startup incubator that is directed by Associate Professor of Entrepreneurship Ugur Uygur. This year, Soto Hay is the host and producer of the lab's Spark podcast.
"I hope that this podcast can inspire and demystify entrepreneurship," says Soto Hay. "We have started some rich conversations with students and alumni who started organizations to inspire others to become entrepreneurs."
Below, Soto Hay discusses his work with Ignite Lab and how he became a triple major in entrepreneurship, marketing, and economics thanks to inspirational professors.
Tell me about your work with Ignite Lab.
Ignite Lab provides a great hands-on experience for entrepreneurs. We are a boutique consulting service that anyone from the Loyola community can access whether they're professors, students, alumni, etc.
What excites me is we're able to work with some great companies led by students that are starting out and help them grow. It also allows me to be involved in all steps of entrepreneurship, from product creation to the actual completion of a project. I have developed huge skills on that end and have met some great people along the way.
It's also special to be part of the Ignite Lab team itself and being able to grow the lab and help it move in the right direction.
Why did you get involved in the Spark podcast?
Entrepreneurship might be a little cryptic for a lot of people. I think Spark is a great platform to make entrepreneurship something everyone can understand and want to be a part of. What I want is for people to get a little bit of an itch to get into entrepreneurship and to want to try something new.
An entrepreneur doesn't necessarily have to start their own business. They can also work within a company or for a firm. I think this is a shift in mindset and about being open and growth-oriented. I believe Spark is a great platform for people to see entrepreneurial examples and hear advice and ideas to help grow people's entrepreneurial mindsets.
The biggest thing is that entrepreneurship is useful everywhere and if we can get listeners to really start questioning things as an entrepreneur, it's going to open a lot of doors for them.
Why Quinlan?
I'm from Mexico City and I lived my whole life there. I looked for good business schools in big cities where I could form good connections. Through this search, I found Loyola, and my decision was made based on the scholarships I got and the fact that they had a high-ranked business program. It was a bonus that I loved Chicago, so being able to live downtown on campus and go to school is a great fit for me.
How has Quinlan helped you achieve your goals?
Quinlan introduced me to a passion for things I didn't know I had. I started with entrepreneurship as my major, then added marketing and economics as majors. I was inspired to do this with the help of great professors and classes.
I had always thought of marketing as something that was creative and imaginative, but I realized through Quinlan that marketing is a lot more than that. I enjoyed the behaviors and numbers aspect of it. For economics, I found a love for something I didn't even consider previously. Professor Julian Diaz especially really pushed me to love economics the way that I do.
Describe Quinlan in 10 words.
A nest of opportunities and resources that helps you grow.
Learn more