International recognition for innovative course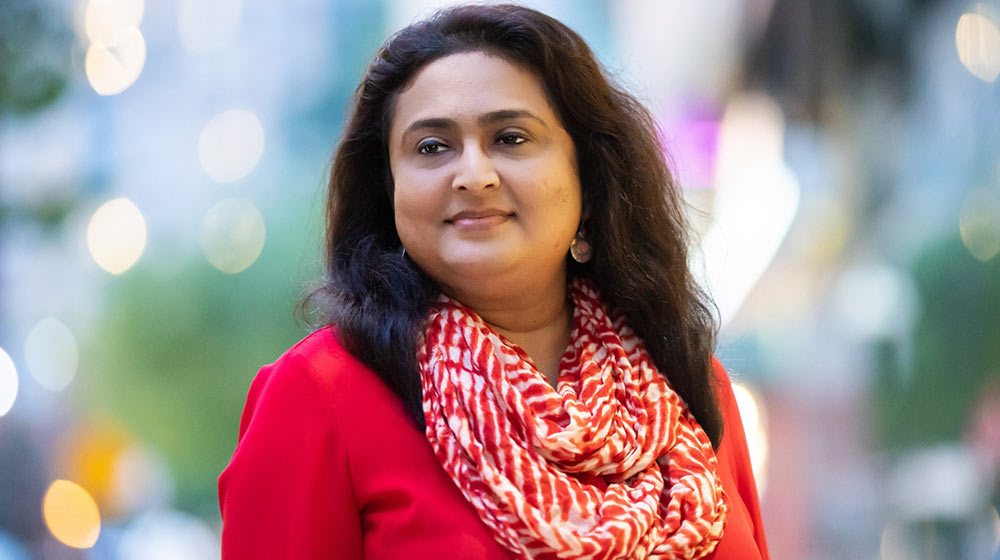 By Courtney Jackson | Student Writer
Associate Professor Swasti Gupta-Mukherjee developed one of eight courses in the world honored for innovation by the internationally renowned Aspen Institute.
The institute's 2021 Ideas Worth Teaching Award was given to her course "Finance for a Sustainable World," which was developed for the Baumhart Scholars MBA program. The award recognizes courses that emphasize business's role in creating a sustainable, inclusive society.
"Professor Gupta-Mukherjee designed the course with our world's future leaders in mind," says Emily Nordquist, interim director of the Baumhart Center, which facilitates the Baumhart Scholars MBA program. "We must embrace a new kind of business leader, one with foundational finance competencies and innovative tools to lead us toward economic inclusion and sustainable business. We need a new model for business education to get there, and this course does just that."
Below, Gupta-Mukherjee discusses her course and the prestigious Aspen Institute award.
What motivated you to develop the course?
Sustainability, societal good, and social justice are largely absent in the finance curriculum, or if they are taught, it's an elective course. I realized that if we are not introducing students to sustainability and social justice concepts in core classes, we are somehow giving the impression that these are opt-out ideas.
I wanted students to look at financial models and understand that there is no successful business model without a successful financial model. I wanted to develop a core course that shows them what works with the models, challenge what doesn't work, and develop critical thinking about how financial models interact with economic, social, and environmental impact.
How did you approach developing the course?
COVID-19 made instructors rethink their courses completely. For me, seeing how this public health crisis was playing out was an added motivation. I wanted to start talking about global problems that are increasing inequalities with COVID-19 bringing them into sharp focus.
It happened at a challenging but right time because all of the students were living through these issues. They all had experienced changes with their professional careers and personal life they could share. It was something that they were living with and learning about at the same time.
Why is this recognition so noteworthy?
The Aspen Insititute has an international reputation as a thought leader in the area of business and society. I have been following their thought leadership for many years. Their past award winners are faculty pioneering innovative curriculum in a groundbreaking direction in business to create social impact and sustainable capitalism.
Aspen told me that they appreciated that I incorporated the ideas of sustainable capitalism into a core finance course. They viewed it as very different than teaching an elective course.
What is the future of the course?
I could see this course turning into a philosophy that underpins how we think of our entire curriculum. I think there is a lot more work that could be done with the concepts behind the course. I would love for this course to be integrated into all Quinlan programs because the ideas of Environmental, Social, and Governance (ESG) issues and value-creation should be central to financial decision-making in a sustainable world and need to be introduced to students sooner rather than later.
Student reactions to the course
Baumhart Scholars shared their experiences in Gupta-Mukherjee's "Finance for a Sustainable World" course:
Amaya Aranzabel, MBA '22
"I feel honored to have been in Professor Swasti's finance class. She is not only an amazing finance professional but also an incredible person. She always made us feel like part of her life, even sharing her amazing painting skills!"
Adam Shafer, MBA '21
"Professor Swasti Mukherjee was an incredibly impactful educator in the Baumhart Scholars program and most assuredly across Quinlan as a whole. Her passion and care to present impact and purpose-focused finance lectures were seamless and meaningful."
Annie Weinheimer, MBA '21
"Before taking Swasti's class, I had very little exposure to the world of finance but always had a curiosity. Swasti's class was an incredible introduction and was a large part of what made me pivot into investment banking post-MBA. I am thankful to have taken her class and gotten to learn from such an impressive professor."
Learn more