Looking forward to school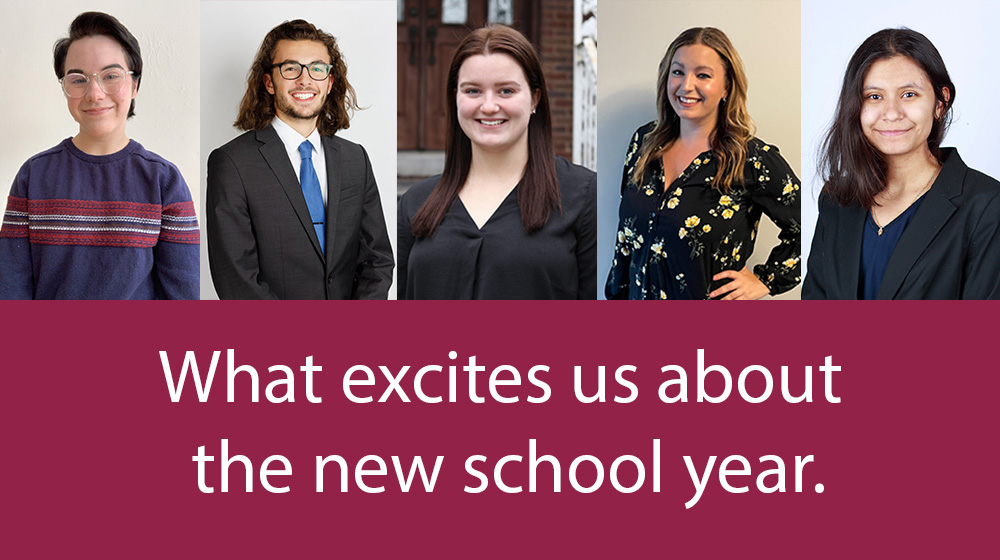 By Courtney M. Jackson | Student Writer
This fall, Quinlan community returns to campus and to the Schreiber Center, our home on the Water Tower Campus. Below, Quinlan undergraduate and graduate students share what they are looking forward to this academic year.
Beck Hansman (BBA '22)
Activities: Quinlan Ambassadors, Business Honors Program, Students for Reproductive Justice, Loyola Phoenix
"Given the past year and a half, I am most excited to return to some normalcy in Fall 2021. The thing I love most about Quinlan is the sense of community, and I cannot wait to see my friends and professors again."
Cooper Hawley (BBA '22)
Activities: Delta Sigma Pi (DSP), Quinlan School of Business Honors Program, Quinlan Ambassadors, Rambler Consulting Group (RCG)
"I'm most excited to get back to in-person activities this year like downtown classes at Schreiber and chapter meetings and events with my business fraternity, Delta Sigma Pi."
Sarah Hoffman (BBA '22)
Activities: Delta Sigma Pi (DSP) and Loyola's Club Softball Team
"I am excited to take upper-level business courses, specifically the ones for my major. I'm looking forward to expanding my education and knowledge base as I prepare to enter the workforce."
Jenna Ivkovich (BBA '13, MSHR '22)
"I am excited to be back on campus. I went to Loyola University Chicago as an undergraduate, and now I am back for my MS in Human Resources. I am looking forward to seeing my old classrooms and buildings and getting to know my classmates and professors in person."
Perla Solana (BBA '23)
Activities: Department of Programming Marketing Director, Women in Business, and Quinlan Ambassadors
"I am most excited to be back on-campus because I will be able to attend school events and be in-person for the school organizations that I am involved in."
We wish all our students a successful academic year!
Learn more