Los Angeles: Trader Joe's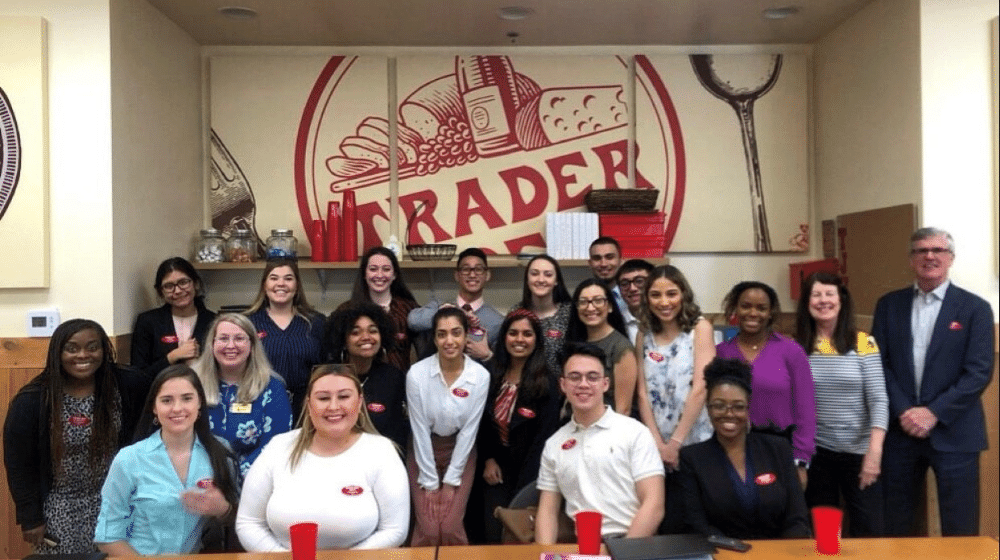 The day started out great! The sun was out, warm weather, and light traffic in LA. We visited Trader Joe's in Monrovia and Pasadena, California. When we got to the building, it appears very simple from the outside. I learned they keep their building very simple because Trader Joe's should be about the store and not the corporation. We arrived early, so we sat down on the patio and were offered snacks by the team. Then, the presentation started by meeting the executives and the CEO.
The CEO, Dan Bane, gave us an overview of the agenda for the visit. He showed us a video about general information and history of Trader Joe's. The video was so well produced and really gave a great idea of how Trader Joe's became to be the Trader Joe's everyone knows today. Then, a few executives explained the seven values of Trader Joe's. The most notable value to me was "product-driven", because it talked about the marketing aspect. I learned about the product testing process, the process of getting a product, and how they have stayed current with market trends. We had the most amazing lunch provided by Trader Joe's. All the food we were offered were actual products from Trader Joe's.
I got a chance to talk to a few employees. I enjoyed talking to the employees about their experience and what they have learned. I met an employee that was from the same hometown as me, and that he is a professor at California State University. Then, we went on a store tour to learn how everything in a store is laid out.
This was a wonderful experience especially for me, because I have worked for two different grocery stores. I realized the importance of customer experience, and how Trader Joe's lives upon that. I learned what truly makes Trader Joe's different than other groceries store I have seen, and it made me appreciate Trader Joe's overall. I am so glad that the Quinlan Ramble allowed me to get this opportunity to explore different businesses such as Trader Joe's and to meet the CEO. I learned to appreciate how Loyola gives students the opportunity to enhance their professional and personal skills through these experiences such as the Quinlan Ramble. My networking skills definitely grew, and I was able to step out of my comfort zone to engage with the employees. I am excited for the rest of the week of the Quinlan Ramble.
Perla Solano (BBA '23)
Marketing