Alumni Wall location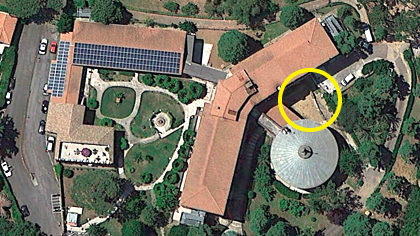 The tile wall is located in a high-traffic area off the newly renovated coffee bar near an outdoor gathering space for students.
Tile Messages
Nicole and John Burns
Met in Rome Fall 2010
Married January 6, 2016
Grazie di tutto!
Bill Kenefick & Family
Spring, 2004
In Memoriam:
Sam Fisher
JFRC '02-'03
Your smile and spirit
are especially missed.
The 2002 Fall Alumni‌
Etch your name in history
Remember the first time you walked through the doors to your JFRC campus, walked about your new surroundings, and wondered what adventures were in store for the next semester or two? Can you even pinpoint the moment when you became entranced with the Eternal City? Or was it the culmination of months of walking its streets, getting to know Italians and their culture, and living amidst the legacy forged by a man named John Felice?
You once called the JFRC your home, and now you have a special opportunity to permanently affix your name of the name/s of another alumna/us you care about to the brand new Alumni Wall on campus. If you want to let future generations know that "Maggie was here" or leave behind inspiring words, in English or perhaps Italian, to motivate students across the years, what better way than to purchase a tile on the Alumni Wall and support vital campus enhancements in the meantime.